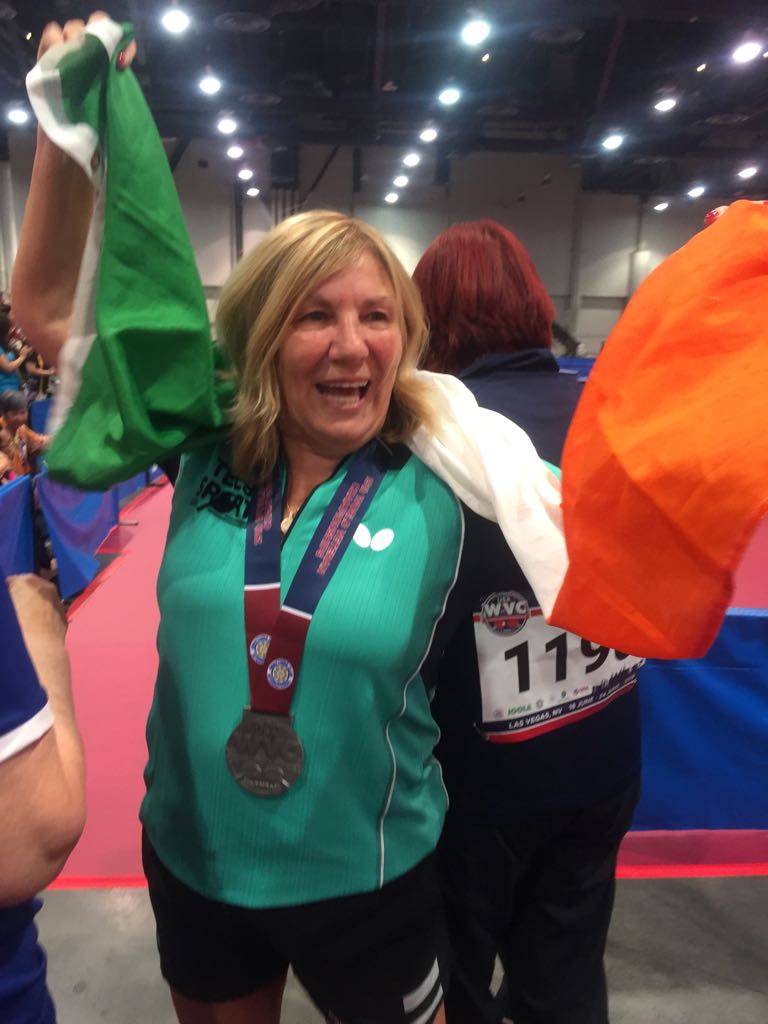 A competent first round win over Inami & Isiki of Japan was an encouraging opener. However, a fraught start against Liu & Lu (China) in the next match saw them lose the first game 11-5. More settled in the second game, Teresa was able to put away good winners with her forehand to complement Larisa's dependable defensive skills. Winning 11-9, the match-ups here could be drawn upon later in game four, as they lost the third game narrowly, 12-10. Teresa's attack was very impressive in game four, hitting winners to both wings of the table, winning out 11-5. A good start, maintaining parity to lead 5-3, was key to the final game. The turnaround saw them run out easy winners 11-4. Lessons learned in this match underpinned much of their later success.
Cheung & Suzuki were defeated in the next round to set up a semi-final against Barillon & Georgi on Saturday morning. Playing competently, leading 6-1 in the first, somehow Teresa and Larisa were clawed back to 8-8, eventually losing the first game 11-13!! A poor, nervous start to game 2 saw them 1-5 down. This time, they dug deep to level at 8-8, and they snatched the game 12-10 with a gritty, resolute display. Nothing fancy! A good start in game 3 saw them ease out to a 7-3 lead, eventually winning 11-4. The fourth game was relatively straight forward, getting over the line 11-4.
At this point, Teresa thought that the final would be played on Sunday. Luckily, Dave pointed out that the match would be played just over an hour later! At least both ladies had enough time to adjust their preparations.
The final, played in matching yellow shirts, saw Teresa & Larisa win a straight forward first game 11-8, against two penholders, Guo & Luo from China. Such a result is often a false dawn against Asiatic opposition, as they use the first game to probe their opposition for weaknesses and patterns of behaviour which can be exploited to their advantage. Sure enough, a weak forehand return of serve was exposed ruthlessly for them to win the next two games 3, 3. In the fourth game, Teresa & Larisa fought back admirably, staying close to the table and dominating proceedings to lead 5-2. At this point, from his perspective, the umpire did not see an edge ball for Larisa. Awarding the point to their opponents, the tensions involved at this stage provoked a loss of composure for Teresa and Larisa. Sadly, their challenge petered out and they lost the game 5-11, and hence the match -8,3,3,5. Significantly, all other finals were umpired by two officials thereafter, but too late for Teresa and Larisa. Obviously disappointed to lose in such disheartening fashion, the large contingent of Ireland supporters and Teresa's own wider circle of friends were rightly proud of her performance. Those supporters were voluble in expressing their appreciation of her marvellous efforts once again.
Congratulations Teresa and Larisa! Thank you for the excitement your performances gave us, and keep on raising that bar of accomplishment