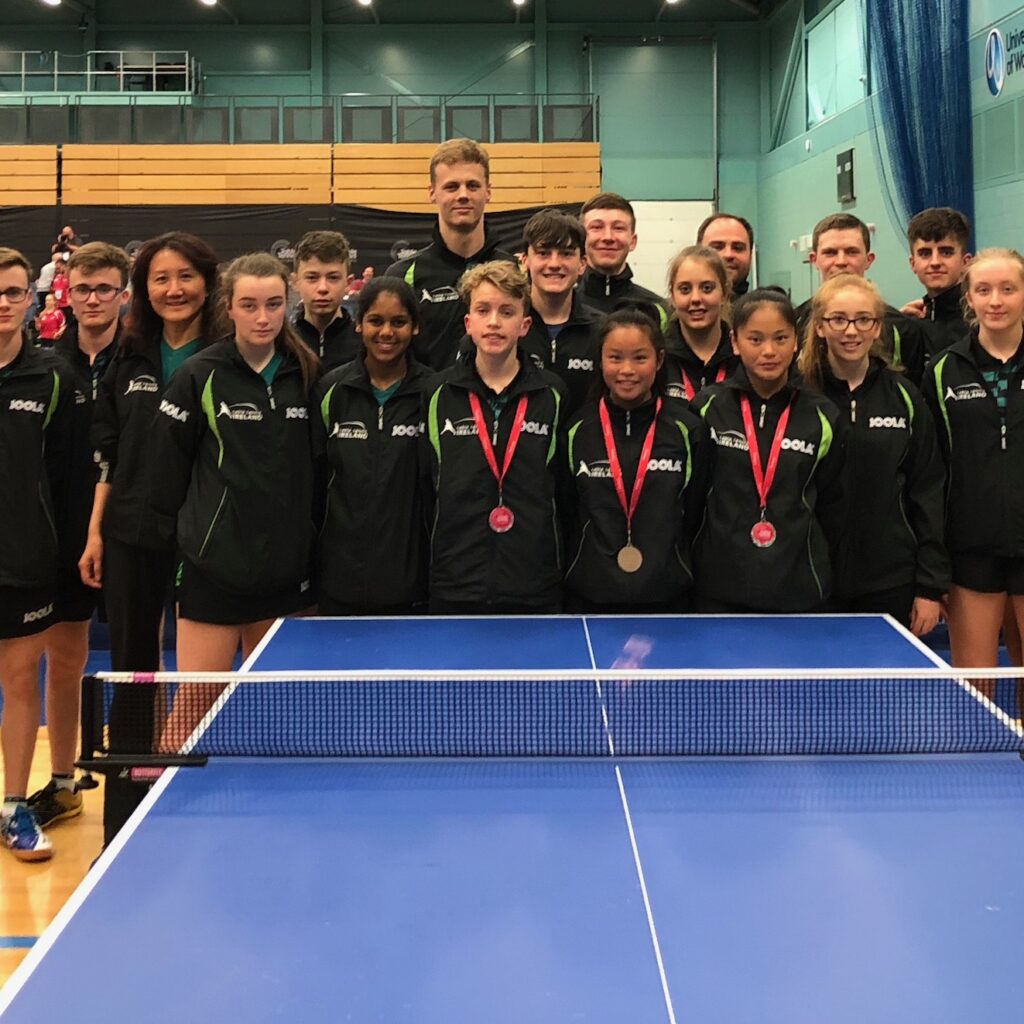 One gold,one silver and four bronze medals were claimed by the Irish schools teams at the Worcester Arena during the senior school's championships.
16 players representing 7 teams played in the cadet , intermediate and senior team events , boys and girls.
Highlight was the silver medal won by the senior girls (Thuy Linh Cashmam,Zofia Wawrzyniak).Having lost the opening match to England 3/2, they defeated Scotland and Guernsey to set up a semi final clash with Wales.
It was a titanic battle.After the opening two singles it was 1/1.The doubles proved to be crucial with the Irish pair winning narrowly in the fifth set.Wales levelled when Beth Richards defeated Thuy Linh.
The deciding rubber was nail biting.It went all the way to set five with Zofia holding her nerve to win 12/10.
Again the final against England was very tense.Thuy Linh put Ireland ahead and momentum seemed to have swung Ireland's way when Zofia led 2/0 and 7/3 in the third set.Despite a time out , the combination of Irish nerves and English steel swung the match in England's favour and England eventually won the March 3/1.
Bronze medals were won by the intermediate girls(Mia ORahily Egan,Lucy Criaig), by the cadet girls( Pravesha Ragi,Thi Ly Cashman,Nicole Larmour) and by the cadet boys(Ciaran O Donoghue, David Taylor)
Mia Claims Intermediate Girl's Title
A very composed Mia O Rahily Egan saw off the challenge of England's Ianau sisters in the quarter and semi final, both five setters to set up a final meeting with England's Katie Holt.
Brimming with confidence Mia was always in control and claimed the gold medal , winning 3/1
Zofia Wawrzyniak claimed bronze in the senior girl's singles.
Dylan Grace won the senior boy's consolation final while Conor Nugent was runner up in the intermediate boys' consolation final.
Our thanks to the coaching team of John Murphy, Conn Hiiggins, Jing Yi Graham and Tara Fusco who had a very busy but fruitful weekend.