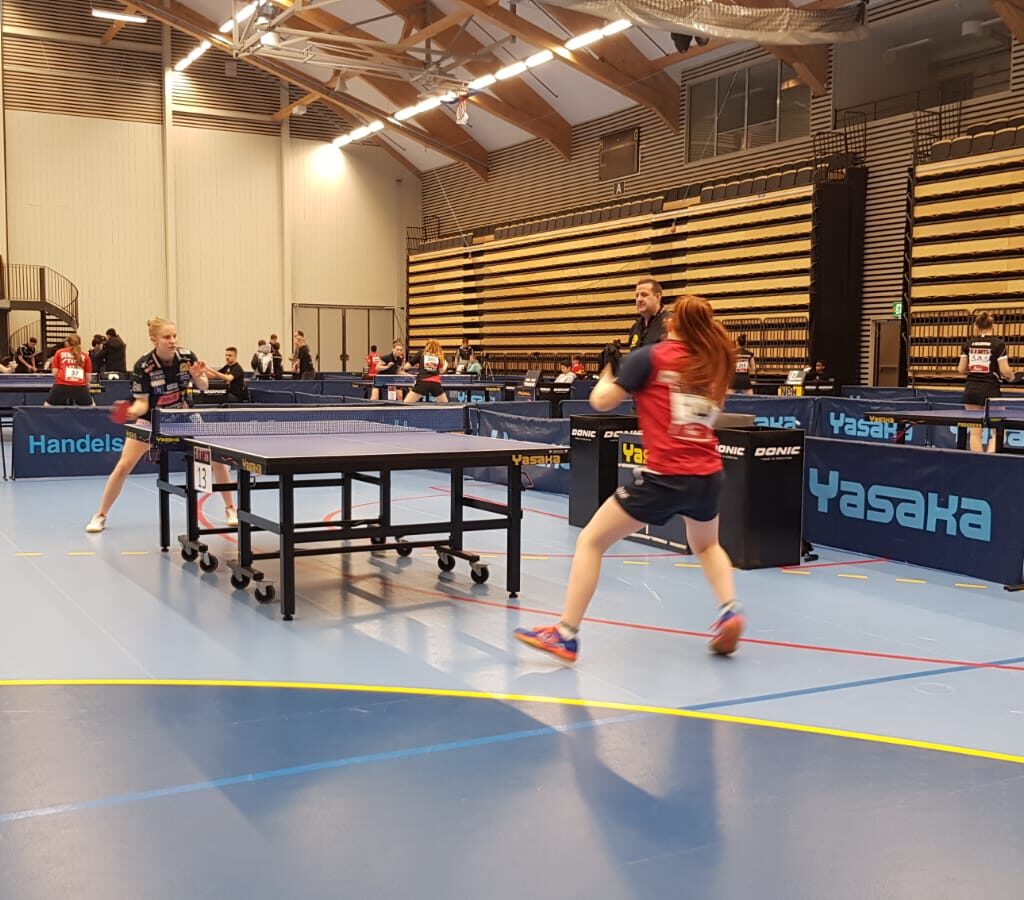 Sophie Earley in action
Table Tennis Ireland sent a Cadet Girls team consisting of Sophie Earley(Ormeau), Silke Heinen (Leeside) and Pravesha Ragi (Loop) to this event. Owen Cathcart (Halmstad BTK/Ormeau) who has now relocated to Sweden was also in action throughout the 5 days.
Owen Cathcart kicked off his campaign early on the Wednesday playing in the Junior Boys singles taking strong wins over Emborg (DEN) 3-0 and Rustemovski (MKD). Next up for Cathcart was the main draw and last 64 of the boys singles where he faced Moullet (SUI) and again in a convincing style he put together a serious 4-1 performance. As the ITTF Junior boys took a pause in the main draw it was time for the successful partnership of Cathcart and Borgar Haug (NOR) to team up again as the tournament 7th seeds. The lads cruised through their first two matches with a 3-0 win over Italy, 3-1 win over USA and finally an impressive 3-1 win against a Singapore team in the Last 16. This brought a successful finish on day one for Cathcart and Haug.
Thursday brought Knockout stages in both the singles and doubles and Cathcart was fired up to progress in the event. In the doubles quarterfinals, the combined IRL/NOR team faced Puppo and Rossi from Italy and this proved to be an epic game going to the wire and pipping the Italian duo in the 5th set proceeding to a guarantee medal spot. In the semifinals it was a classic Cathcart/Haug encounter with the experienced pair winning the first and fourth sets against ranked Singapore players Chua/Yu; only to see them take match points in the deciding game. This time it wasn't to be as the Singapore pair mounted a comeback to clinch the match 13-11 in the final game. Another fantastic achievement from both players and again showing class gaining another medal in a top ITTF Junior event.
In the Junior Boys Last 16, Cathcart tuned back into singles mode and prepped himself for a tough game against Zong (SGP). Cathcart made a strong start in this match and showed his experience to fire home an epic 4-1 victory and book himself into the quarter-final stages of the Swedish Junior Open. With already 19 ITTF pro tour medals to his name, Cathcart was pushing to get into the winner's enclosure once again but it was one step too far against the experienced and highly ranked Stomper from Germany, with Ireland going down 1-4. Massive congratulations to Owen on another remarkable tournament and doing your country and club proud.
The girls started their tournament on the Friday beginning in the morning with matches in the Elite Women's singles. The Elite Women was a great level with many Japanese, Russian, German and Swedish players in the tournament. This was a tough first test for all the girls, playing against mainly senior ladies who are top-ranked in their countries, but there were some notable performances with Sophie taking Swedish Junior Edvidsson to the fifth end and even leading only to lose in deuce. Silke started very well against another Swede, Johansson, by taking the first end but could not maintain this as the Swede stepped it up in the fifth, but overall good performance.
Later Friday evening it was Sophie Earley that was up to play the ITTF Mini Cadet tournament. The Mini Cadets had a lot of unknown Russian players, and unfortunately for Earley she drew unknown Russian Nizamova in the first match. The game got underway and while Earley battled hard, it was the first match of the evening and she was not firing on all shots, losing out 2-3. Earley was a little disappointed, but managed to shrug this off and set her target on battling through with two good wins against Kalvatin (NOR) and Nilsson (SWE), both 3-0.
Saturday morning saw the Mini Cadets start at the Last 16 stages and Sophie coming second in her group ended up drawing Hannah Goda (EGY), against whom she has had many battles in the past. Goda came out strong in the first two sets and just pipped Earley 9-11 and 9-11 to take the lead 2-0. Earley was as resilient and she fought hard to take the match to the fifth, only to see her Mini Cadet tournament end with another deuce finish.
Next up for the girls on Saturday was the ITTF Cadet Girls event where Heinen and Ragi started in the group stages and Earley, with a high world ranking, had a bye into the main draw. Ragi started her Cadet campaign with two tough matches against a Russian girl and Czech girl; showing good fight and determination she lost these both 1-3 but played very well and kept herself in the mix throughout the matches. Not deterred from her first two losses, Ragi was determined to get a win and this came against the third player in the group, Myklebust from Norway. This game started in the Norwegians favour with her taking the first two sets but a turnaround in the third led to a massive comeback and Ragi winning in the fifth set!
Heinen was next up and again faced a tough international group with first singles against Soderlund (SWE) and this proved to be a great game with Heinen showing her mix of defence and attack to hold the game and take the win in the fifth. Next up for Silke was Pugovking (RUS) where the Russian showed just too much firepower, Heinene losing out 0-3. The final match of the group was against Marriot (England) and this was a must-win game in order to make the KO stages of the ITTF Cadets. Heinen in this match played very well on the defence and her defensive skills proved too strong for the English national team player, emerging as the winner 3-0 and booking herself a place in the main draw. With Earley and Heinen through to the main draw, it was Heinen up first with a last 64 game against Voronina (RUS). Again, this was a tough match against another strong Russian player and it was the Russian who came off the winner this time, Heinen finishing her interest in the event on a 0-3 scoreline. Earley started her Cadet event in the last 32 stages against Pyaterikova where she was on top from the start to win this game in convincing style 3-0 and move into the last 16. Next up for Sophie was Dmitrienko (RUS) which was a very close affair with may topspin to topspin rallies only to eventually go in the Russians favour, Earley losing out 0-3. This was overall an excellent for the three girls and a great result for Sophie Earley to finish in the Top 16 positions of an International ITTF ranking event.
Heinen and Ragi both competed in the Safir U18 and Safir U16 events which were difficult as it was straight KO; Heinen was unable to progress from two tough first-round matches against a Russian and a girl from Singapore. Ragi got another win over Norweign Myklebust in the U16 girls and then set up a tie against Vasilenka (RUS), losing out 0-3, which concluded her events. Last player standing in the Irish contingent was Sophie Earley who had the Safir U14 event to play on Sunday morning. Earley again got better as the tournament went on, starting well with a 3-0 win over Marriot (ENG) in the last 32, followed by Stotz (GER) 3-0 in the last 16. At Quarter Final stage Earley faced the tough USA opponent Zhu which again turned out to be a very close encounter with Earley battling hard but losing out 1-3!
Very good show from the Irish contingent with Owen Cathcart leading the way again bringing further success in the ITTF Junior event winning a bronze medal in the Junior Boys Doubles with partner Borgar (Norway) and finishing with a Top 8 finish in the Junior Boys singles! Well done to Owen who has been working hard on his game in Sweden and glad results are starting to show! Well done to the Cadet Girls squad on their individual performances!