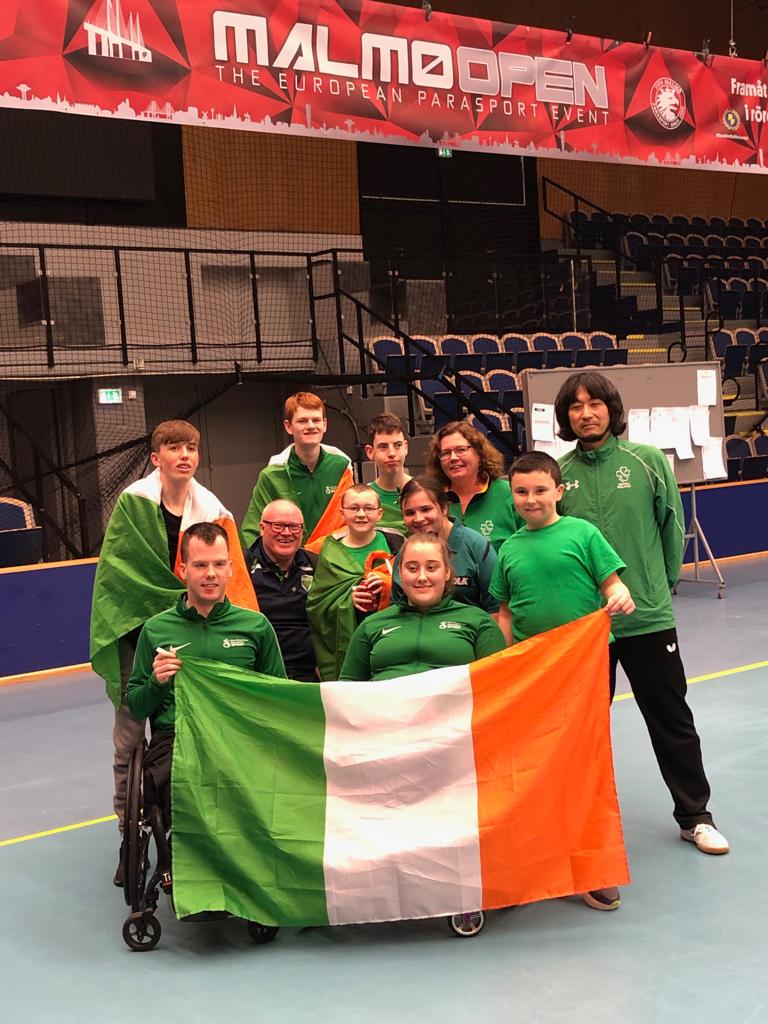 The first morning of action saw the doubles competition. Ireland had three teams in the standing event and one in the wheelchair. The Irish pairings found it difficult facing against teams who clearly had a lot more experience in the tough doubles format but nevertheless each player fought well. The Cork and Dublin duo of Conor and Seán came closest to an Irish victory in the first round with a narrow 3-2 defeat to a Swedish pair. The Junior and Youth Standing and Wheelchair age category events took place in the afternoon. These events combined the Standing classes (6-11) together and the Wheelchair event saw classes 1-5 combined. Mark and Alicia came up against high quality opposition in the Wheelchair event and both competed well but unfortunately were knocked out of their groups. However they were to both meet in the 'B' final where Mark came out on top to claim the Gold while Alicia took home Silver. Aaron and Darragh both won Bronze medals after narrow defeats in their "B" Standing semi-finals while Peadar was unfortunate to miss out after defeat in his "B" quarter final. Caoimhe playing the Womens Standing event had some great performances and two victories over Swedish and Danish opponents saw her claim a Bronze medal. Seán and Conor both progressed out of their Standing Junior groups into the quarter finals. Notably Conor, who is Class 6 played three Class 10 players in a row and both lads were unlucky to lose out in the quarters.
The second and final day of the event saw the individual Class events taking place. Mark (Class 4) claimed his second medal of the competition with a Bronze in the "B" event. Alicia (Class 3) would also earn her second medal, a Bronze in her "B" event. Both players fought hard and the experience gained over the weekend will definitely serve them well. Darragh (Class 7) played extremely well and managed to pick up another Bronze after defeat in his "B" semi-final. Two medals in his first international was a great result for the Cork man. Caoimhe (Womens Class 7) had a superb 3-2 victory in her "B" semi-final over her Danish opponent and picked up a Silver medal after narrow defeat in the final. Caoimhe showed great capability and performances in what was only her second international competition. Aaron (Class 11) had terrific results and managed to top his first round group. He guaranteed himself a Bronze by comfortably winning his quarter-final but came just short in his semi-final losing to the eventual winner. It was a great result on his international debut. Seán (Class 9) and Peadar (Class 10) played in the Class 9 & 10 event. Peadar was drawn in an extremely difficult first round group and after some well- contested matches, he was unfortunate to lose in his "B" quarter-final. Despite a victory in his first round group, Seán failed to progress but recovered well to win 3-0 in his "B" quarter, semi and final against Class 10 players to pick up his first international medal and Ireland's second Gold of the competition. Conor (Class 6) progressed from his first round group and was unfortunate to come up against Michael Azulay of Sweden (WR 23) in his quarter. After a closely fought game, Azulay won out but a good performance capped out a great return to international competition for Conor who had only recently returned from injury and there is sure to be success in the future for the Cork man. A fantastic weekend saw the Irish team return with eleven medals.
A big thank you to the coaches who travelled with us – Susan, Mick, Hiro and Chinatsu who guided and coached us through the competition and the parents and travelling Irish supporters who got behind each and every player. Thanks also to Table Tennis Ireland for organising the trip and for their continued support of the Para programme and to our High Performance coach Gavin for his commitment to helping us improve our games. There is no denying that Irish para table tennis certainly has a bright future ahead.
Report written by Seán Geoghegan