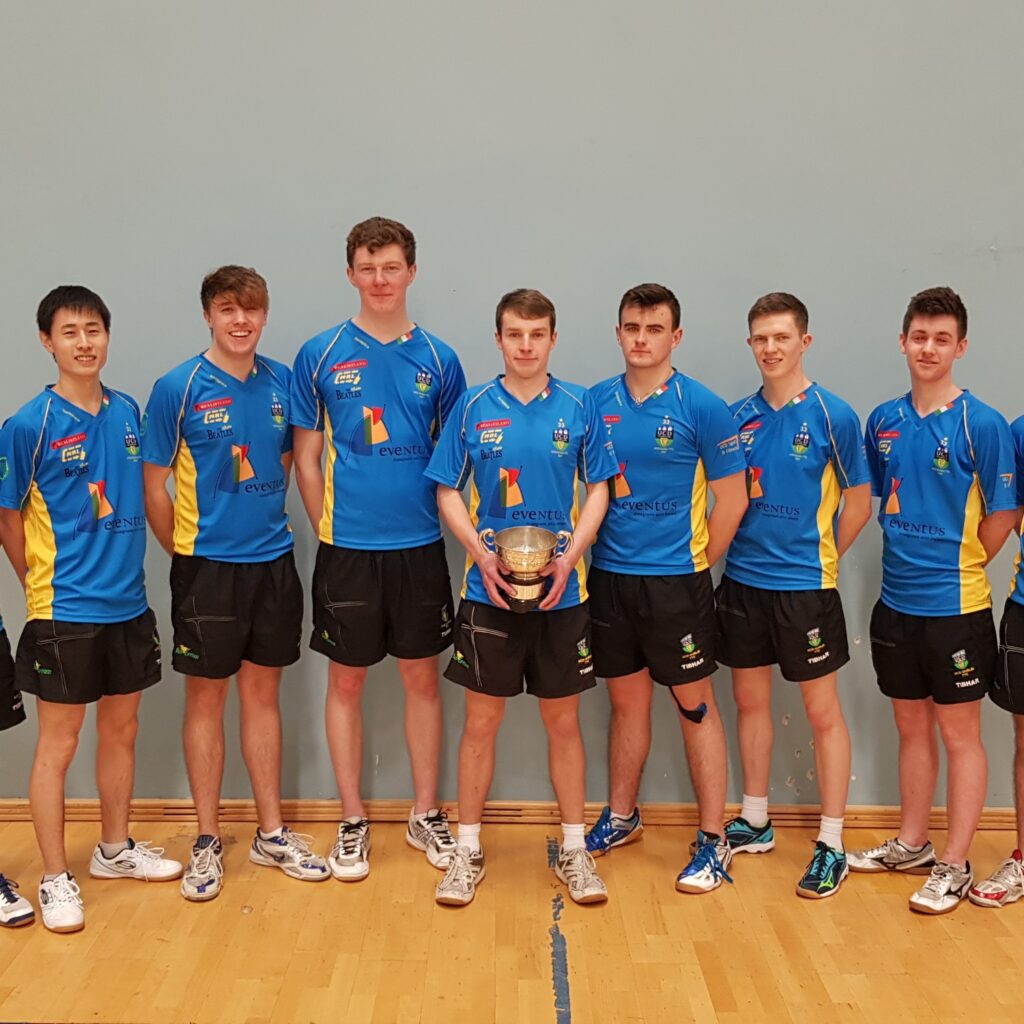 2019 Wine Cup Champions UCD
UCD were the major winners at the Irish Universities Championships, held in Galway 15/16 February 2019, taking three out of four titles, including an incredible 20th consecutive Mens Team title for the Irish Universities Hubert Wine Cup. Competition for the Wine Cup began in 1949, with Trinity College boasting the next longest winning streak, from 1949-1956. Queens, UCC, Trinity and UCD have been the main challengers in the event over the 70 years, however the current dominance at Intervarsity level of UCD at is probably without equal in any sport in Ireland.
There was a host of current and former Interprovincial and International players spread across almost all the teams in both Mens and Ladies, with Varsity table tennis at its strongest level in many years. However, in the Mens Team event, it was the strength in depth of UCD that told, with current and former junior and senior internationals playing at #1-5 in the UCD team, with an interprovincial at #6. UCD accounted for DIT, NUI Galway and Trinity en route to the final, where they overpowered a strong University of Limerick team on an 8-1 scoreline.
In the Ladies Team event, UCD were also defending Champions, with former National Champions Katie McGlone and Hannah Lynch Dawson playing at the top of the team. Experience again told, with the UCD team sweeping through the event with straight 6-0 victories over Sligo, UCC and NUI Galway.
It was McGlone and Lynch Dawson who also lead the way in the singles event, overcoming the semi-final challenges of Mair Kelly (UCC) and Amanda Taylor (NUIG), to face off in an all UCD final where McGlone took the Ladies title on a 3-0 scoreline ahead of defending Ladies Champion Lynch Dawson.
The Mens Singles saw UCD take four out of the eight quarter final positions, with Ryan Farrell (DCU), Brian Dunleavy (UL), Conor Beades (TCD) and Wei Xu (NUIG) joining the UCD quartet of Sasha Gillen, Tom Davis, Joey Nelson and Luke Dempsey. Seeding held true, with the top 4 seeds coming through to the semi-finals, and the top two seeds reaching the final, Gillen defeating Nelson in the semi-final, while top seed and defending Champion Farrell also reached the decider, although not without a huge semi-final against Davis that saw both players save match points, before the match was decided 14-12 in the 5th set. The battle of the scholarship students saw Farrell settle quickest in the final, taking the Mens Singles title for the second time, on a 3-1 scoreline.