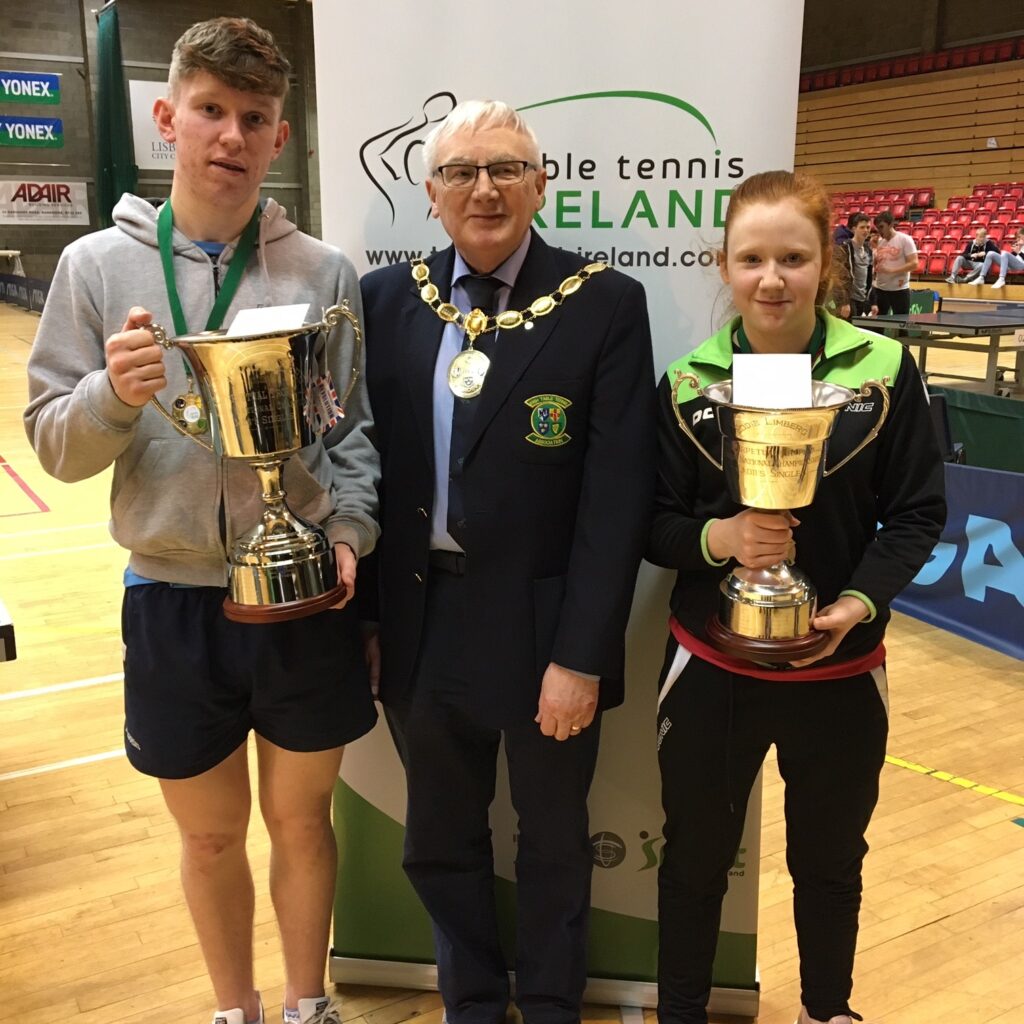 Pictured are Owen Cathcart (Men's Singles Champion), Ken Strong (President) and Sophie Earley (Ladies Singles Champion)
The Irish National Championships, supported by Joola, took place in Lisburn 1-3 March 2019. There were 18 National titles on offer, with keen competition and an open field in many of the categories.
The Ladies Singles for the Ladies Limberg Cup began on Friday night, continuing on Saturday, however it was no real surprise that the event boiled down to the top two seeds, defending Champion Mia O'Rahilly-Egan (Griffeen Valley) and up and coming cadet Sophie Earley (Ormeau). Youth won out over experience, as Earley took a first Senior National title ahead of O'Rahilly-Egan, Zofia Wawrzyniak (Leeside) and Rebecca Finn (Glenburn) finishing as bronze medallists. Ladies Doubles National Champions are O'Rahilly-Egan & Wawrzyniak, who overcame the challenge of Sabina Devereux (Wexford) and Claire Heller (Dun Laoire).
Unfortunately for the Dublin girl, it was the same story in the U21 Ladies, as Earley again held firm to take the National U21 Ladies Champion title ahead of O'Rahilly-Egan. Earley became the first winner of the new U21 National Shield named in honour of Pat O'Brien, and which will also have all past winners names engraved on it.
The Junior Girls National Champion title also went the way of young Earley, with O'Rahilly-Egan again, despite a tight 3-2 match, on the wrong end of the scoreline, with Pravesha Ragi (Loop) and Lucy Craig (Glenburn) earning bronze. Ragi teamed up with Silke Heinen (Leeside) to take the National Junior Girls Doubles Champion title ahead of Lucy Craig and Lucy Johnston (both Glenburn).
In the Cadet Girls, surprise finalist Lucy McIvor (Ormeau) was unable to get past the solid control and defence of Silke Heinen, as the Cork girl took her first Cadet Girls National Champion title, Ragi and Nicole Larmour (Banbridge) taking bronze. Cadet Doubles went the same way as the Junior Doubles title, as Heinen and Ragi teamed up again, taking the National title ahead of Anna Kelly and Lucy McIvor (both Ormeau).
Mini Cadet Girls saw Emily Flynn(Unattached) emerge as Mini Cadet Girls National Champion ahead of Rachel Taylor (Bunninadden), bronze medallists Anjali Singh (Ormeau) and Ruta Miliute(Bunninadden).
The Mens Singles also saw a new name on the Mens Limberg Cup, with Owen Cathcart (Ormeau) travelling home from full time training in Sweden to take the win in what was also his first Senior final. Cathcart became the first player to complete the set of the male singles titles – Mini Cadet, Cadet, Junior and Senior – since the Junior National Championships were restarted in 2005. An exciting final saw Cathcart off to an early lead against defending Champion Gavin Maguire(UCD/Dublin), with a fightback from Maguire not enough to threaten seriously in the match. Bronze medallists were Thomas Earley (Ormeau) and Zak Wilson (Glenburn). Maguire and Alex Gillen (UCD/Dublin) teamed up to take the Mens Doubles, Maguire retaining his title, ahead of Ryan Farrell (DCU) and Wilson.
Even while the Mens Singles final was on, much of the drama in the hall was centred on the U21 Mens Final, where Wilson was seeking to reclaim the title he won in 2016 and 2017, while Tom Davis (UCD/Dublin) was desperately seeking to retain his 2018 crown, and become the first winner of the new U21 Shield, named in honour of Tony Martin. Davis and Wilson displayed all of their renowned battling abilities, however it was Davis who emerged victorious on a 3-2 scoreline, Thomas Earley and Alex Gillen earning bronze.
The Junior Boys was perhaps the only event where the winner could have come from almost anywhere, with danger right down the Top 8 seedings and even beyond. In the end however it was a repeat of last years Junior Boys final, with Alan Pattison (UCD/Dublin) emerging as National Junior Champion ahead of defending Champion (Art McLaughlin (UCD/Dublin) on a 3-2 scoreline, with Kristijonas Dapkus (Bunninadden) and Conor Nugent (Ormeau) finishing in bronze. Junior Doubles saw McLaughlin and Dillon Byrne (UCD/Dublin) reprise their Champion Cadet pairing from 2018 to take the title ahead of Dapkus and David Taylor (Bunninadden).
Cadet Boys saw surprises and upsets across the draw, with the one constant being eventual Champion Dillon Byrne who took the National Cadet Champion title against clubmate and surprise finalist Maitiu Heckmann (UCD/Dublin), with Tom Colvin (Craigavon) and Joe Sheard (Craigavon) taking the bronze. In Cadet Doubles, Byrne & Heckmann teamed up to take the National title ahead of Jonathan Mooney & Max Skelton (both Ormeau), Byrne defending his title from 2018.
In Mini Cadet, Gellert Moravcsik went unbeaten for the season at this level, winning 5 tournaments from 5, taking the Mini Cadet National Champion title ahead of silver medallist Tom Irwin (Dungannon), bronze medallists Fionn Hickey (UCD/Dublin) and Ben Watson (Ormeau).
The Veterans title went to Daryl Strong ahead of long time team mate Phil Wallace (both Ormeau), while the Restricted Singles title went to Rodney McKirgan (Dungannon) ahead of James Magrath (Glenburn).
Finally, the Mixed Doubles National Championship went the way of defending Champion Gavin Maguire, who teamed up with Sophie Earley, defeating Alex Gillen and Mia O'Rahilly Egan.
Please click HERE for the full list of results.