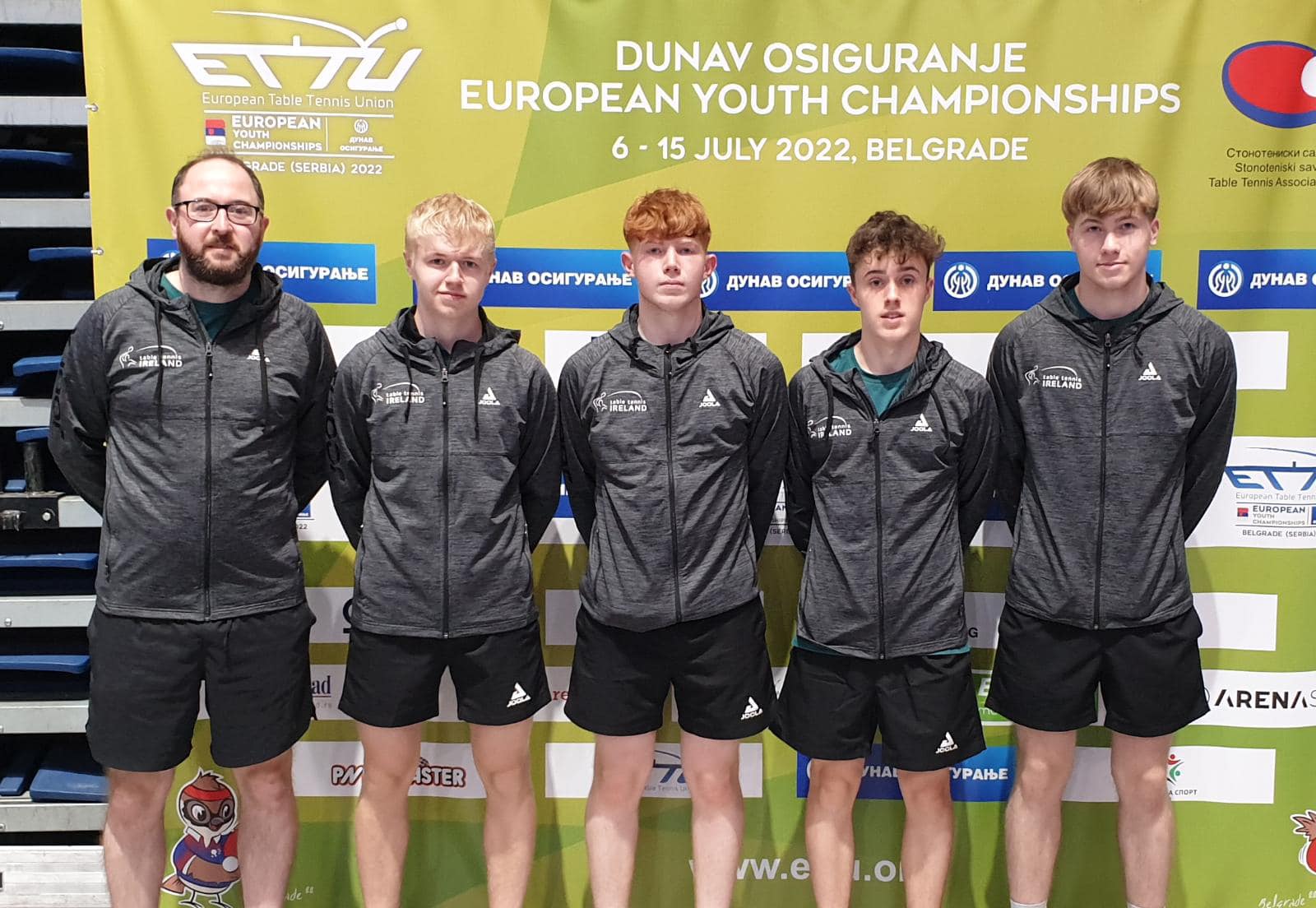 The Irish Junior boys team of Tom Colvin, Jonathan Mooney, James Skelton and Max Skelton, along with Coach Gervis Knox competed against the best teams in Europe in this year's team event at the European Youth Championships.
The first day was tough for the guys, who were a little passive and nervy against a strong team from Turkey. They lost 3-0 but Tom had the best chance, taking their number 3 to the 5th set.
After a good training session, they came into match two stronger and much more composed against group seeds Denmark. This match proved to be an epic that went the distance with James and Jonathan taking out their number 1 SKARSHOLM (World No.77). This left the deciding game between James and HOLD which was a thriller going to five sets with James holding his nerve to close out 11-7!! A monster win for the lads and a great team effort to end Day 1.
Just the one match on Day 2 taking on Moldova after a good morning training session. Jonathan was first up taking on their number 1 in a cagey game with Jonathan coming out victorious winning the final set 11-8. James made light work of their number 2 winning in three straight sets. Tom played at Number 3 and took the win 3-1 after a small blip in the third set. The fate of the team lay with Ireland needing a result from Turkey over Denmark and it wasn't to be as the Danes took the match 3-1 leaving Ireland third in the group and pushed out of the Top 28 teams.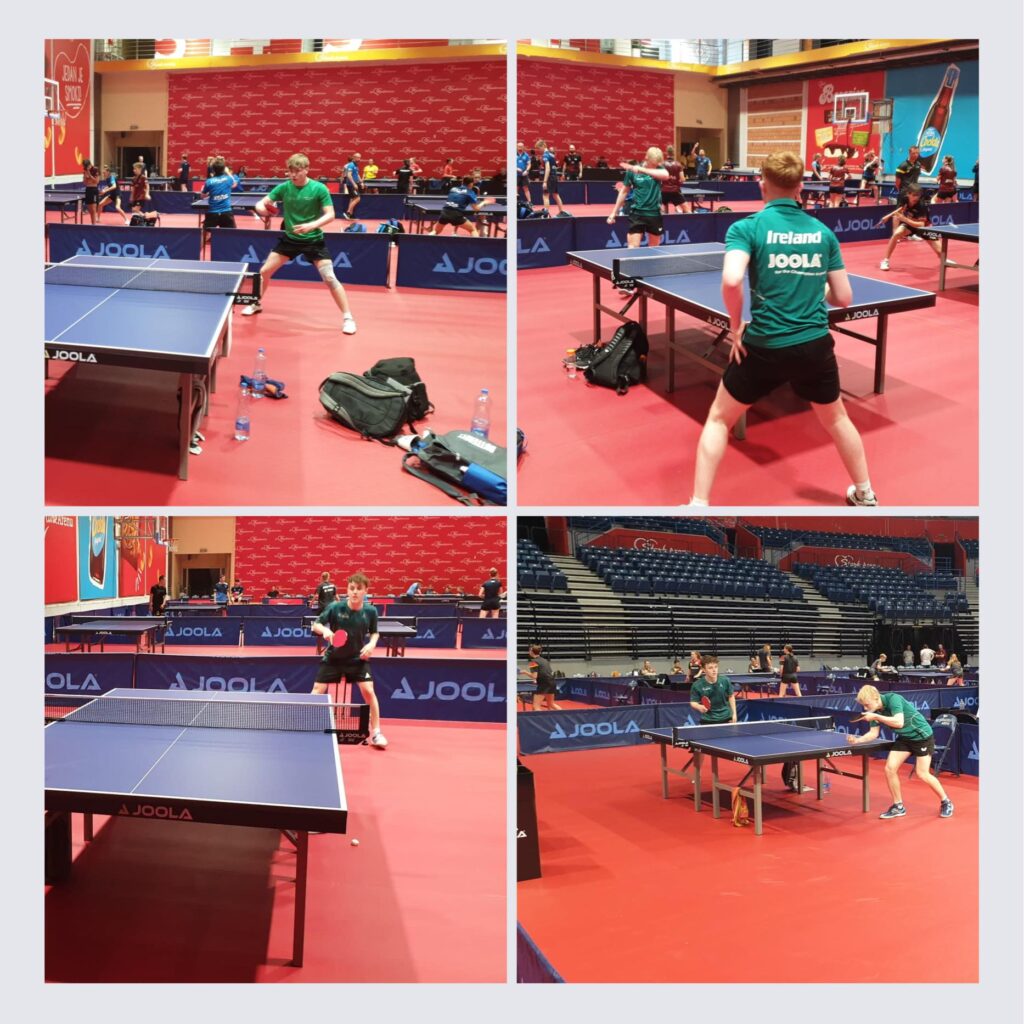 Day 3 starts the battle for placement and Ireland drew Malta and Estonia in the playoff groups. The only game of the day was against Malta and the guys stepped it up to beat them 3-0 dropping only one set in the process.
Day 4 was an early 9am group match against an experienced Estonia whom Ireland has faced many times in senior Europeans in the past. This was the game that got away with a very slow start with No.1 James going down 3-0 to MOOS. Jonathan got off to a blistering start winning the first set against PUKK 11-5 and taking the lead in the second only to see momentum swing and PUKK held the next three sets to win 3-1. Again a slow start from Tom saw him trail KURVET 2-0 but picked up form and won the next three games to bring the match to a fourth match. James took on No.1 PUKK but couldn't find his usual form and unfortunately went down 3-1. After this tough loss, the boys moved into the final placement positions for places 32-34 against Bulgaria and Cyrpus.
Day 5 started with another early 9am match and this time the boys were much more fired up and wanted to rectify their performance from the previous day. Jonathan started the game in good form dropping only one set to their No.1 ELIA to swing the momentum in Ireland's favour. James disappointed with his performance against Estonia came out on fire and took their No.2 TSISSIOS 3-0. Max stepped in to play the match at 3 and was unlucky not to convert set 1 & 3 against THEOFANOUS and went down 3-0 leaving the match score 2-1 for Ireland. No.1 James stepped up to play game 4 against ELIA and he didn't disappoint winning 3-1 and leaving Ireland with a great 3-1 win over Cyprus.
The final match of the tournament was against Bulgaria and the boys looked to finish with a win. The first match was between Jonathan and EFTIMOV and after four close games he went down 3-1. Second game James took on the lefty STOYANOV which was a crucial game to get Ireland on the board and he delivered with a 3-1 win. The game sitting at 1-1 left Tom coming back into the mix and proved too strong for their No.3 SARIEV not dropping a set and taking the match 3-0. EFTIMOV proved to be a tough opponent bringing his form through and taking out James 3-0 to leave the match hanging on a decider. The final match of the tourament was between STOYANOV and Jonathan and he finished the job-winning 3-0 giving Ireland a well-earned 3-2 victory!
Overall a great week of Table Tennis from the Irish boys who can go away with a monstrous win over Denmark, played a tight game with 8th place Turkey and finished with wins over Malta, Moldava, Cyrpus and Bulgaria.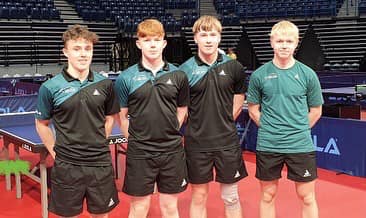 Quote from the team coach Gervis Knox "Overall very happy with the boys performances going away great confidence knowing we can go toe to toe with some of Europes best teams. Our players are not used to these conditions and only play a few international events but adjusted very quickly to produce excellent results against table tennis powerhouses Denmark and Turkey".
Congratulations to the full team and you have done Ireland very proud with your efforts. Sophie Earley will fly the flag in the singles event as she starts her campaign on Tuesday – best of luck Sophie!