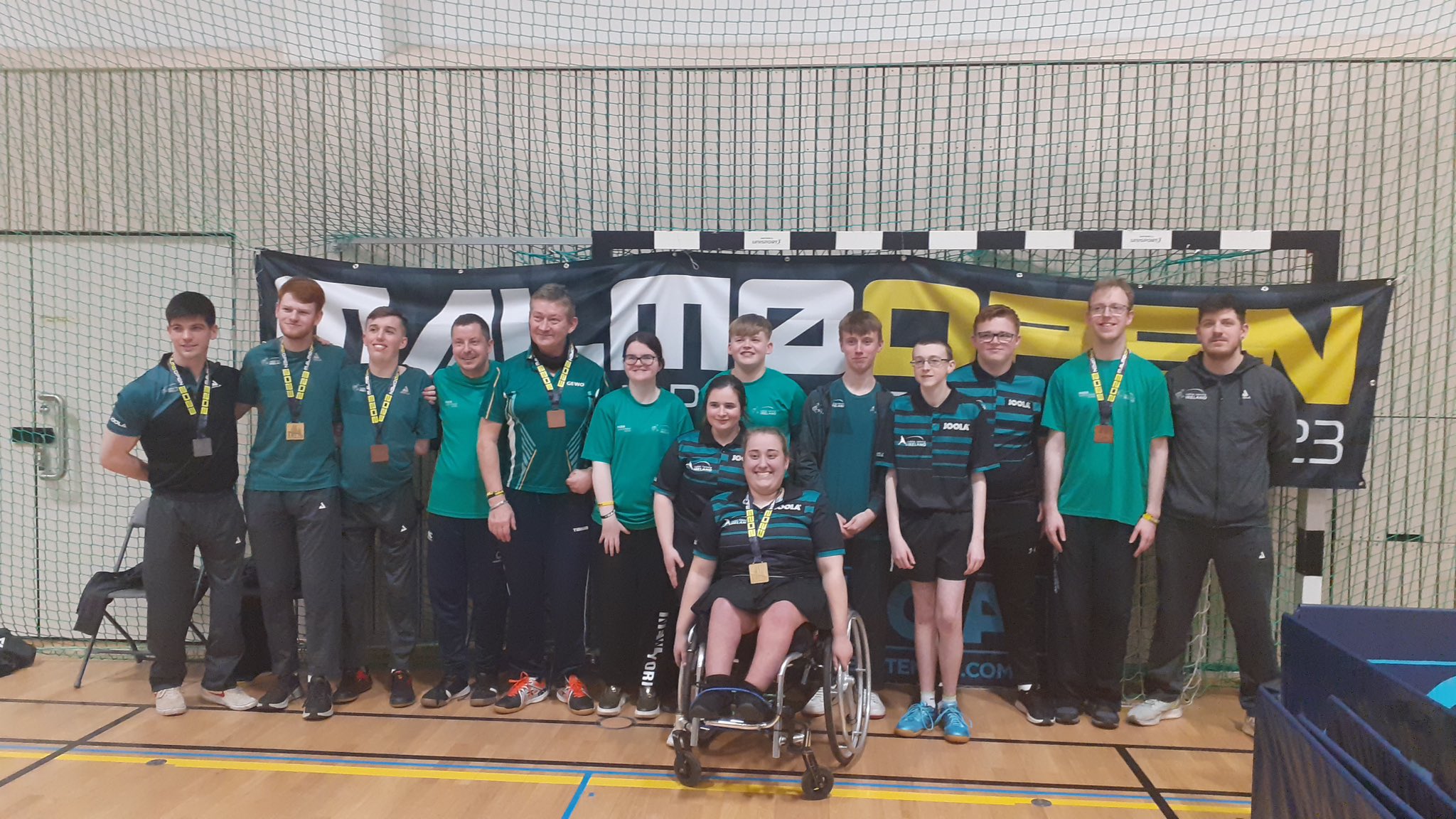 Mark Twain wrote "travel is fatal to prejudice, bigotry and narrow mindedness and many of our people need it sorely on these accounts". By that yardstick we travelled well in attending the 2023 Malmo Parasport Event in Sweden this past weekend. The table tennis event saw a record entry of 160 participants from 10 countries – Ireland, Denmark, Finland, Norway, Sweden, UK, Austria, Jordan, Hungary and Iceland. So much so that the event had to be moved from the main Malmo stadium to the sports hall at Hasthagens where the lack of live streaming and interaction with the wider selection of parasport games devalued the player and supporter experience somewhat.
Nevertheless, the Development Squad put 13 players into the field – the largest Irish entry in the three visits to Malmo to date since 2019 – and we enjoyed our best results in the competition standings to date winning 15 medals in total across the three days.
On Friday Team Ireland won 3 medals , which included a gold medal for Alicia Winter in the seated doubles plate final – her partner was Heinrik Andersson from Austria. Jude Sheldon and Sam Brennan won silver in the standing doubles plate final. So, a good start for the Development Squad.
Saturday saw three general classification and four junior/youth singles categories on offer where 5 medals were won. Patrick McCormick won a bronze medal as a semi-finalist in the morning's category 3 plate event. The afternoon saw Caoimhe Folan winning the junior girls plate event and Jude Sheldon semi-finalist in the junior boys plate event, Sam Brennan semi-finalist in the youth event and Alicia Winter third in the youth/class 1-5 events.
Sunday proved to be our most successful day with seven medals across classes 1 to 11. Alicia continued her good form with winning the plate final in class 1-3. Conor O Callaghan reached the semi-finals in class 6, while Des Ryan won a bronze medal in the class 6 plate competition. Class 7 saw a brilliant performance by Paddy Vaughan who made it to the final, beating some higher ranked players along the way, but found the current world no 1 and multiple paralympic champion, Will Bayley, too strong in the final. Hello??? Will Bayley!! Back on earth in class 8 both Jude and David McCaughern won bronze medals in the plate competition. In class 9-10 Sean Geoghegan went two steps better and won the plate final. Finally, while we did not have any medallists in class 11, performances since 2020 did improve with strong last 8 achievements in the main event for Aaron Mellows and for Aoife Kelly in the plate competition.
Overall, our most successful player was Alicia Winter with two gold and one bronze with special mention to Jude Sheldon with one silver and two bronze. 15 medals represent a 70% increase on our 2020 medals total and taking the significant improvement in the number of quarter finals achieved – 11 versus 5 in 2020 – the curve for the Para Development Squad is firmly upward.
The investment of the coaches, Sam Logue, Mick Cunningham and Ashley Robinson, along with Para Manager, Gavin Maguire, in the monthly training camps and the complimentary support of the parents/family members is paying off. A big thank you to them all and we look forward to more international competitions and training camps abroad in the future with funding support from TTI. While it hardly needs to be said that what happened in Malmo stays in Malmo, a special shout must go out to Mick Cunningham for his indefatigable good humour throughout the 4 days – his early (very early) morning wake up calls apart (tip no 1: don't book a room beside his). Finally, the Para Committee will be awarding a specially commissioned St Christopher's medal to Des ahead of his next trip abroad with the Squad