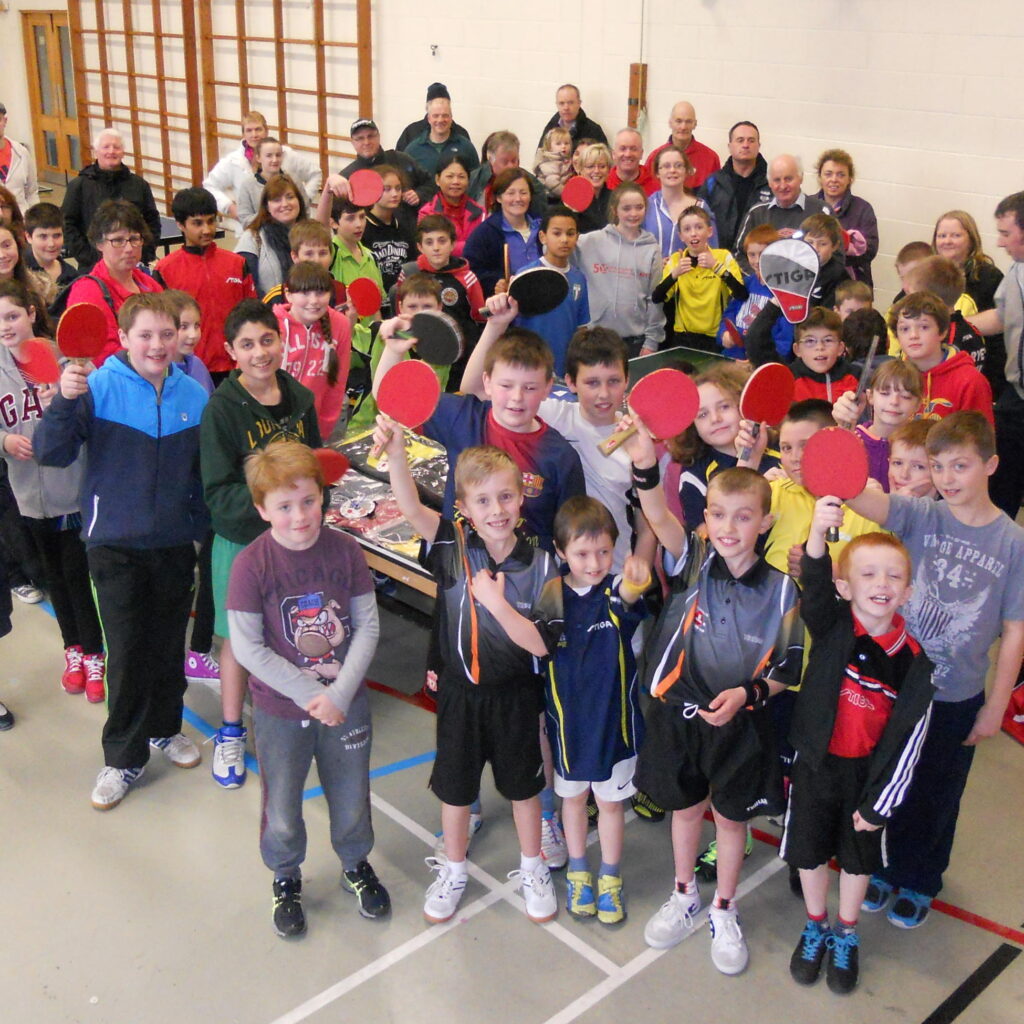 Kinsale Challenger Report
Kinsale Community School
Sunday, 2nd February, 2014
There's a new club in Munster, and they have arrived with a bang! A mere few months after they started up under the watchful eye of Alan Hurley, South Coast Table Tennis Club hosted one of Munster's best Challenger Events yet! These STIGA-sponsored events are very popular, and this one attracted sixty children from Cork and Kerry to play in Kinsale Community School, the first time this venue has hosted a table tennis tournament – but judging by today, certainly not the last!
As usual, there was a Group phase, where the players were encouraged to get to know each other and where experienced players were drawn with novices to help them along – all players were advised to look on these as "practice". This also allowed the organisers to observe the less well-known players to allocate them into Divisions for the serious business ahead.
And serious it was, especially in Divison 1, where some of Munster's best juniors were playing. Usaamah Hussain was unstoppable, only his club-mate Adam Lazaryev getting anywhere close, and they finished first and second respectively.
There were 14 players in the next tier, so they were split into Divisions 2A and 2B. Silke Heinen was a clear winner of Division 2A, but it was very tight for second, with Thuy Linh Cashman edging Alex Flynn and Liam Proudford who all had the same number of wins. In Division 2B, the ever-smiling boys from Ballincollig, Ciaran O'Donoghue and Cian Ross made it through to the semi-finals. But it was the Leeside girls who won both semis, and Thuy Linh reversed the earlier result against Silke to take the win in Division 2.
There were some new faces in Division 3, and with six wins from six in 3A, William Jefferies looked a strong favourite! But in the semi-final, he played the runner-up from Division 3B, Andrew Breen from Tralee, and Andrew earned a place in the final against Luke Murdoch. Luke was too strong, despite being four years younger than his opponent! Another Division win for Leeside.
Division four was easy pickings for Scott McElroy, who won eight straight matches to take the title, beating Nick Macleod in a tense final.
And in Division 5, Ciaran Fogarty had to fight very hard in the final to take the last of the big prizes, beating Shona O'Sullivan in the final.
Between the Group stage and the Divisions, most players got at least nine matches in a hugely enjoyable day of table tennis.
Thanks as always to the series sponsor, Tommy Fitzgerald (STIGA), who provided the match balls and an array of prizes. And a huge thanks to Bev Scannell and Sophie Healy-Thow, who did Trojan work to help the event to run smoothly. There was great support from the parents and coaches from other clubs too; events like this depend hugely on these volunteers.
Results:
Division 1
1. Usaamah Hussain
2. Adam Lazaryev
3. Shelly Tobin
4. Conor O'Callaghan
5. Darragh Boyd
6. Jack O'Brien
7. Darragh Condon
Division 2
1. Thuy Linh Cashman
2. Sike Heinen
3. Ciaran O'Donoghue
4. Cian Ross
5. Alex Flynn
Caoimhe Harnedy
6.
7. Liam Proudford
Dean Scanlon
8.
9. Adam Buckley
Hannah Condon
10.
11. George Rasmussen
Chloe Condon
12.
13. Shane O'Callaghan
Ben-Óg Brady Bates
Division 3
1. Luke Murdoch
2. Andrew Breen
3. William Jeffries
4. Daniel Kennedy
5. Marcus Heinen
Jorge Moreno
6.
7. Sam Hawe
Thi Ly Cashman
8.
9. Tom Good
Alec Schmidt
10.
11. Andrew Hurley
Donagh Griffin
12.
13. Kingsley Hope
Cillian Kerise
Division 4
1. Scott McElroy
2. Nick Macleod
3. Rachel Coburn
4. Cathy Hynes
5. Ben O'Connor
Anna-Maria Vickrow
6.
7. Dale Heinen
Leah O'Keeffe
8.
9. Michael Guerin
Dylan Hill
10.
11. Kate O'Neill
Shannon Twomey
12.
13. Tyrese Hill
Oisin O'Sullivan
Division 5
1. Ciaran Fogarty
2. Shona O'Sullivan
3. Colm heenan
4. Conor O'Sullivan
5. Jessica Furlong
Eva Payne
6.
7. Grace Hynes
Oisin Herberich
8.
9. Cian Vickrow
Rory Griffin