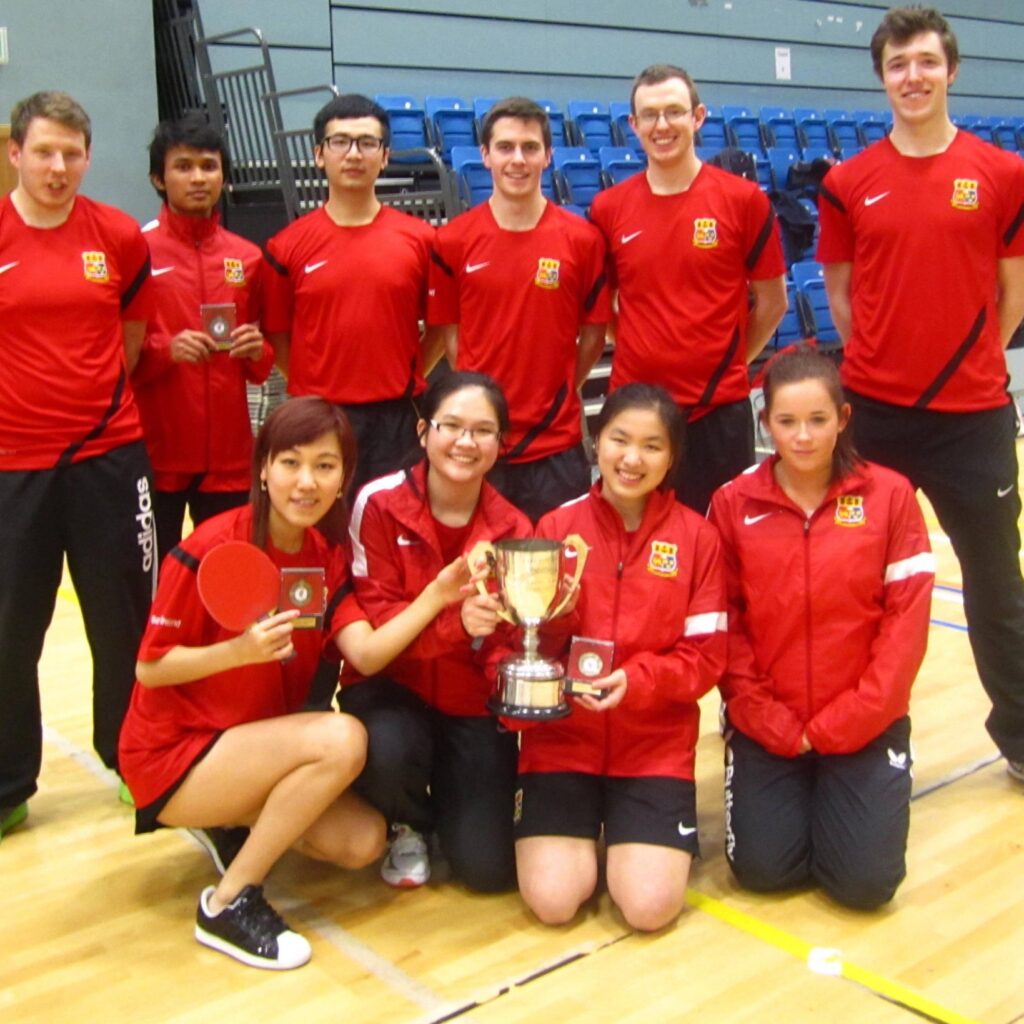 First Intervarsities Success for U.C.C. in 7 Years
Report: Kayrin Ong
The U.C.C. Table Tennis team headed to N.U.I. Galway over the first weekend in February with only one goal in mind – to bring home the silverware! Our formidable squad of six Men and four Ladies did not disappoint. In the team events, both the Men's and Ladies' teams were pitted against the long-reigning champions U.C.D. in the finals.
After the first round of individual matches, it was all-square at 4-4 between U.C.C. and U.C.D. Ladies. The doubles matches would now be the crucial determining factor. Edel O'Reilly & Huizhuang Xie defeated U.C.D.'s Sarah Timlin & Clodagh McMurrow comfortably in the first doubles match so it was the second doubles match which would either seal the deal or bring us into the excruciating deciding doubles.
The doubles match looked as though it was going to go U.C.D.'s way when we were 2-0 down and trailing in the 3rd game. However, the game was not over. To everyone's surprise, the pair of Kayrin Ong & Xie Chen made a great comeback to win the third set and keep the match alive. A change of tactics and great fighting spirit saw the U.C.C. ladies taking the fourth to draw level, and eventually closing out the match in a heart-pounding five-set thriller. Finally, the ladies brought home the cup after seven long years!
In the Men's Team Event, U.C.C. were unlucky to lose out narrowly to holders U.C.D. in a closely fought final which lasted four hours. Nonetheless, our team of Declan O'Brien, Alex Cooney, Gary Goh, Dave Buckley, Darragh Buckley and Naqiyuddin Misran did well to see off the rest of the participating teams rather comfortably.
On the second day, in the Men's Singles Event, our players performed even better with five U.C.C. players contesting the quarter finals. Alex Cooney was unlucky to be drawn against Declan O'Brien in the semi-finals and had to settle for third place. In the Men's Singles Final, Declan defeated U.C.D.'s Kieran Reilly in straight sets to bring home the Men's Individual plaque – also seven years since Mark White's last success in this event!
U.C.C.'s ladies also did well in the individual event. Edel, Huizhuang and Xie Chen took three of the four semi-final places while Kayrin emerged as the Plate Winner. It was a repeat of last year's final when Xie Chen was staged to play against Sarah Timlin. This time the advantage went to the U.C.D. Representative, with a straight sets win in the final.
With a total of two silverwares and six medals won, the team certainly did U.C.C. proud. The future looks bright and hopefully we can go one better in the Men's Team and Ladies' Singles next year!