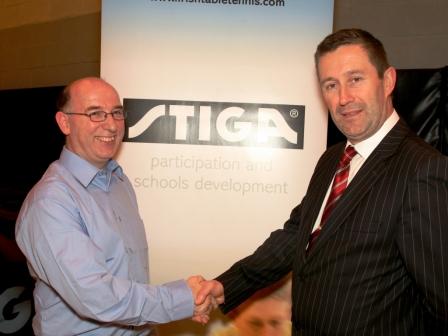 The ITTA is delighted to announce the appointment of STIGA as Official Sponsor to the ITTA Junior Development Programme. The Sponsorship deal covers the next three years and will include the STIGA branding of the Junior Classification, Junior InterPros and Junior Graded, together with the new Junior Participation Tournaments which will be launched by the ITTA in the coming weeks.

Speaking at the contract signing, Mr Tony Farrell, ITTA Marketing Director highlighted that

'the ITTA have a long and established relationship with STIGA through its Irish agent, Mr. Tommy Fitzgerald, and we are delighted that this relationship will continue to promote and develop the game of Table Tennis, at all Junior levels, throughout Ireland'.
STIGA's Irish agent, Tommy Fitzgerald, commented that:

"STIGA are proud to be associated with the ITTA in the development of Table Tennis in Ireland and we look forward to the promotion of the STIGA brand in the Junior Development programme"
For further information on STIGA products in Ireland, check out www.tftt.ie