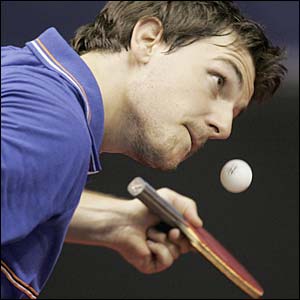 Fatih Sport Complex in Istanbul awaits the greatest superstars of today's table tennis at the second Leg of Euro Asia All Star Series. World's best ranked player China's WANG Hao will be at the front of the Asian side that will challenge the Europeans led by the Old Continent's no. 1 German Timo BOLL. The Event in Turkey is scheduled for the November 10th and 11th.
In the European team, BOLL will play alongside Vladimir SAMSONOV of Belarus, Michale MAZE of Denmark, Werner SCHLAGER of Austria, Kalinikos KREANGA of Greece. Gencay MENGE received wild card as a host nation representative. Turkish player will play two exhibition matches on both competition days.
The Asian team coach CHAN Kong Wah from Hong Kong , beside the Chinese superstar WANG Hao, invited JOO See Yuk of Korea, CHUANG Chih Yuan of Taipei, Hong Kong's LI Ching and GAO Ning of Singapore.
In Beijing on first Leg of the Euro Asia Event, Europe lost 6:4 (on aggregate) in August. Michael MAZE of Denmark and Dimitrij OVTCHAROV of Germany won two matches each. This time Timo BOLL is confident that Europe's team can do even better.
"Vladi is back after the World Cup, Michael is strong and Kalin, Werner and I try as well our best. We have a good team," said the player who proved so many times before that he is equal to the Chinese superstars.
Pan European sport channel EUROPSORT will cover the two days event. On first day coverage will last two hours from 5.30 PM to 7.30 PM, next day the coverage starts at 5 pm and ends at 7 pm CET. The unforgettable inauguration stage of the Euro Asia All Star Series Event at the Bospforus Bridge this summer in Istanbul was fantastic experience that moved the table tennis sport boundaries. Return to the city where East meets the West in November with such heavy list of superstars promising another fantastic journey.