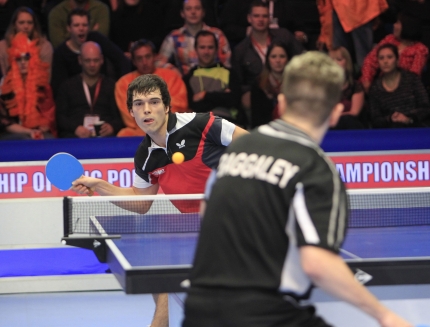 Following the much anticipated countdown. the Alexandra Palace in London is ready to put on another fantastic event as the 2016 edition of the World Championship of Ping Pong is set for kick off.
The ever-popular, rapidly growing event, where players compete using the old style, sandpaper bats, is expected to attract another huge following once again this year.
Ireland will once again be well represented, as Gavin Maguire, Paul McCreery and John Murphy have all made it through to the 64 player event. With a large continguent of travelling support, everything is in place for a thrilling weekends action.
McCreery topped the billing at the recent Irish qualifier in Ormeau TTC, and no doubt will be looking to go deep into this years event following his impressive results over the past few years in London. He will begin his 2016 campaign against a qualifier from the 'Last Chance Event'.
Maguire, who qualified second in Ormeau, will be in the spotlight right from the off, as he enters the main TV arena on Friday evening as part of the featured group. He will face familiar Table Tennis player Oriol Monzo in his opening contest.
Murphy, meanwhile, another man who has experienced a taste of the Ally Pally atmosphere in previous years, will square off against Slovak opposition in his opening match.
Be sure to tune in to all three sessions and see the Irish Players in action LIVE on Sky Sports 5 from 6pm on Friday. If the previous years are anything to go by, it should be a cracker!
For more see the official World Championship of Ping Pong website here
TV Schedule
Friday 22nd January – 6pm – Group Stage (Featuring Gavin Maguire)
Saturday 23rd Jan – 6pm – Last 32 and Last 16
Sunday 24th Jan – 6pm – Quarter Finals to finish