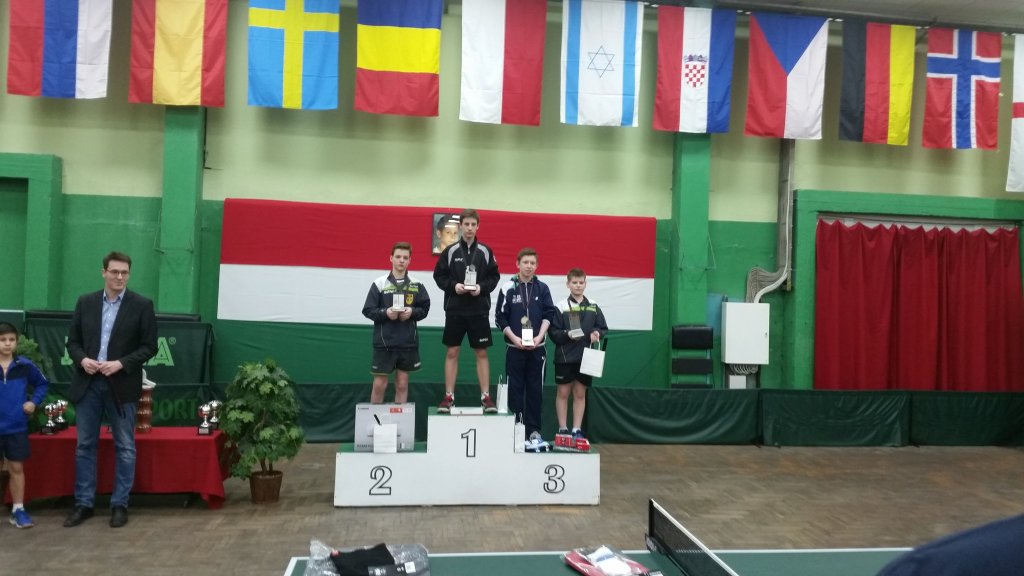 Irish Number 1 Owen Cathcart was the shining light over the weekend as a young national team did battle at the 21st Janos Molnar Memorial Tournament in Budapest, Hungary from 4-7 February.
This tournament has been a happy stomping ground for the Belfast boy, who in 2015 went away with a bronze medal in the Mini-Cadet event. This time around he added to his collection with another medal winning performance – as his roller coaster ride to the cadet boys semi final was enough to earn a well deserved bronze.
The event itself, now in its 21st year, is a boys tournament held annually by the BVSC Table Tennis Club in Budapest in memory of their former player Janos Molnar, a talented young boy who tragically lost his life in a car accident in 1995. Known for its well supported entry, Ireland was one of 16 countries represented in this highly International tournament.
The opening 2 days play were taken up by the Mini-Cadet events. On day 1 the Irish boys were right in the mix as our 2 players on show, Dillon Byrne and Thomas Joyce, made their way through the draw following a series of impressive performances. Thomas eventually bowed out at the last 16 stage, losing out to eventual finalist Lloret (ESP) by the narrowest of margins 3-2. However, this wasn't where Irish interest ended, as Dillon was still going strong.
Following an excellent 3-0 last 16 victory Vandor (HUN), which included an amazing fight back from 4-10 to take the 1st set, he was now in the medal positions as a top 8 finisher. Unfortunately the quarter final was as far as the Griffeen Valley boy would go, as he lost out to Balogh (HUN) 0-3 – nonetheless an extremely positive day for our 2004 boys.
Day 2 was the turn of the 2003 singles (U13). Art McLaughlin joined the action here alongside Thomas and Dillon. Again, huge positives were taken as all 3 boys advanced to the main draw, with Thomas and Art both topping their respective groups. However this was where it ended for the boys, as Art went down 0-3 to Lloret (ESP), Dillon was beaten Huzsvár (HUN) while Thomas lost a closely fought contest with highly rated youngster, Pach (HUN).
Day 3 was the turn of the Cadet (U15) Boys Singles and with it was the introduction of the final two Irish players in the event as Conor Nugent and Owen Cathcart entered the fray. With the full team now in action, Saturday morning was a busy one for players and coaches alike!
The step up to Cadet level was clear right from the off on Saturday as our mini cadets were up against it from word go. However they didn't go down easily, as all 3 boys acquitted themselves well. Art came closest to qualifying as he won 2 matches in his group of 5. Unfortunately earlier 1-3 loses to Spanish and Swedish opposition proved costly.
Both of our fully fledged Cadets in Owen and Conor soon stepped up and booked their places in the main draw. Owen came out of the blocks quickly winning 3-0 against Swedish, Hungarian and Slovak opposition. Conor was made to work that bit harder, but he duly delivered as back-to-back 5 set battles went his way against Hungarian and Czech opponents. Defeat in his final match of the morning meant he qualified as group runner-up.
Progression meant both boys now faced last 32 knockout matches. Conor was first up and unfortunately this was as far as the Glenburn boy would go as he had no answer for the strong defensive skills of Karmazin (ISR) culminating in a 0-3 defeat.
Owen's Knockout journey kicked off against Slovak Number 2 Klajber and he was made to battle hard as he recovered from 1-2 down to eventually come through in 5 sets – a good test passed by the Ormeau TTC boy. Next up was a tough opponent in Tauler (ESP) who had just accounted for a strong Israeli defender in the previous round. Owen was sharp here as he didn't give the Spaniard a moment to think, racing through the gears to seal a 3-0 victory.
Quarter Final time and the stage was set. Standing in Owen's path was top seed and World Ranked 33 Patrik Juhász (HUN). Owen (WR 60) wasn't fazed as he relentlessly pursued the fancied Hungarian, storming to a 2-0 lead following countless fast paced exchanges and exquisite serve and receive. This one was far from over however, as Juhász, with the home support behind him, came back fighting to take the 3rd. Owen then had his chances in the 4th leading 6-3 following more exhausting rallies. It wasn't to be this time though as he was again pegged back as the Hungarian picked his pocket to take it 11-9. Into the decider, and as the character of the Ulster boy was firmly put to the test… he duly delivered. From ball one, he didn't put a foot wrong as he fired wave after wave of attack in the direction of Juhász. Exceptional power and acute precision was on show for all to see as the top seed had no answer for Owen as he ran out an 11-6 winner – huge performance!
On to the semis and the rounds were coming thick and fast at the business end of the event. Owen was straight back in, this time against World Ranked 54 Tèrek (HUN). Perhaps understandably so following his exploits from the previous round, Owen couldn't quite reach his top level here despite having his chances. Having trailed for most of the first set, he fought back to have set points before eventually losing it 14-12. Térek, seemingly fresh from his more straight forward quarter-final, started quickly in the 2nd and soon extended his lead to 2-0 after an 11-7 end. Owen then came out firing in the 3rd showing real quality, reminiscint of earlier in the evening, as he raced to a 10-6 lead. However, a couple of scrappy points led to the Hungarian clawing back to 10-10, before eventually sealing victory following a massive match winning rally. After a gruelling day, Owen finished with a bronze medal – just reward for a fine performance.
Amazingly, after what seemed like the longest few days you could spend at a tournament, the event was still going for our five-strong team! Sunday brought the curtain down on proceedings and all of the team were in action as the Junior Singles (U18) kicked off. As expected, this was a tough examination for all of our young group. With the excepion of Owen (who advanced as group winner), all of our boys lost out at the opening stage. However there were notable performances from our boys as some wins were collected along the way by Thomas (2), Art (1) and Conor (1) while Dillon was narrowly beaten deuce in the 5th.
In the Knockout stage, Owen put in a strong last 32 performance to beat the Israeli left-hander Goren in straight sets. Next up was his last 16 match and another battle ensued. This time he was pitted against number 3 seed and Hungarian National Junior team player Gabor Kovacs. Despite his high rating, Owen set his sights on another major scalp as he threw everything at his more senior opponent to give himself a 2-1 set lead. Unfortunately, he couldn't quite pull it off this time though, as Kovacs came fighting back to squeeze through in five energy sapping sets. Another strong performance from the Ulster youngster.


Overall, it was a great week for this group of young Irish players. They have shown their ability in terms of how they can perform against strong International opposition. With more training and sustained, deliberate practice, the sky is the limit for our young squad.