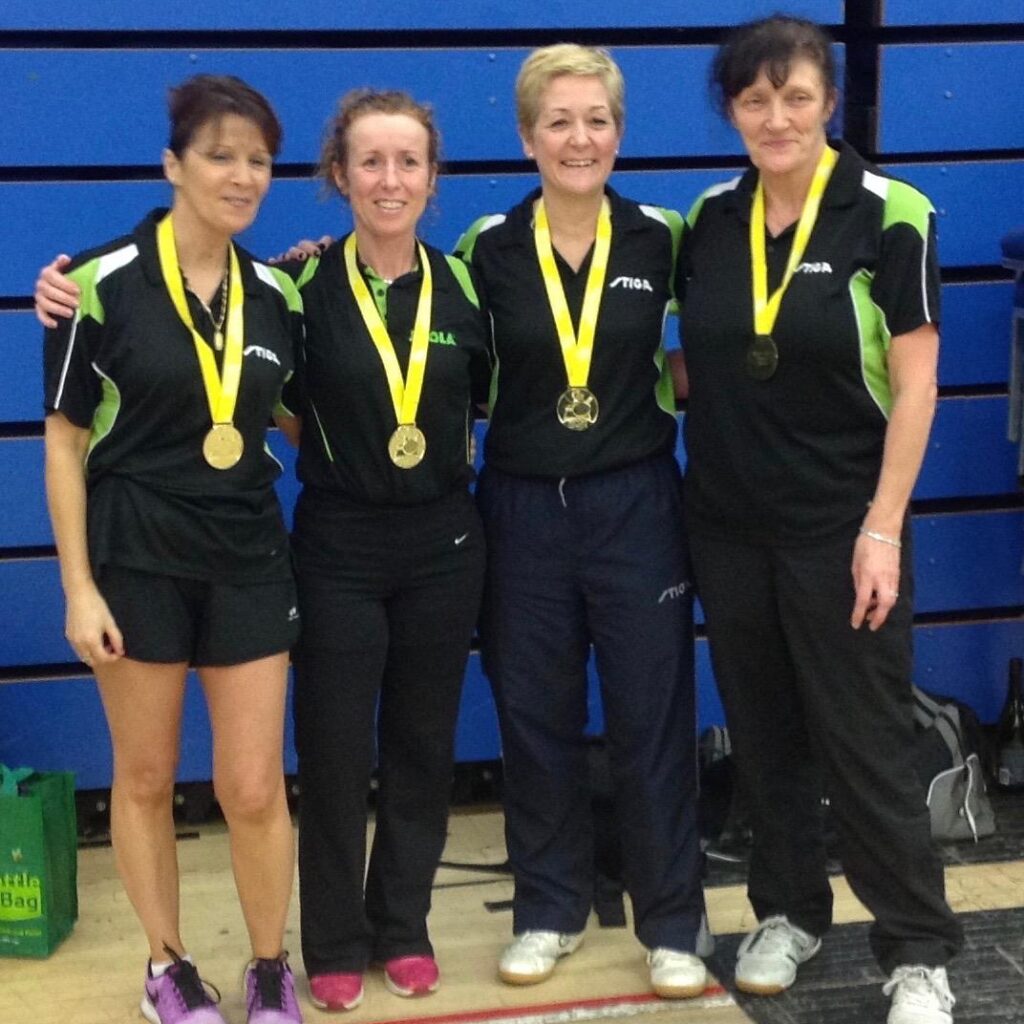 Congratulations to the Irish Colleens team of Ros Carpenter, Anne Marie Nugent, Ger Greene and Sharon Brien-Gibbons on their fantastic performance in the 2015-2016 VBL. Having been promoted to Division 1, their initial goal for the season was to hold their own and avoid relegation. Lying in third place after the first round in Derby, a new goal was set for the final round in Doncaster: a top-two finish, which would assure promotion to the Premier division for next season.
The Colleens bagged their opening three matches, including a hard fought win over division favourites, Hels Ladies. Anne Marie set the tone for the day with a no-nonsense 3-1 win in her opening game against Northern Belles, helped by 3 edges at crucial stages in the fourth set. Ger piled on the pressure; her flawless display of cross court winners from both fore- and bank-hand sides being key to a straight-sets victory. Game of the day went to Ros in a no holes barred, end-to-end battle with Debbie Auvache of Hels Ladies, which Ros clinched 11:9 in the fourth set. In their next match, Sharon's battle with Milton Keynes' Dawn Pearce summed up her weekend play – neck and neck throughout, Sharon lost the decider 11:13 on a net!
Their collective efforts positioned the Colleens as table toppers at the end of day one and a further point from day two would guaranteed them a top two finish. All thoughts of hitting the town that evening were banished, as a new goal was set: let's give it our all on day two and try win the division!
Give it their all they did! However, Lyncrest, who were hot on the Colleens' heels, were determined to upset their winning streak. This match yielded more 'juices' than a Tropicana factory. Unfortunately, the majority of them went in Lyncrest's favour. Clinching a 4-2 win, Lyncrest gained a one point lead over the Colleens.
Winning the division was now a long-shot for the Colleens. Beating Ashford Ladies would not be enough. Their one life-line was a possible points count-back, but this would require in-form Lyncrest to draw their last match against Hels Ladies; an unlikely event, as Hels had been weakened by the loss on the day of their number two player.
Not disheartened, the Colleens refocused their attention on the final match at hand, against Ashford. Ros played a stormer, yielding a close win over Rachel Smith. In the next game, Anne Marie (aka Lazareth), lost the first two sets to Diane Mclellan. Helped by a now boisterous sideline support, Anne Marie pulled out all of the stops to level the game. A momentary lapse of focus at the start of fifth set caused Anne Marie to slip behind 2:6. However, a timely call for a time-out from the sideline and a few calming words of encouragement lead to another Lazareth moment, which saw Anne Marie grind out a 12:10 win in the fifth. 2-0 to the Colleens and a momentary glance at the scoreboard on the neighbouring table raised their spirits further; Lyncrest were drawn at 1-1…all to play for!
Determined to give it their all, Ashford looked set to dash the Colleen's hopes, as they snatched the next two games to level the match at 2-2. However, another back-from-the-dead performance gave Anne Marie a well deserved win over Rachel; edging the Colleens closer to the title.
No surprise, but the last game of the day was a tense affair. By then, the neighbouring table's scoreboard displayed a drawn result. A furtive check, double-check and then (just to be sure) triple-check of the Division's overall results sheet confirmed the prospect of a gold medal for the Colleens. All that was needed was for Ger to win her final game in order for a points count-back to seal the title. Needless to say, nerves played a big part in the opening exchanges. Ger's steely determination soon kicked in: taking two of the first three sets, she then stepped up a gear to build a commanding 6:2 lead in the forth set. Through half-covered eyes, her teammates watched anxiously, as Ger start to let her early grip on the set slip. Now 9:6, a timeout was called for to steady the nerves (ours!). Ger's final push for the line saw her close out the game 11:7.
They'd done it!