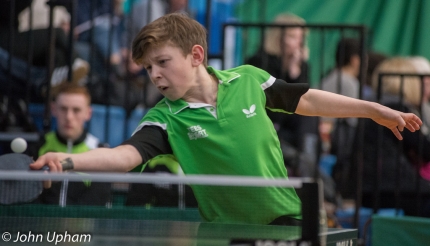 Hodonin, situated in the south east of Moravia, is once again the home for the 2016 Czech Junior and Cadet Open, a Premium ITTF Junior Circuit Tournament; play commences on Wednesday 10th February and concludes on Sunday 14th February.
Owen Cathcart, fresh off a medal winning performance in Hungary last weekend, is in action for Ireland at this top level tournament, where he will compete in 5 events over the course of the week; Junior Boys Singles, Junior Boys Doubles, Cadet Team, Cadet Singles and Cadet Doubles.
In the Cadet Team, Owen will pair up with close pal Borgar Haug (NOR), while he will also play with the Norweigan in the Cadet Doubles. The Ireland/Norway team enter the event as number 6 seeds. Meanwhile, in the Junior Doubles, it's an Ireland/England pairing, as Owen teams up with another familiar face, recent England Senior team debutant, Alex Ramsden.
Later in the week, Owens main event, the Cadet Boys Singles, will kick off where the Ulster boy will of course be looking to pick up some scalps following last weeks strong performances in Budapest.
The Junior Boys Singles is first up however, and already this morning, the Ormeau player has caused quite a stir. Pitted in a tough group with higher ranked opposition from Sweden and Lithuania, as well as an unranked 'floater' from Poland, Owen was straight in at the deep end as he faced the groups top seed Viktor Gullbo (SWE), European Ranked 62 U18. Despite playing well above his age, Owen was at it from the off, running out a 3-1 (10, 9, -5, 9) winner – a great start to the week!
He will play his remaining two matches later this afternoon, so be sure to keep an eye out on our twitter @TableTennisIre to follow his progress!