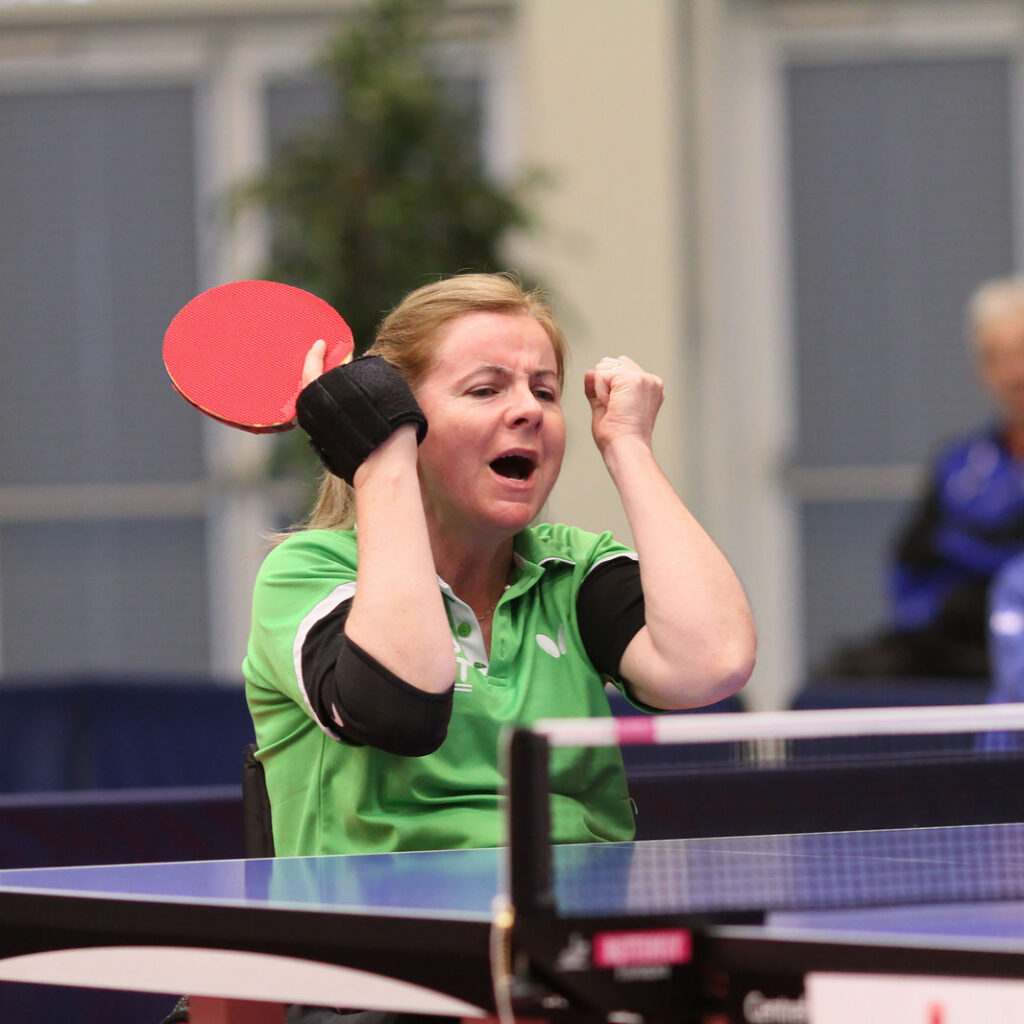 The Paralympic Games will be the second biggest sporting event of 2016, after the Olympics. And last Friday came the news that Ireland will be represented in the table tennis event as Rena McCarron Rooney has qualified for her second Paralympics, having participated at London 2012.
In truth, it may not come as a big surprise. Having finished the year ranked 7th in the world rankings, Rena was virtually certain of a slot. Each individual sport has their own qualification process and in the case of table tennis, the year-end world ranking list of the year preceding the Paralympics (in this case 2015) determines the qualifiers. In Rena's event (Class 1-2 Women) there will be 12 competitors in Rio and so a world ranking of 7 left her as a virtual certainty.
2015 was in fact Rena's most successful year ever, the highlight of which was a silver medal in the singles in the European Championships in Denmark in October. She had also taken silver in Slovenia and bronze in Slovakia in May, having won gold at the Irish National Championships in March.
When asked about her recent success, she was in no doubt about the reasons behind it. Having applied a more scientific approach than previously, and having worked extensively with the Institute of Sport in Blanchardstown, she hails the new techniques that made a difference. "I made a number of changes to my regime last year. For example, I played fewer tournaments than in previous years, and I adopted a 2-peak strategy. I peaked in the late spring and again in autumn for the Europeans." She also changed her training routines, training more at her Galway base and less in Dublin. Leading up to the London Paralympics she trained 3 times a week in Dublin, as well as many week-ends, but found the travel tiring. "I found that the quality of my Dublin sessions was often poor, simply because I was tired from all the travelling. And the travel also affected my ability to get my gym-work in."
Asked about her chances of a medal in Rio, she was quite philosophical. "The important thing for now is to get the right training in. I have taken a winter break and have just now resumed my training. I will try to replicate the intensive training that I did last year, with a few tweaks. I will play a couple of tournaments in May and then will peak again in September. My first match in Rio will be on September 8 and if all goes well with my preparation, then I hope to perform well. And if I perform well, then the results will come."
Originally from Buncrana in County Donegal, Rena has been based for many years in Galway. She qualified for the London Paralympics in 2012 where she finished in the Top 8. A repeat of that performance would certainly make all the hard work worthwhile.