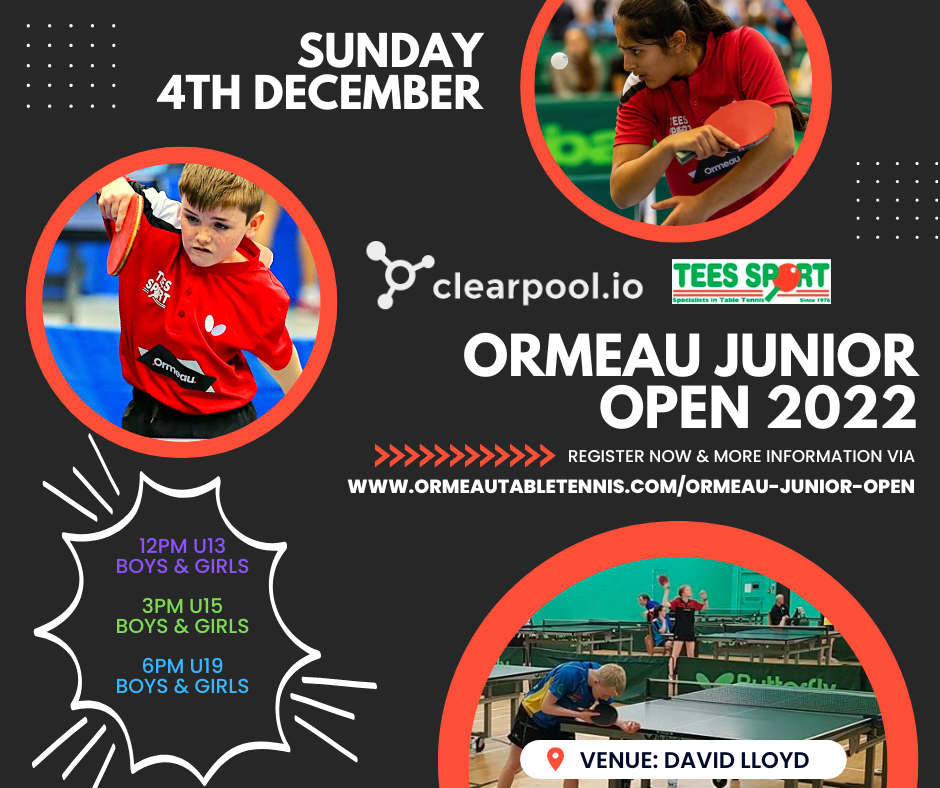 Ormeau TTC are hosting their annual Junior Open Tournament in December. This is a perfect junior tournament for players of all ages and abilities both boys and girls.
Date : Sunday 4th December 2022
Venue : David Lloyd Belfast
Entry Closing Date: Wednesday 30th November
The tournament will comprise of 3 main categories Under 13s, Under 15s and Under 19s. The first stages of the tournament will be groups to encourage more matches for all players.
Prizes will be awarded to 1st, 2nd & 3rd in each category.
A consolation event will be run if time permits in a Knockout format.
Ormeau would like to thank Sponsors Clearpool.io for all their support towards the Ormeau Junior Open.
Tournament Timetable
Under 13s Boys & Girls 12 pm (Maximum 32 Entries)
Under 15 Boys & Girls 3 pm (Maximum 32 Entries)
Under 19 Boys & Girls 6 pm (Maximum 32 Entries)
** Please note ** All times are approximate and events can run past finish times
TOURNAMENT REGULATIONS
More details and entry form available here: https://www.ormeautabletennis.com/ormeau-junior-open/