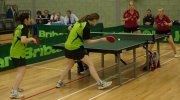 The Irish Womens Team of Amanda Mogey, Ashley Givan and Edel O'reilly are all in top form at the World Team Championships. They have stormed through their Group in Division 3, recording wins over Mongolia and Armenia before recording a spectacular victory over higher seeds Mexico. The Mexico game was a classic, with each of the players recording a single victory agains tough opposition – Ashley Givan clinching the crucial decider 3-1 over Serrano in a tight match. The team are guaranteed a top 3 finish and are currently playing Iran for 2nd place in the Group.
The Men's Team are not having as succesful a week. Despite claiming a 3-0 victory over San Marino, they recorded losses to Moldova(3-2), Cyprus(3-1) and Latvia(3-1) – their final group match this evening is against Chile.
The Women's Team will tomorrow begin play for position 49-60, while the Men will play for position 61-72.