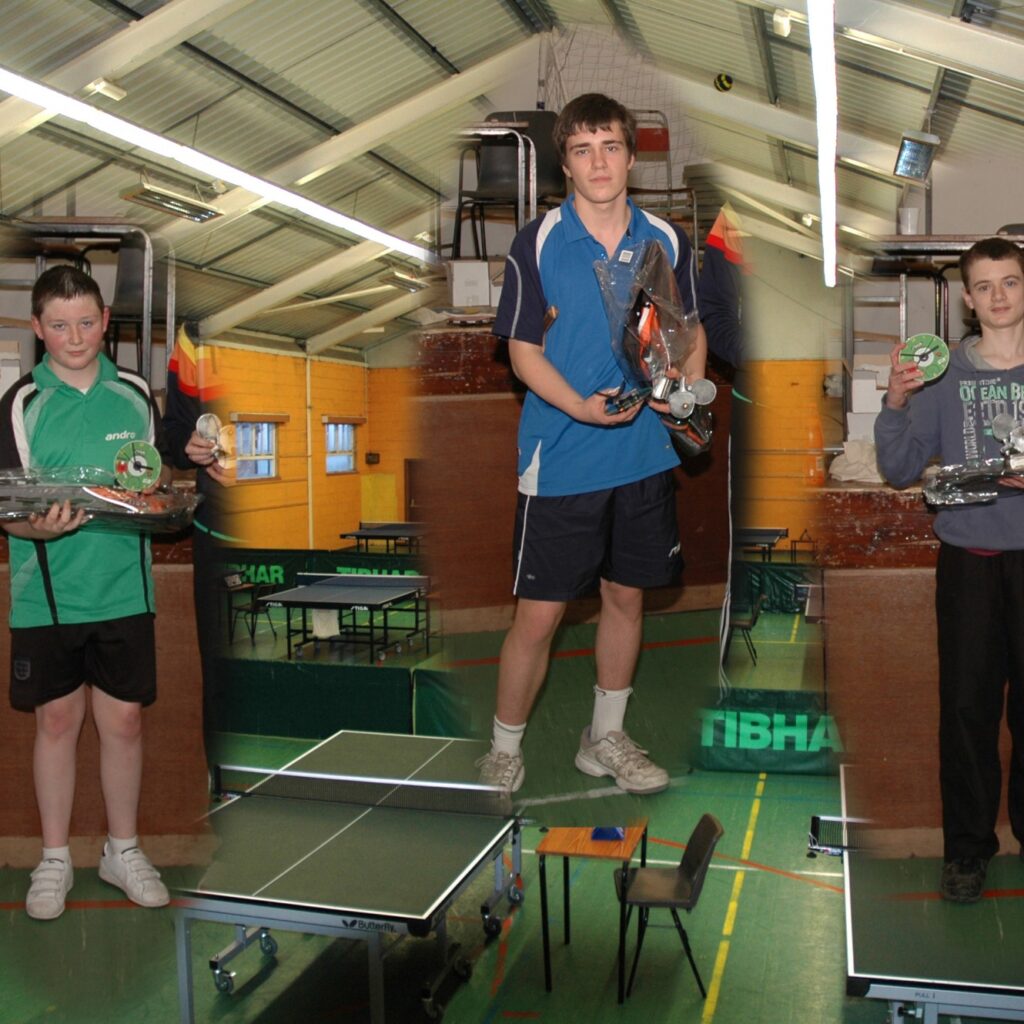 L-R: Adam Buckley (Div. 2 winner), Michael Lagan (Div. 1 winner), Ronan Magee (Div. 3 winner).
Tralee Table Tennis Club was the venue for the STIGA Junior Challenger event on Saturday, 25th February. There was a large local contingent joined by players from Killarney Table Tennis Club, Topspin Killarney, Kinneigh and West Cork.
Play started bang on time at 10 am with a Group stage to settle players down, and a few of the adults joined in this stage to give every child three games before the serious business began! Then players were assigned to one of four divisions according to their ability with the top two divisions divided into "A" and "B" sections.
In the fourth division, Josh Hayes from Tralee took home the top prize in his first ever tournament, and Ronan Magee from the home club did likewise in Division Three. The future looks bright for Tralee Table Tennis Club.
In the higher divisions, the local heroes had to work harder but Adam Buckley from Tralee Table Tennis Club defeated Killarney's Sam Tamir in the final to make it three division wins for Tralee!
The First Division was a different matter, however, with the imported talent proving too much for the Tralee players, and all four semi-final places were taken by players from other clubs. Player of the Tournament was Kerry O'Mahoney who topped her Division unbeaten and lost out only in the semi-final to Roman Puotkalis. The other semi-final saw Michael Lagan (Killarney) beating James Barry (Kinneigh) and Michael went on to finish the day without losing a match by beating Roman in the Final.
Balls and prizes were supplied by Tommy Fitzgerald/STIGA.
A most enjoyable day was had by all, and every child had at least eight games. For many players this was their first experience of tournament play, although the upper divisions contained many seasoned campaigners.
Results:
Division 1
Michael Lagan (Killarney Table Tennis Club)
Roman Puotkalis (Topspin Killarney)
Kerry O'Mahoney (Topspin) & James Barry (Kinneigh)
Division 2
Adam Buckley (Tralee)
Sam Tamir (Killarney)
Nykyta Puotkalis (Topspin) & Dwyer Tobin (Tralee)
Division 3
Ronan Magee (Tralee)
Darragh Boyd (Tralee)
Fiachra Ryan-Browne (Tralee) & Paul Browne (Tralee)
Division 4
Josh Hayes (Tralee)
Liam Magee (Tralee)
Kate Lynch O'Doherty (Killarney) & Aislinn O'Donovan (Killarney)
Umpiring Awards: Matthew Pop, Jake Coughlan, Eoin Buckley and Jack Enright.
Click here for full results