Most of the players were experiencing their first taste of international para competition and after two training days on the 1st and 2nd of July, they were well prepared for the challenges ahead with the singles on the 3rd and team competition on the 4th. The opening ceremony for the games also took place on the 2nd. It was a great experience to be part of a big event and the cheers that erupted as Team Ireland entered the stadium gave each player confidence of support from a home crowd.
Alicia (Class 3) had a tough group in the women's Class 3-5 event facing some high quality opposition from Thailand and Croatia but she played some outstanding table-tennis in her first international and the experience will no doubt stand to her. Alicia also had a very hard-fought match which unfortunately ended in defeat in the women's open wheelchair event (Classes 1-5). Mark (Class 4) also had some great performances in the men's Class 4-5 including a fantastic 3-0 victory over Hussain Albannai of Kuwait, which meant he finished 3rd in his group following close defeats to two players from Thailand. In the men's wheelchair open event Mark came up against Yuttajak Glinbancheun (WR 13 in Class 3 and Rio 2016 Paralympian) from Thailand, who unfortunately was too strong for Mark.
Caoimhe (Class 7) in the Women's Class 6-10 event faced some tough opposition in the form of Romania's Ioana Tepelea (WR 11 in Class 10) and Croatia's Anja Laus but played some of her best table tennis to defeat another Croatian, Tea Ivancic- Jokic 3-1 to secure a bronze medal for Team Ireland. This was an outstanding result for Caoimhe who was making her debut in the green jersey. Unfortunately Jokic avenged for her earlier defeat to Caoimhe when she won the Bronze medal play-off in the women's standing open event. Caoimhe was very unlucky not to get her hands on another medal. Seán (Class 9) also competing internationally for the first time played in the men's Class 9-10 event. Seán had a close 3-1 defeat to Daniel Ionita of Romania and contested well in matches vs Austrian opposition and Master Parinya- Punkaew of Thailand (WR 60 in Class 10). Another closely fought game vs Ionita in the men's standing open event, unfortunately ended in defeat for Seán for whom the experience of playing high quality players will certainly help for future events. Paddy (Class 7), the most experienced player of this young Irish squad played in the men's Class 7-8 event. Paddy recovered from an early 3-2 defeat to Czech Republic's Daniel Palatka to win against players from Kuwait, Croatia and Romania and secured 2nd place in the group and a silver medal, a terrific result. In the men's standing open event, Paddy tasted victory over Palatka in the first round before reaching the final where he unfortunately lost to Punkaew of Thailand 3-1 in a fantastic display of table tennis from both players which earned Paddy his second silver medal of the competition.
The team event took place the following day. Mark and Alicia teamed up in the wheelchair team while Seán and Caoimhe paired in the standing event. Paddy and Austrian partner Noah Rainer were also in the standing competition. The Galway pairing of Mark and Alicia fought hard and showed some excellent doubles play against a strong Croatia/Kuwait team as well as two teams from Thailand but unfortunately experience showed and they could not progress further. Seán and Caoimhe in Group B of the standing team also played some tough opposition including the team of Ioana Tepelea, Robert Boroleanu and Daniel Ionita from Romania, who were eventual finalists. The Dublin/ Galway pairing were unlucky not to win their doubles match in the next game vs Croatia, which the Croats won 3-1. Seán fought a close encounter in his singles match in some very tight sets but unfortunately the team just missed out on the bronze medals. The strong pairing of Paddy and Noah won through a very strong Group A which included Class 7-8 Gold medallist Palatka and his partner Borna Zohil to face off against Sean and Caoimhe's conquerors Croatia in the semi-final. Paddy and Noah formed a formidable partnership and won through to the final comfortably. Tough opposition in the form of Romania awaited in the final. A fantastic and hard-earned victory in the doubles match gave the lads the edge heading into the singles matches. Paddy fought hard but went down to the very strong Tepelea to leave the tie at 1-1 heading into the deciding match. Noah stepped up to play Daniel Ionita and was outstanding as he brushed aside the Romanian challenge to capture the gold medals for Ireland/Austria. An amazing few days enjoyed by all finished with a fantastic medal haul of one gold, two silver and one bronze for Team Ireland.
A big thank you to IWAS and IWA Sport who hosted the games and also Athlone IT, which hosted the table tennis events. Thanks also to Table Tennis Ireland for their continued support and all the coaches, Gavin, Rena and Hiro who prepared, trained and guided us through the competitions, the parents who were super supporters throughout and also the players whose dedication and commitment to training and aiming to improve is unquestionable. Watch this space as there is undoubtedly more success to come from this young squad. The future of Irish para table tennis is certainly looking bright.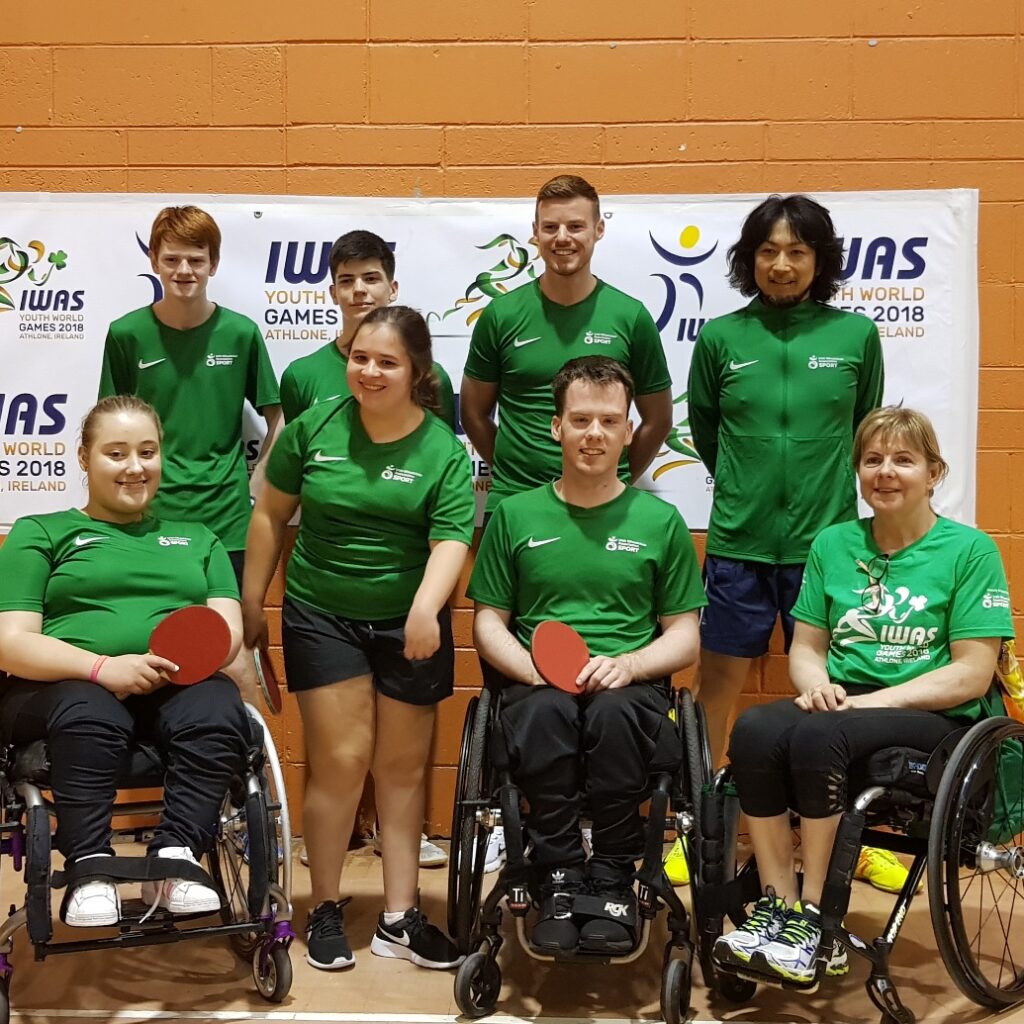 By Seán Geoghegan.