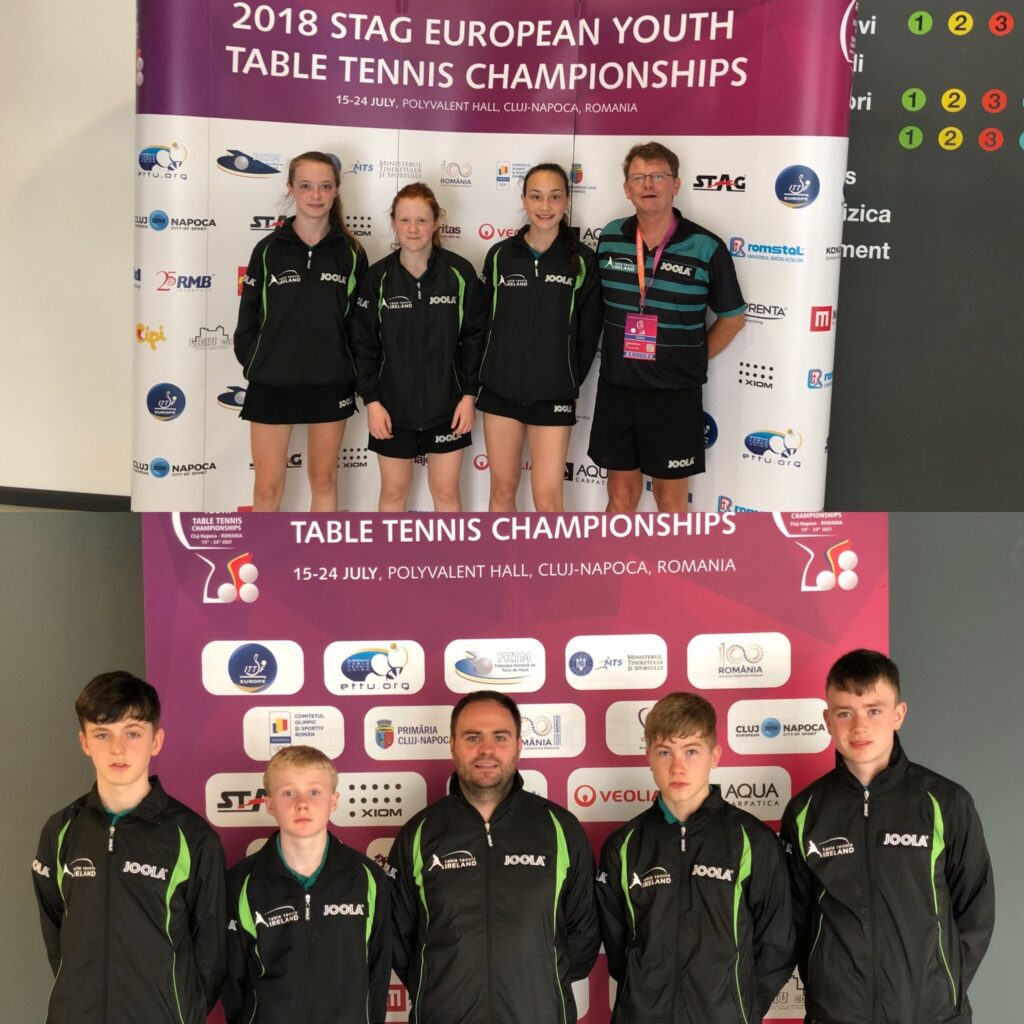 At the 61st european Youth championships, held in Cluj, Romania, Ireland had teams playing in the cadet boys and girls team events. The boys team of Thomas Joyce,Art McLaughlin, Dillon Byrne and James Skelton with national coach John Murphy were competing in the top tier of 16 so they knew it was going to be tough.
Grouped with European champions Russia, Czech Rep.and Italy the boys fought tigerishly in every match and though they lost 3/0 in each game the performance was promising.Next up weas Romania and with a large home crowd they beat us 3/0.Signs were good however that a victory wasnt too far away.Playing in a group with England and Turkey ,ireland faced England first.Art McLaughlin got Ireland off to a flying start beating Hussain.Liu levelled for England ,defeating Thomas Joyce.The doubles went Ireland's way with a stirring performance from Art and Dillon Byrne.England however won the two remaining singles narrowly with Hussain beating Thomas and Liu defeating Art.
Turkey beat England 3/1 so the stakes were high in the Ireland v Turkey match.Turkey raced into a 2/0 lead but then the drama really started.Another spirited doubles win from Art and Thomas stopped the Turkish momentum. Art then won a very tough battle to level the match at 2/2.In a nerve wrecking final game Thomas showed nerves of steel to claim victory 3/2 and give Ireland its first victory.
Another competent performance against Switzerland 3/2 with Art and Thomas beating Falconnier and Art/Dillon winning the doubles saw the team playing Israel for positions 21/22.
A chance for James Skelton and Dillon to play their first singles,they played well but were beaten.Art/Dillon lost the doubles so a 22nd place for the team.With Thomas ,Dillon and James eligible next yeat the future looks promising.
Cadet Girls Claim Four Victories
The girls team of Sophie Earley, Silke Heinen and Nicole Scott with performance director Conn Higgins had their sights set on qualifying from their group of Croatia, Luxembourg and Israel.The opening match against Luxembourg was crucial.Silke Heinen was first into battle and it was epic.Sike led 9/6 in the fifth set but three unforced errors brought the game to 9/9.Kieffer held her nerve to win 12/10 and give Luxembourg the lead,Sophie Earley levelled the match by beating Xiaojing NI.Luxembourg had a narrow win in the doubles to go 2/1 up.Sophie went to the fifth set with Kiieffer but was unable to stem the Luxembourg tide to give Luxembourg a 3/1 win.
Next up was Israel.Bouncing back from that defeat,Nicole Scott proved her mettle when she won the opening game 3/0.Sophie put us 2/0 up with another 3/0 win and clinched victory by taking the doubles also.
Top seeds in the group ,Croatia proved too strong for the girls though Sophie lost 11/13 in the fifth set to Longcarevic, giving Croatia a 3/0 victory.
In phase two the girls were now playing for positions 28 to 40.
Four victories came in quick succession.Sophie and Nicole played against Armenia.Both girls won their opening singles and completed the victory , capturing the doubles, to give Ireland another 3/0 win.
Next up were neighbours Scotland,Silke got the team off to a flying start defeating Leggett 3/0.Sophie had a tougher battle against Norbury but claimed victory 3/1.Sophie and Silke won the doubles 3/0 give Ireland its third win
Slovenia proved a tougher nut to crack.With Nicole suffering with a back injury, Sophie and Silke took up the challenge.Sophie was commanding in defeating the promising Opeka 3/0.Silke played brilliantly to beat Zigan 3/1 and both girls were clinical in the doubles to give Ireland its fourth 3/0 victory.
The final match decided positions 29/30. Bosnia Herzegovina proved too strong for Sophie and Nicole in the opening matches and Sophie/Silke were unable to turn it around in the doubles.
Again the future looks bright with Sophie and Silke eligible next year.
15 matches in four days kept players and coaches busy.A learning experience and some great memories from Cluj ,Romania