Report by Tony Martin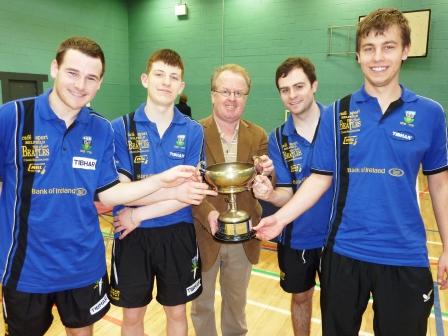 The Leinster Premier League which was staged in a central venue at ESB Sportco, Ringsend, Dublin has its final session of matches where the leaders Eastpoint 1 (Daniel Keenan, Mark O'Flynn, John Bowe) and there closest rivals UCD 1 (John Murphy, Sam Logue, Ryan Flood) met to decide who wins the title. Eastpoint only needed a draw to clinch the title and UCD 1 needed a win. Eastpoint got off to a great start saw Daniel Keenan beating Sam Logue but John Murphy levelled the match beating Mark O'Flynn.
John Bowe then accounted for Ryan Flood in a five setter but John Murphy levelled the match 2-2 beating Daniel Keenan. UCD went into the lead by Sam Logue having an easy win over John Bowe so it was up to the final match to decide where the title goes. This match was between Mark and Ryan which saw Ryan winning 3-1 and the holders UCD 1 retaining their title.
In the individuals Mark O'Flynn (Eastpoint) was the winner and Kevin Mackey (Pioneers) was runner-up, see individual results and final league table below.
Results from Sunday 21st March 2010
UCD 1 beat UCD 2 6 – 0
Eastpoint 1 beat Athlone 1 5 – 1
Pioneers 1 beat UCD 2 6 – 0
Pioneers 1 beat Athlone 1 5 – 1
UCD 1 beat Eastpoint 1 4 – 2
| | | | | | | | |
| --- | --- | --- | --- | --- | --- | --- | --- |
| | P | W | D | L | F | A | Pts |
| UCD 1 | 8 | 6 | 2 | 0 | 35 | 13 | 14 |
| Eastpoint 1 | 8 | 6 | 1 | 1 | 36 | 12 | 13 |
| Pioneers 1 | 8 | 4 | 0 | 4 | 30 | 18 | 8 |
| Athlone 1 | 8 | 0 | 3 | 3 | 12 | 36 | 3 |
| UCD 2 | 8 | 0 | 2 | 4 | 7 | 41 | 2 |
Individuals after Session 3
Mark O'Flynn (E/Point) 12/16 – WINNER
Kevin Mackey (Pioneers) 11/16 – R/U
Sam Logue (UCD 1) 10/16
Dave Pemberton (Pioneers) 10/16
John Strange (Pioneers) 9/16
Daniel Keenan (E/Point) 7/16
Sam Hanley (E/Point) 7/16
Ryan Flood (UCD 1) 7/16
Kieran Burke (Athlone) 6/16
Brian Finn (Athlone) 6/16
John Murphy (UCD 1) 6/16
M. Szymanski (UCD 1) 6/16
Li Shizhao (UCD 1) 4/16
Niall McDonnell (UCD 2) 4/16
Conor Fahy (UCD 1) 4/16
John Bowe (E/Point) 3/16
Gavin Maguire (E/point) 3/16
Ryan Farrell (E/Point) 3/16
Robbie Becker (UCD 2) 2/16
Sarah Dolan (E/Point) 1/12
Kariem Sabir (Athlone) 0/16
Will Gallagher (UCD 2) 0/16
Robert Gavin (Athlone) 0/16
Matt Finlay (UCD 2) 0/16