The Robinson's Ice Cream 2022 Ulster Open Table Tennis Championships will take place on the 26th and 27th November at Lisburn Racquets Club, 36 Belfast Road, Lisburn BT27 4AS.
All players and coaches are advised to read the Entry Form for full details on the events taking place and the tournament regulations. Players are reminded that they must be affiliated to Table Tennis Ireland, or an Association recognised by the ITTF.
The Board of Table Tennis Ireland wish to support the return to play of both new and past members at ranking events. We are delighted to announce we are introducing a Single Event Licence fee of €5.75/£5 for upcoming ranking events taking place this season. We hope that this will encourage players to participate in ranking events this season.
To join Table Tennis Ireland, please click on the following link https://tti.justgo.com/Account.mvc/Login
If you have any queries on membership, please email [email protected]
Entries are now open through Eventbrite (link below) and Entries will close Friday 18th November 2022 at 11.00pm. Late entries will not be accepted, and all fees must be paid in advance.
Prizemoney: Men and Women Open Singles winners – 1st place £500, runner up £250.
https://www.eventbrite.co.uk/e/the-robinsons-ice-cream-ulster-open-table-tennis-championships-2022-tickets-439975808487
Provisional Event Times: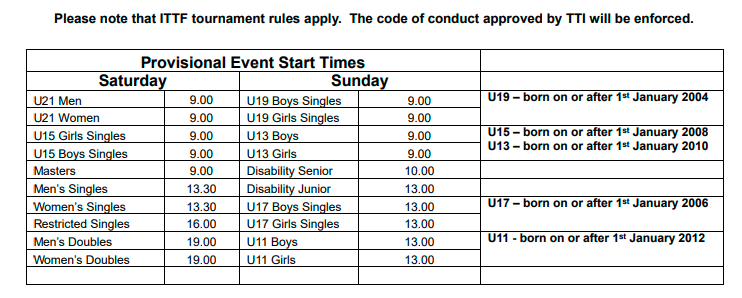 Event Queries to: [email protected]