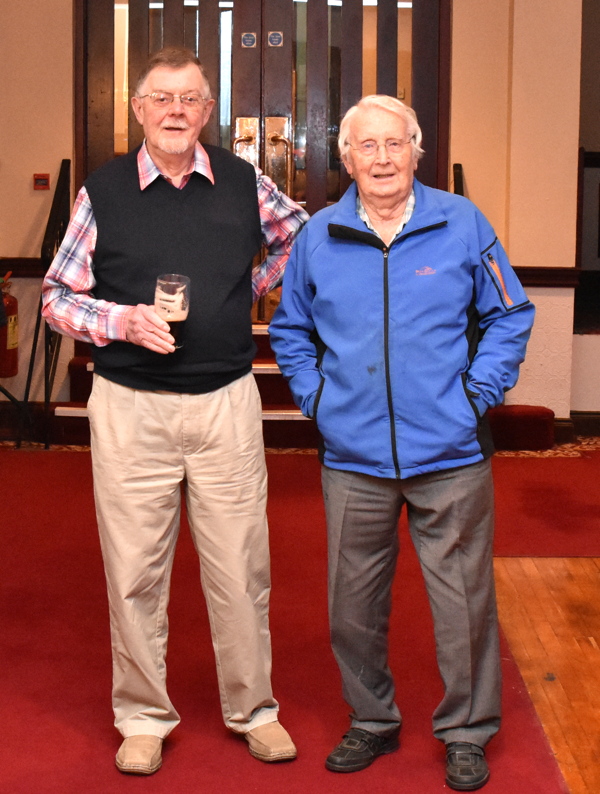 We were honoured to have as our guest at the Inter-Pro Dinner, Munster Table Tennis Legend Bertie Levigne, one of Ireland's few World Table Tennis Champions. Bertie was World Over-80s Singles Champion in 2004 and has several World Over-80s Doubles titles to his credit! Bertie is pictured here with the great Dan Foley, another stalwart of the Munster Veteran's teams for many years.
But there's a new kid on the block now. Bertie watched this video and reckons Tom has another good five years in him (Bertie retired from table tennis three years ago at the age of 90!)
This video shows Tom Russell, aged 85 (nearly 86!) who plays table tennis every week in a small parish hall in Kielduff, Tralee. In deference to Tom's age we play singles games to 21 points, for those of you old enough to remember that! He keeps his opponents (all three decades younger) on their toes and is an inspiration to all. Tom is up with the dawn to walk his dogs, and those of his neighbours, before he hits the gym in the Brandon Hotel in Tralee for an hour every morning. He's back on Derrymore beach in the evenings with the same dogs, and sometimes a few more. On Saturdays he's in the hall in Tralee setting up the tables for players 75 years his junior. What a man!
Thanks to Jim Twomey for this footage of Tralee Table Tennis's hero!