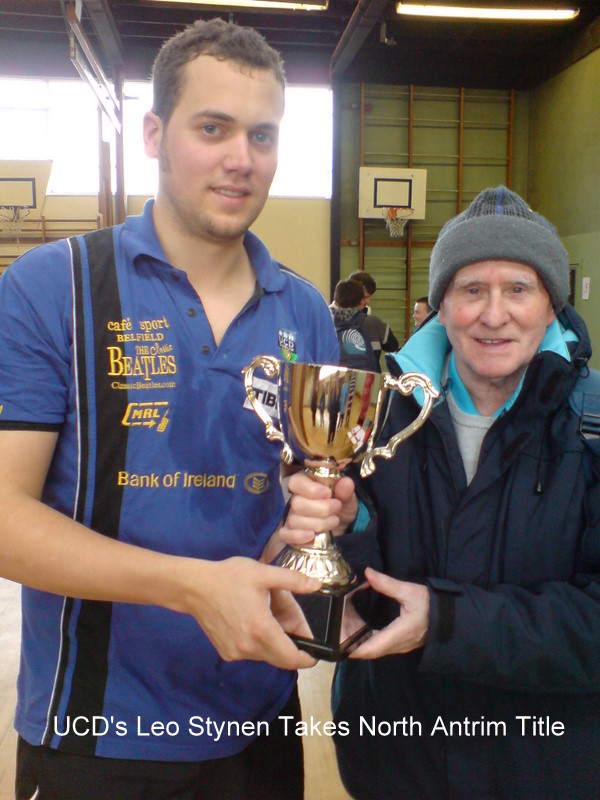 Continental visitor Leo Stynen (Germany) was the toast of Ballymena at the weekend when he won the North Antrim Open title after beating Irish No3 Daryl Strong in a dramatic premier class final while the hard hitting Barry Dickson, resilient blocker Stephen Turkington and local hero Adam McIlmoyle all tasted victory in the supporting events. The organisers were also delighted that former Irish international Jimmy O'Hara (Ballymena) competed, incredibly having represented Ireland as far back as the 1940's.
The premier class was packed with incident and shocks galore as fancied runners Pawel Sulcowski (Poland), Gervis Knox (Trillick), Mark McGuigan (Rasharkin), Brian Devereux (Wexford) and Gary Crawford (Doagh) fell by the wayside but Stynen and Strong remained solid throughout the dangerous preliminaries. The Queens destroyer, who will be competing for Ireland at the upcoming world championships in Moscow, then pulverised "Fast Phil" Wallace with relentless jackhammer backhands in the first semi while the 26 year old German attacker Stynen had too much quality for East Down Churches champion Peter Clarke who snatched a game before his fate was sealed in four brutal sets.
The final saw Stynen launch attack after attack with pronounced forehand loops doing most of the damage while Strong countered at every opportunity. With the former Ulster champion down 2-1 in sets but leading 4-2 in the fourth Stynen took a severe nose bleed and play was halted as tournament referee Brian Orr, a former Ballymena Open champion, allowed the German to take a medical break. When the match recommenced Strong seemed to have lost his impetus while Stynen quickly got back into his rhythm to win the fourth and the title.
Desperado Dickson is a firm crowd favourite with his no compromise approach to the game admirable but he had to show uncharacteristic patience before smashing his way to a hard earned success over combination bat magician Robin Agnew in the class A semi. In the final slick topspin wizard Ricky Davies got caught up in pure trench warfare which suited Dickson who dispatched his worthy adversary in five entertaining sets.
Another Greystone league supremo, Stephen Turkington, who has been making waves on the rural table tennis circuit for some time grasped his opportunity to show his pedigree at provincial level with a three set demolition of experienced campaigner Ian Davies in the class B final and there was rapturous applause when Ballymena Academy player Adam McIlmoyle gained revenge over club colleague Peter Neeson in four close sets to take class C. Event Organiser Norman McBride had devised a tournament format that due to its popularity amongst competitors could well become the template for future Ulster competitions.
Meanwhile University of Ulster, Jordanstown team of Keith Knox, Gervis "Razor" Knox and Robert "Sting" Fisher have been crowned Belfast and District Premier league champions after convincingly defeating nearest rivals Glenburn in a rearranged clash.
North Antrim Open Results
Premier singles
Semi Finals
Leo Stynen (Germany) bt Peter Clarke (Annahilt) 3-1
Daryl Strong (Belfast) bt Phil Wallace (Ballyclare) 3-0
Final
Stynen bt Strong 3-1
Class A singles
Semi Finals
Richard Davies (Ballyclare) bt Mark Lynns (Ballymoney) 3-0
Barry Dickson (Portadown) bt Robin Agnew (Cookstown) 3-2
Final
Dickson bt Davies 3-2
Class B singles
Semi Finals
Ian Davies (Ballyclare) bt Arnold Morgan (Banbridge) 3-0
Stephen Turkington (Portadown) bt Jimmy O'Hara (Ballymena) 3-0
Final
Turkington bt Davies 3-0
Class C singles
Semi Finals
Adam McIlmoyle (Ballymena) bt James Dillon (Coleraine) 3-0
Peter Neeson (Ballymena) bt Thomas McCann (Dunloy) 3-1
Final
McIlmoyle bt Neeson 3-1