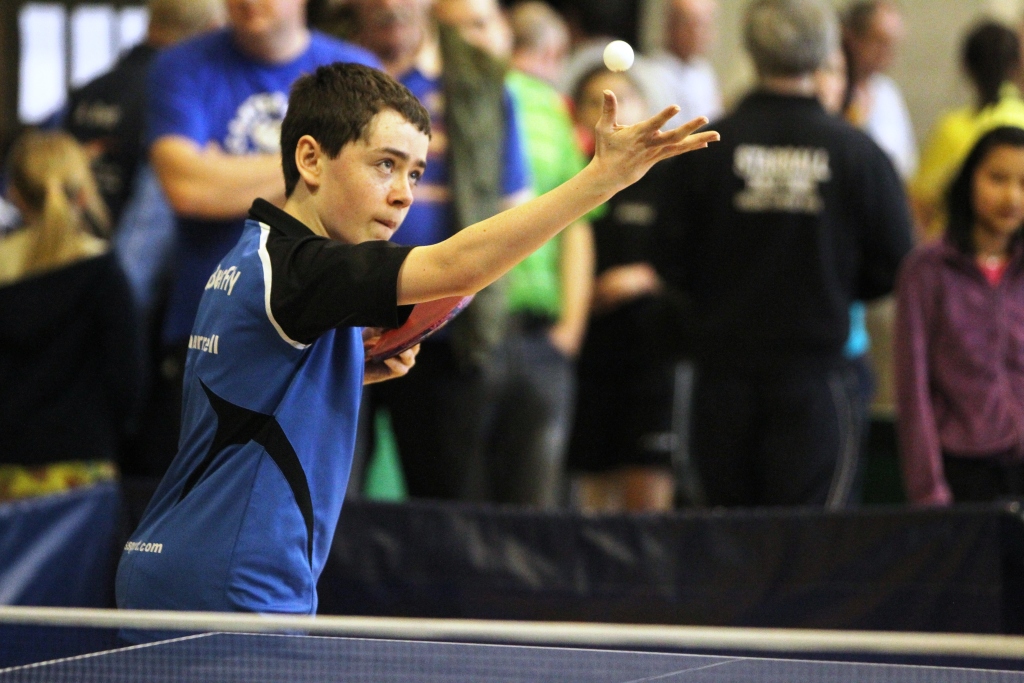 The second and final day of the Butterfly National Junior Championships saw Ireland's top Cadet players play for the Cadet National titles, while some of the country's youngest developing talent played off for the National Under 10 titles.

In the Under 14 Girls, all eyes were on Ashley Givan and Edel O'Reilly as they progressed through the rounds as expected to meet once again in the Final. These international team-mates have had many battles over the season and it was no different in the Nationals. Givan raced into an early lead, before O'Reilly fought back to win a good 2nd set 14-12. The 3rd game was a very nervy affair, which Givan clinched 12-10, before taking the title in the 4th set. O'Reilly battled for every point, but it was not be her day and Givan adds a second National Singles title to her National Senior win earlier in the season. Emily Burns belied her 7th seeding to progress to the semi-final and will be delighted with her 3rd place.

In the Under 14 Boys competition, perhaps the match of the weekend took place in the quarter-final. Club Donic's Conor Mullally faced top seed Ryan Farrell and took a 2-0 set lead. Some astonishing rallies and great back court play by Mullally set up a potential shock result. However, Farrell produced a great fight back to take the next 3 sets and progress. Farrell then faced Jonathan Porter and was clinical in a straight sets win. Neil Irwin progressed to the Final with wins over Michael Lagan and Under 12 National Champion, Kevin Hutchinson. Fireworks were expected, and it was Farrell who delivered in style with a comfortable 3-0 victory to claim his first National title. Hutchinson claimed 3rd with another impressive performance against Porter.
In the Under 10 competition, the emphasis was on providing lots of matches to the stars of the future. Lots of fun was had with Kerry O'Mahoney eventually claiming the Girls title with a win over Marie Williams. In the Boys, Martin Williams claimed the title with a victory over Donie Mullally.
Many thanks to all the players and spectators who took part in another fantastic National Championships – congratulations to the new Champions and thanks to sponsors Butterfly and to all the volunteers who made the event so enjoyable for the players.