A fantastic Challenger Tournament was held at Fivemiletown College this weekend.
Young players from all over Ulster and visitors from Roscommon assembled in Fivemiletown on Saturday to take part in a Stiga Junior Challenger Table Tennis Competition. The event is sponsored by the Stiga Table Tennis Equipment Company of Sweden through their Irish Importer, Fitzgerald's Table Tennis in Dublin.
Amanda Mogey Table Tennis Ulster Talent ID Officer was the event Referee assisted by Arnold Morgan.
The emphasis was on fun and participation. In Ranking terms, the top 15 Boys at Junior Irish level and the top 8 at Cadet level, and Girls ranked in the top 8 at Junior level or the top 5 at Cadet level were excluded from entering this tournament, the round robin format ensured players had as lots of games against opponents of all levels from novice through to some of the rising stars of the future in the sport.
Division 1 saw an excellent contest in the final between Adam Dunne (Drung) and Calum Coert (Banbridge). Dunne won the first set 11-9, with Coert firing back winning the 2nd, 11-6. In this best of 3 format, Adam got a crucial early lead in the final set with Dunne just pipping Coert to the post 11-9 in an excellent match. Rosscommons Oissin Cussack finished in 3rd position.
Division 2 was as close as they come with the top 3 players all defeating each other by 2 sets to 1 to go to countback. By the closest of countbacks, Robert Matthews (Castlerahan) claimed first prize, with Ormeaus Conor Smith in 2nd position. Ben McMillan (Banbridge) finished in 3rd position.
In Division 3, James Keating (Newbliss) was victorious over his club team mate Morgan McAdoo by 2 sets to 0 in an entertaining match. Banbridges Joshua Priestly finished in 3rd position losing out to both Keating and McAdoo.
Elvie McAdoo (Newbliss) was on form in Division 4 defeating Omagh prospect Conor White by 2 sets to 1. White defeated Drum's Carl Dunn by the smallest of margins winning 13-11 in the third to get a deserved silver medal in this category.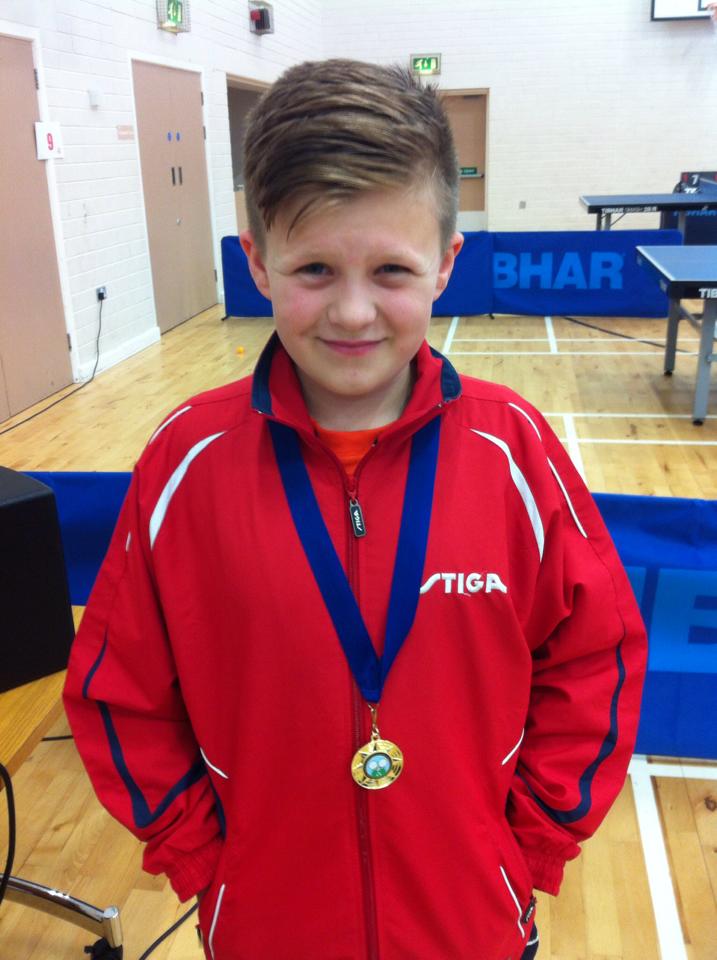 In Division 5, Denver Mahaffy remained undefeated to win gold in his first ever tournament. Nicole Larmour (Banbridge) did exceptionally well to finish in silver medal position defeating club team-mate Cody Large and the Wiseman duo of Ben and Matt.
For many players, this was their first real taste of an Ulster competition, many of whom are relatively new to the sport. TTU Chairman Arnold Morgan presented the medals and Stiga prizes to each of the winners and runners-up. Mr Morgan praised the players on the standard of play and how each player conducted themselves throughout the day. He also thanked Tommy Fitzgerald and Stiga for their kind sponsorship of this event enabling the prize winners to go home with brand new Stiga equipment.
Stiga Fivemiletown Junior Challenger Results
Division 1
1. Adam Dunne
2. Calum Coert
3. Oisin Cussack
4. Danny McKenna
5. Emma Wylie
6. Matthew McClimomds
Division 2
7. Robert Matthews
8. Conor Smith
9. Ben McMillan
10. Scott Dale
11. Rebecca Keating
12. Eanna Fields
Division 3
13. James Keating
14. Morgan McAdoo
15. Joshua Priestly
16. Joel Smith
17. Oliver Leddy
18. Fionn Cussack
Division 4
19. Elvie McAdoo
20. Conor White
21. Carl Dunn
22. Christopher Dunn
23. Damien Leddy
Division 5
24. Dever Mahaffy
25. Nicole Larmour
26. Cody Large
27. Ben Wiseman
28. Matt Wiseman