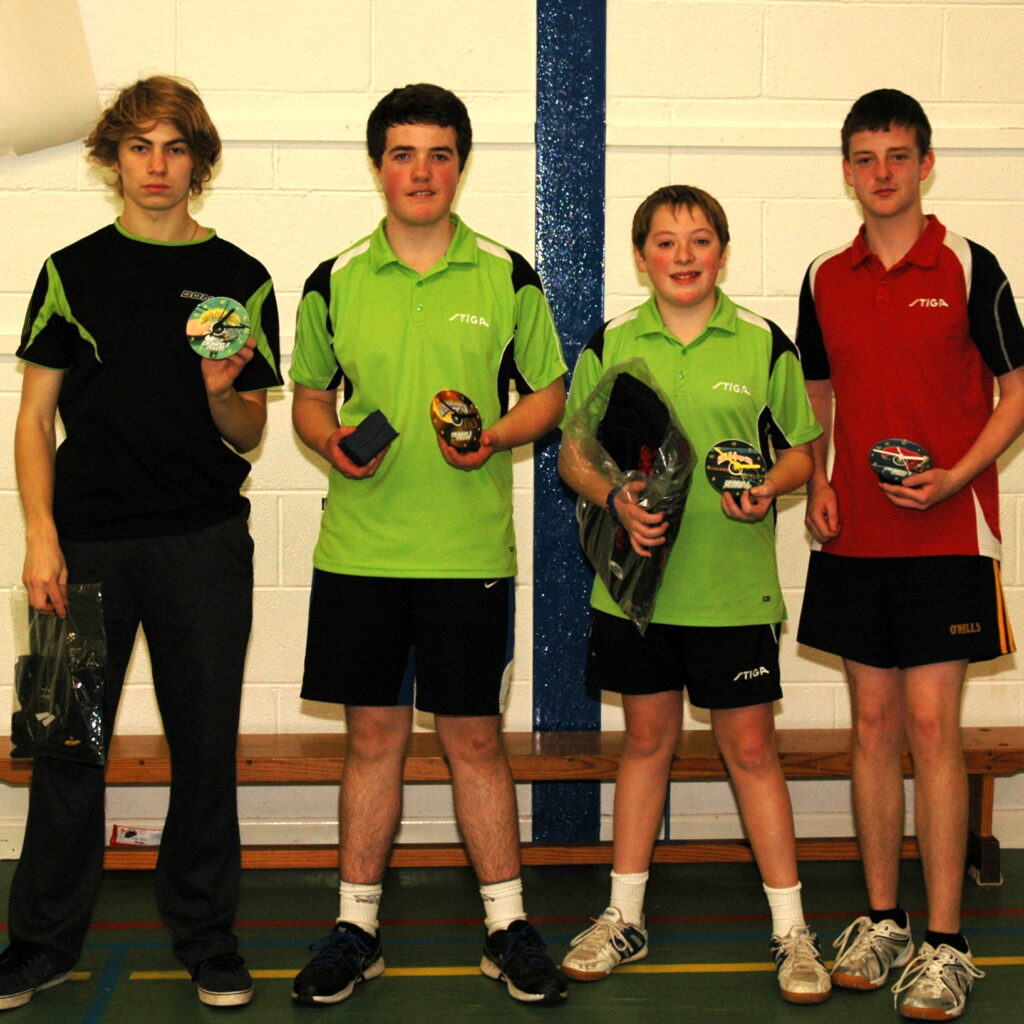 STIGA Challenger
Tralee, 23rd November
Tralee Table Tennis Club hosted a STIGA Challenger event for the third time on Saturday, 23rd November.
Most of the players were from Tralee, but there were half a dozen from nearby Knocknagoshel, as well as others from Killarney, West Cork and Cork City.
Forty five players took part, with four divisions each divided into "A" and "B". On each of the previous two occasions, the Division One winner has come from neighours and rivals Killarney, but this year finally saw a Tralee winner for the first time. Only Roman Puotkalis from Killarney came close to spoiling the party for the home club, and an unexpected loss to Darragh Boyd ment he was relegated to playing off with Michael Creagh for third place. Darragh was playing is best ever table tennis, and pushed Alan Hobbart all the way in the final (all matches were best of three) before losing 11-8 in the decider.
In the second division, Matthew Pop from Killarney beat Gitas Marcisauskas, who plays in Tralee. Matthew is only ten, but is Munster's top player in his age group and was well up to the challenge of playing players five or six years his senior – standing beside Gitas he was only up to his chest! In the third place play-off, it was another Tralee vs Killarney battle, this time the "local" boy José Miras (from Spain, but playing in Tralee while he is here on exchange!) overcame Matthew's club-mate Nykyta Puotkalis.
No Tralee players made the final of the third division, but Damien Bourke and Alex Flynn finished third and fourth respectively. Erik Olsson from West Cork overcame Ciarán O'Donoghue (Ballincollig) in the final, both had been unbeaten in the round-robin stages.
Many of the players in the lowest of the four divisions were playing in their first ever tournament, but coped well with the pressure. James Friel (Tralee) won out against Jack McElligott (Knocknagoshel) in the final. The third place play-off saw Andrew Hurley (Leeside, Cork) beat Jack's brother Cathal. Thanks to Micheál Herlihy, teacher and manager, for bringing along the Knocknagoshel contingent!
All players got at least seven matches, and sixteen went home with STIGA-sponsored prizes!
These tournaments can't work without the co-operation of the players, and there were smaller umpiring awards for Samuel Pituch, Cian Barden and Michael Guerin, who despite their young age, officiated in matches with aplomb!
There was a special award for Aaron Olsson (West Cork) for "Youngest Player" – at just over eight years old he is hoping to follow in his brother Erik's footsteps! The future of West Cork table tennis looks bright indeed!
Full reports on Tralee web-site www.traleetabletennis.com
Full results:
(Tralee unless indicated: KIL = Killarney, BAL = Ballincollig, WES = West Cork, LEE = Leeside, KNO = Knocknagoshel)
Division 1
1. Alan Hobbart
2. Darragh Boyd
3. Michael Creagh
4. Roman Puotkalis (KIL)
5=. Bogdan Pop (KIL)
5=. Niall O'Driscoll (WES)
7=. Adam Buckley
7=. Kevin Browne
9=. Joe Slattery
9=. Reece Sugrue
11=. Stephen Browne
11=. Kevin Johnson-Horgan
Division 2
1. Matthew Pop (KIL)
2. José Miras (Spain!)
3. Gitas Marcisauskas
4. Nykyta Puotkalis (KIL)
5=. Fiachra Ryan-Browne
5=. Ronan Magee
7=. Daire Kennelly
7=. Nemanya Ramisanjevic
9=. Liam Magee
9=. Darragh Sheridan
9=. Josh Hayes
Division 3
1. Erik Olsson (WES)
2. Ciaran O'Donoghue (BAL)
3. Damien Bourke
4. Alex Flynn
5=. CIan Barden
5=. Samuel Pituch
7=. Jordan O'Shea
7=. Andrew Breen
9=. Sam Hawe
9=. Michael Dowling
9=. Graham Moriarty-Flynn
Division 4
1. James Friel
2. Jack McElligott (KNO)
3. Andrew Hurley (LEE)
4. Cathal McElligott (KNO)
5=. Eoin McSweeney (KNO)
5=. Michael Guerin
7=. Aaron Olsson (WES)
7=. Erina Cotter (KNO)
9=. Bronagh Browne (KNO)
9=. Daniel Daly (KIL)
9=. Katelyn Curtin (KNO)