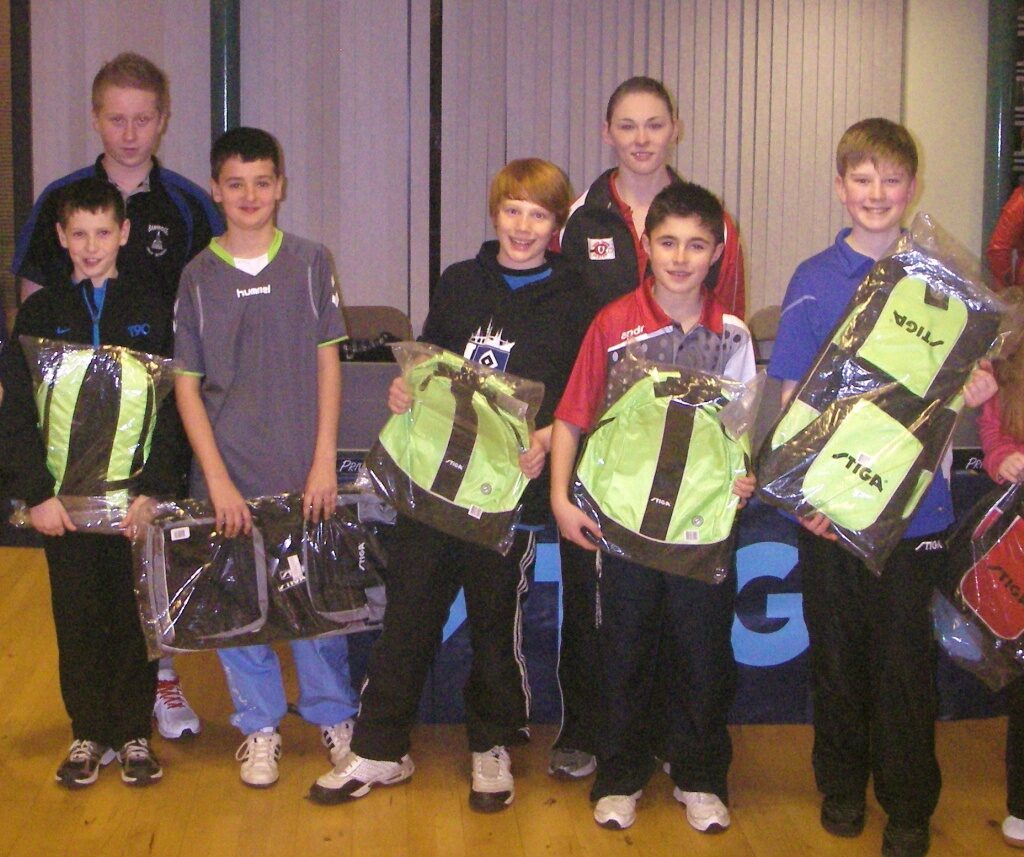 A fantastic Challenger Tournament was held at Banbridge this weekend. Please click here for results.
Young players from all over Ulster assembled in Banbridge on Saturday to take part in a Stiga Challenger Table Tennis Competition. The event is sponsored by the Stiga Table Tennis Equipment Company of Sweden through their Irish Importer, Fitzgerald's Table Tennis in Dublin.
Banbridge TT Club hosted the tournament in the King George V Pavilion, which was jointly organised along with Table Tennis Ulster (TTU).
Amanda Mogey Table Tennis Ulster Talent ID Officer was the event Referee assisted by Herbie Ross TTU Participation Officer, Neil Magrath TTU Finance Officer, and Arnold Morgan Hon Sec TTU and head Coach with Banbridge TTC.
Mayor of Banbridge Cllr Junior McCrum attended the event and welcomed the many visitors to Banbridge, including many player's parents and families present who had travelled from as far away as Donegall. The Chair of the Irish Table Tennis Association (ITTA) Mrs Pat Hunter also attended the event.
The emphasis was on fun and participation. In Ranking terms, the top 15 Boys at Junior Irish level and the top 8 at Cadet level, and Girls ranked in the top 8 at Junior level or the top 5 at Cadet level were excluded from entering this tournament, the round robin format ensured players had as lots of games against opponents of all levels from novice through to some of the rising stars of the future in the sport.
The overall winner was James McGrath (Glenburn Club, Belfast) who just got the better of Coleraine player Adam Wallace in an exciting and entertaining match for the Division 1 top place.
Banbridge Clubwas well represented in the other sections, with players having great success in the Division 2 final, where Jordan Howard finished in 2nd place and Matthew McClimonds in 5th.
Division 3 was dominated by local club players with Joshia Burgess in 1st place, Emma Wylie 3rd, Nadia Benallal 4th and Jake Howard 5th.
Division 4 saw a similar success for the local club with top positions going to Sophie Cairns 1st, and Scott Dale 2nd with Emma Shaw in 6th.
In Division 5, Aaron Peden played his way to a well earned 3rd position, with Robyn Willis 4th, Harry Patterson 5th, and Alex Jordan 6th.
For most local players this was their first opportunity to experience a real table tennis competition. Many if not all the local players taking part were introduced to the sport at Primary School by TTU coaches, with some later moving on to Banbridge Academy, Banbridge High or New Bridge, having joined Banbridge TTC to continue training and playing their chosen sport.
Congratulations to all the players taking part, who will have gained a lot of experience of competition from the event which training can not always provide.