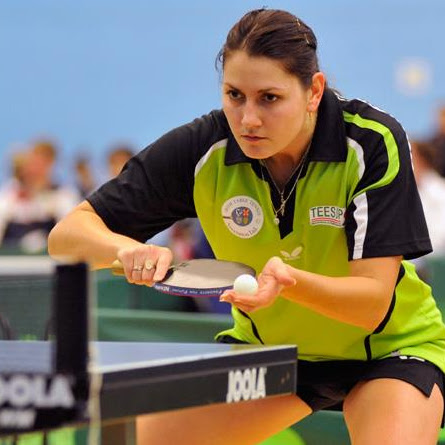 An Irish team full of youth and potential delivered some strong results at the Womens British League first weekend in Bristol over the past 2 days. The team, consisting of Sabina Devereux(pictured here with thanks to WBL Facebook Page – http://www.facebook.com/BritishTableTennisLeague), Emma Ludlow and Hannah Lynch-Dawson, performed strongly and have left themselves in contention for promotion in February when the League concludes in Doncaster.
The weekend got off to a perfect start for Ireland Ladies, with a 6-0 win over Morpeth Greenhouse. Next up was St.Andrews TTC who were a player down which immediately gave Ireland a 2 match lead. Sabina Devereux showed significant composure to defeat Lois Peake – this was Peake's only defeat of the weekend and she was later named player of the tournament. Deverux claimed another victory over Standing and Ludlow and Lynch-Dawson closed out the match before Peake claimed some consolation for St.Andrews in a spectaular five-setter over Lynch-Dawson. On to the final match of the day and an eagerly expected showdown with Leeds Ladies – this was a closer match than the 5-1 defeat suggests, with all 6 matches proving tight. Lynch-Dawson claimed Ireland's solitary victory here, but the team will target this match in February and look to overturn this defeat.
Sunday kicked off with a 3:3 draw with De Vere Netts – Devereux again performing well to claim two wins. Ireland then faced Halton TTC in the final match. Halton had top English veteran Sue Collier in their ranks and she performed as expected with two wins. It looked like a second defeat of the weekend at 3:2 down in to the final match. However, up stepped Emma Ludlow to deliver a performance that belied her inexperience at this level, claiming a five set victory over Denise McEvoy to claim a draw for Ireland.
So overall a solid performance from the team which leaves them in 3rd place just two points off the leaders Leeds Ladies. Coach Arthur Brett was happy overall;
" I think it was a very good performance with a young team, and we are very much in the mix going in to the 2nd weekend. All of the players performed well and will benefit from this experience. I very much expect the squad to be in contention for promotion and we will be working towards this event in February 2013."