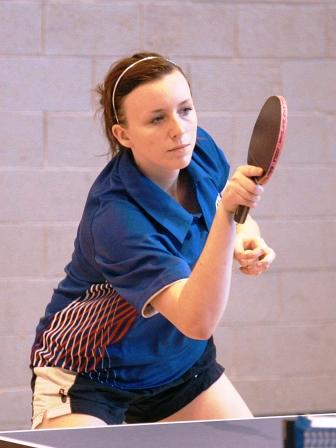 As we hurtle rapidly towards the new domestic table tennis season, the ITTA has released the starting ranking positions for both Senior Men and Senior Women. Entries are still being taken for the Senior Classification and Qualifying event next weekend, in which almost all of the Top 20 players in both categories will compete to establish ranking points and position for the season ahead. With many players from outside the top 20 taking part, and both the Qualifying event and the Senior Classification played on a round-robin format, there are sure to be some intriguing battles ahead as all the top players go head to head. Some of the leading contenders took some time to speak with ITTA Web in the lead-up to the first event of the new season:
Rita Kacsandi dominated the Women's ranking list last year and again goes in at Number 1 this season. She is " very happy to be the best player on the Irish Ranking List", but due to work commitments her off-season preparation has suffered. This will be music to the ears of Irish internationals such as Amanda Mogey and Claire Nelson, both of whom have qualified directly to the Classification event on Sunday 16th August. Youngsters Ashley Givan, Rebecca Kenny and Sara Dolan will all also look to further enhance their growing reputations at Senior level and make progress up the ranking list. From the qualifying event, Fiona Dennett will perhaps be one of the favourites to advance to the Finals on Sunday – this Irish international currently lies in 10th place in the rankings. She has worked hard in the off-season – "for the season ahead I have increased my fitness regime and programme by regularly running and going to the gym. I have also increased my table time and have attended a national training camp to help prepare me for the forthcoming season". Dennett is eagerly awaiting the Senior Classification and particularly "playing against Rita(Kacsandi) – this is always a exciting match."
In the Men's category, over 40 players have already entered the qualification event as we approach the closing date for entries. In terms of dramatic ranking surges, current No.1 Gavin Maguire set the example by making massive progress last year, culminating in his National Senior triumph. He spoke with us about his preparation for Season 09/10 – "I have spent alot of time exploiting the elite facilities of DCU for training and I'm travelling to France for two weeks training in the build up to the Classification and I'll also travel to Sweden in September for some more training. Obviously my hope for the Classification would be to win it but I know what a tough field of players will be playing and it's anybody's tournament for the taking. I feel there is a lot of talent out there and really good players that could make an impact this season but to pinpoint one it would have to be Keith Knox who will be looking to bring back his amazing form of 2007 after a two year injury setback. I'm certain as soon as he enters a tournament again, he'll be there or thereabouts come the end of it."
Knox has not entered the Classification Qualifier but is sure to be in action as the season progresses. His fellow Ulster player Daryl Strong will however be in contention in the Senior Classification and he believes that "The Classification is always one of the toughest events of the season as it is very physically demanding and the players can expect to be tested in every match. For the forthcoming season I hope to give of my best in every event and improve my ranking and continue to challenge for honours domestically. I am looking forward particularly to defending my Ulster Championship title and maintaining my place in the Northern Ireland team."
Click here for 09/10 Ranking lists and check back here on Tuesday for details of the Classification Qualifier Draw.