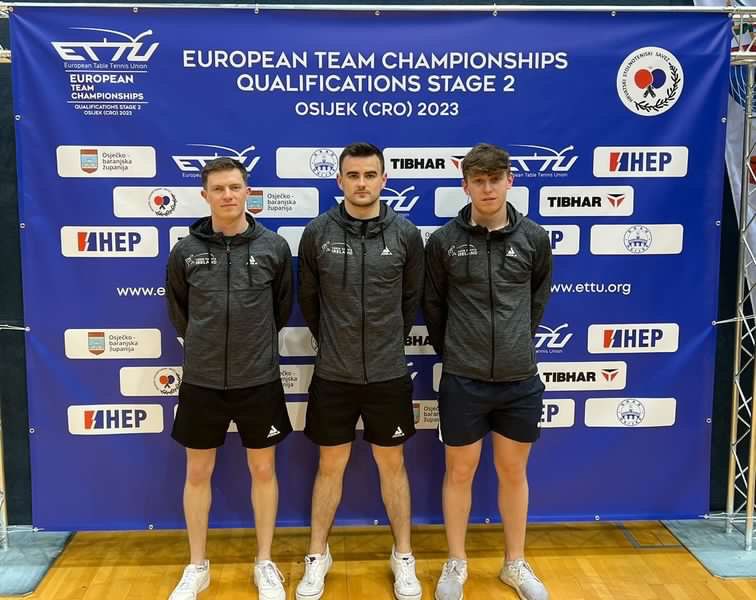 An Irish contingent of Owen Catchcart, Alexander Gillen, Joey Nelson and NPC Ryan Farrell travelled to Osijek (Croatia) to compete at the European Team Championships, Qualification Stage 2. The team was placed in a difficult group with Greece, Spain and Norway.
The tournament commenced against Greece. Owen began proceedings by picking up an impressive win against Konstantinos Angelakis. Greece responded with three consecutive victories to take the tie 3-1. However, the score line doesn`t tell the whole story. In the fourth match, Owen took on Ioannis Sgouropoulos (4-time European Singles Champion in Junior/U21). Unfortunately, Owen couldn`t convert his 8-6 lead in the 5th set, which would have set up a deciding match between Gillen and Angelakis.
Norway were the next opponents in the group. Alexander Gillen used his experience to level the tie at 1-1 with victory over Noah Lam. However, Norway were too strong in the following matches and came out with a 3-1 victory.
Despite defeats against Greece and Norway, there was still plenty to play for in the final group match against Spain, as victory would put Ireland into the playoff round. Owen put in a dominant display in the opening match with a 3-0 victory over Alberto Lillo. Alexander Gillen produced an exceptional performance to give Ireland a 2-1 lead with victory over Carlos Caballero. In the fourth match, Owen was on the cusp of victory, leading 10-8 in the 5th set but his opponent, Daniel Berzosa, took the next four points to send the tie into a deciding fifth match. Making just his second appearance for the Senior National team, Joey got off to a fantastic start by taking the first set. However, Alberto Lillo raised his level and used his experience to take the next three sets, which gave Spain a 3-2 victory.
This young Irish squad should take plenty of positives from this event. This experience will give them a lot of confidence going into future International competitions.