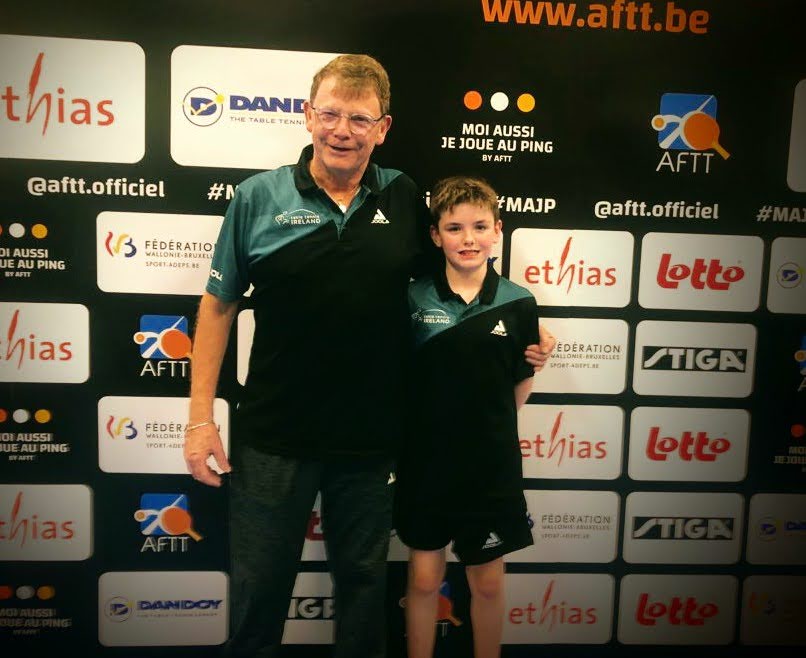 Peadar Sheridan has had another phenomenal weekend, finishing 6th at the 2022 Stiga Masters Minimes in Blegny, Belgium.
After a week spent training in Otočec, Slovenia, Peadar and Irish national coach Conn Higgins travelled to Belgium for the 15th edition of the Stiga Masters Minimes. This is a long-running event that brings together the top 14 Under 11 finishers from the same year's Eurominichamps, where Peadar placed 12th.
The group stage on Saturday saw Peadar firstly lose to top seed Andrej MORAVEK (Czech Republic) 1-3, then win against Alexandru POP (Romania) 3-1, before losing again to Romeo MULLER (France) 1-3. After the interval he had a narrow loss to Pietro ANDREOLI (Italy) 2-3 followed by two wins over Roger QUESEDA (Spain) 3-2 and Bryan ZHANG (Belgium) 3-1.
The Last 16 draw on Sunday saw Peadar come up against Emil ELLERMAN (Sweden) who he defeated 3-0. This set up another encounter with Roger QUESEDA (Spain) in the quarter-finals. Having beaten QUESEDA in the group stages hopes were high, but this time it was not to be with QUESEDA overpowering him 3-0.
In the play-offs for 5th to 8th place Peadar defeated Tobias FABIAN (Czech Republic) 3-1 then lost David TORO (Romania) 0-3 to finish in 6th place.