Sunday 24th April 2016, is a day that will live long in the memory of Irish Table Tennis folk far and wide following the heroics of our own Owen Cathcart at the ITTF Belgium Junior & Cadet Open, Premium World Junior Circuit Event in the city of Spa.
Following a gruelling main draw run in, the Ormeau TTC player stood tallest at the close of play as he was crowned Cadet Boys Singles Champion after a hard fought, five set victory over Sergi Grau (ESP) in a gripping final – what an achievement!
Since the establishment of the ITTF World Junior Circuit, these events have been the breeding ground for prolific champions, and as a result, they have always been notoriously difficult tournaments, particularly for the 'lesser' countries. With no hiding places, Owen embraced the challenge and pushed on to exceed all expectations and pick up his, and Ireland's, first ever ITTF World Tour title.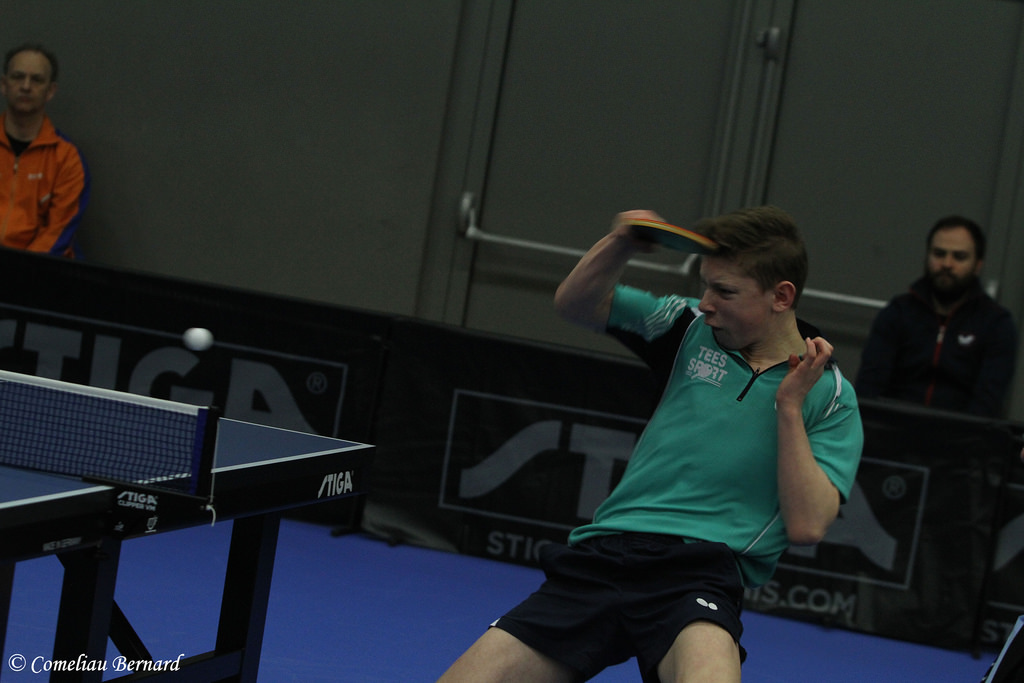 Following a team bronze medal alongside debutant Jonatan McDonald, which in normal circumstances would be a major highlight from such an event, Owen was well set up for his assault on the Cadet Boys Singles. He opened his group stage account with a straight forward 3-0 win over Gonzalez (ESP). However, he then had a wobble, going down to the inspired play of Degros (BEL) 1-3.
This put the Ormeau boy into the bottom half of Sunday's main draw, where first up he would face a tough test in Dorcescu (FRA). He wasn't to be halted, as he battled through in 4 sets. Next up was Dutch Number 1 and WR 43 Roel Bogie. The Dutchman got the better of Owen in straight sets in the team event quarter final, so this was always going to be a big challenge. There was no denying him this time though, as an agressive display of speed and precision earned him a 3-1 victory.
A big scalp, but Ireland's top man was far from done. Next up was Ruiz (ESP) and another battle ensued. Owen was sharp once again, leading 2-1 and 8-4 before the tide was turned as the Spaniard took the 4th set 12-10. A fast start and some wise words from coach Murphy followed, as Owen raced clear to take the 5th 11-5, sealing his place in the semi final.
In the penultimate round, Owen faced the dangerous left-hander Jacques (BEL). Winning the serve/receive battle was crucial here, and the Belfast boy did just that, paving the way for a 3-1 victory, and with it, a final berth.
Standing in Owen's way was top Spaniard Sergi Grau, no stranger to this stage following his final appearance in last years ITTF World Junior Circuit Event in Portugal. If one thing was for certain, Owen's opponent had pedigree at the highest level. Following some homework of his own as he watched over some videos of Grau in action, Owen was ready.
Right from the off, it was clear that he wouldn't let this one go. Owen continued where he left off earlier and fired wave after wave of attack at his battle hardened opponent. Unfazed, Grau hung in and eventually pushed the final into a deciding 5th set. Always the aggressor, though, Owen was up for the challenge as he came out firing in the 5th. Leading 6-2 following a fast start to the set, Owen was in the ascendency. Grau hit back, claiming the next 2 points, sparking an immediate time-out from Coach John Murphy. It worked. From 7-5, Owen played an amazing level of Table Tennis, giving Grau no chance as he stormed towards a historic victory.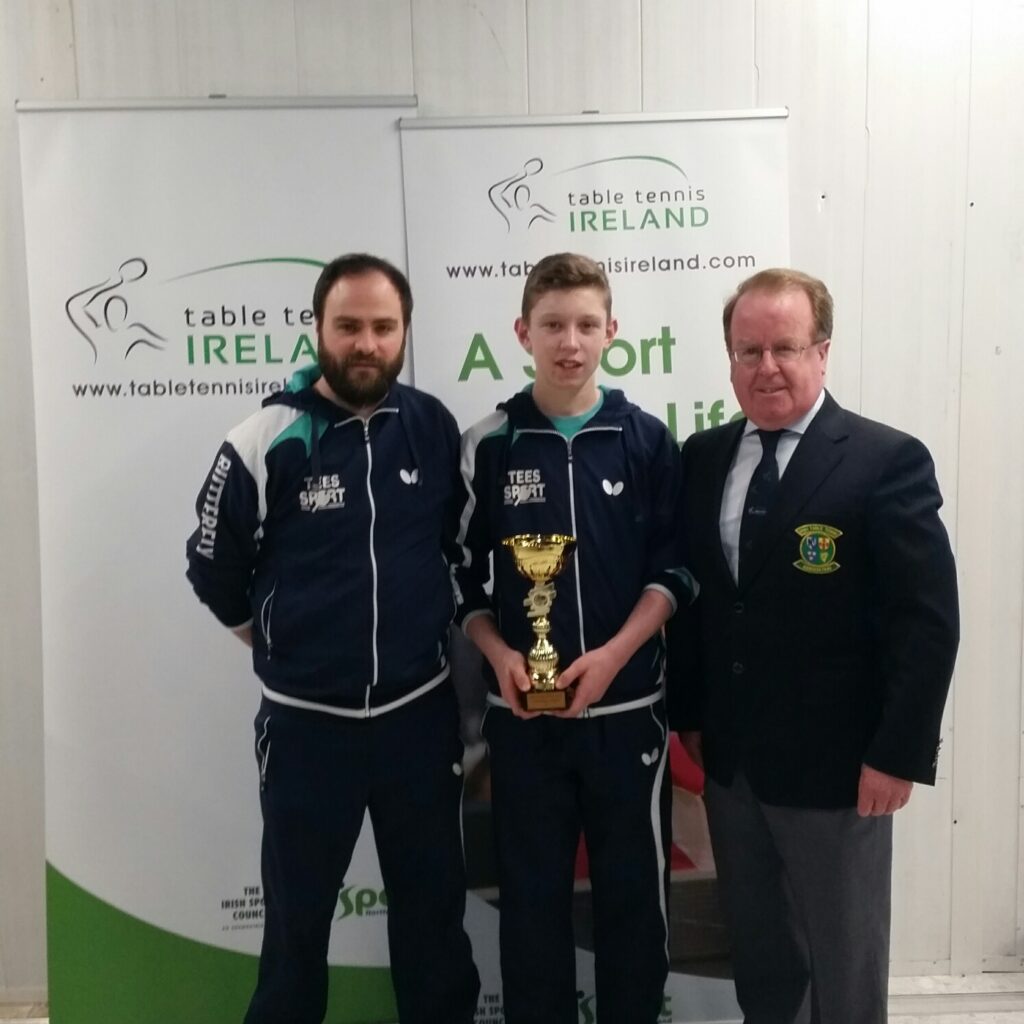 Following their success, Owen and John were greeted with a heroes welcome in Dublin Airport, as TTI board members and staff, including former Chairman, President and Life Honorary Member, Mr Joe Hickey (pictured), waited with proud parents Simon and Sinead upon their arrival.
On the historic achievement, Table Tennis Ireland President, Mr Kenneth Strong stated;
"What Owen has achieved is nothing short of extraordinary. He has shown all aspiring players that with enough hard work and dedication, anything is possible. He is true credit to his family and we are all very proud of him!"
Table Tennis Ireland Chairperson, Ms Patricia Hunter, expressed her delight by declaring that; 'This win could be the start of a new era for Table Tennis in Ireland'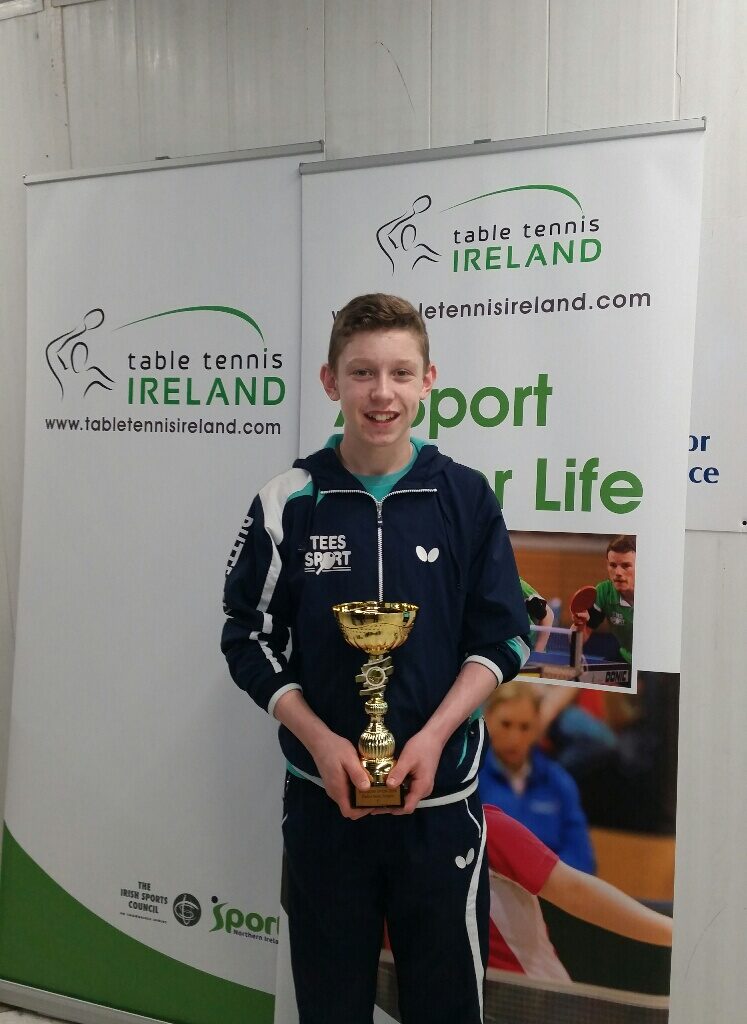 Commenting on his success upon arrival in Dublin Airport, Owen remained composed as he reflected:
"I knew it was going to be tough. He (Grau) was in the final of Portugal last year, only losing to a Taipei guy, so I expected a really hard match.
I played in some big matches before, and I got nervous thinking too much about winning, so I decided before the final that I'd give it a go and be aggressive"
On his charge, and what this result means to high performance table tennis in Ireland, National Coach John Murphy stated:
"I think a big reason for this success is firstly the huge commitment Owen has given over the years, but also the close network between club, province and the National set-up. The way all of these have engaged and worked together has been crucial in his development. It's a fantastic example for other young players in Ireland.
To be honest, from my perspective it's (this result) not a massive surprise. I say this because we know how hard we have worked over the years. This is a just reward for the countless hours dedicated by Owen, his family and coaches in Ireland"
On behalf of Table Tennis Ireland, we would like to congratulate Owen and John on this fantastic achievement. Onwards and upwards from here!
To see the write up from the ITTF website please click here!