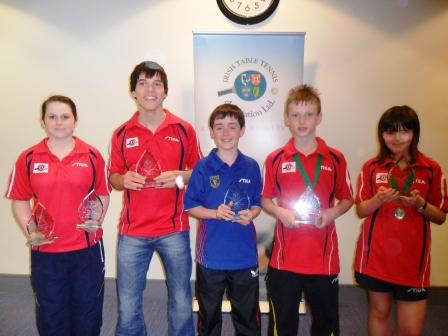 Ireland's top young players were honoured following the conclusion of a fantastic season of underage table tennis at the Junior Interprovincial Championships held in Enniskillen on the May Bank Holiday weekend. The following players were awarded specially designed glass pieces to recognise their achievement on topping the end-of-season Butterfly Junior National Rankings. The awards were presented in the following categories:
Under 12 Girls: Laura Finn
Under 12 Boys: Jonathan Porter
Cadet Girls: Ashley Givan
Cadet Boys: Ryan Farrell
Junior Girls: Ashley Givan
Junior Boys: Paul McCreery
All five players have obviously had a fantastic season, culminating for each of them in National titles. McCreery has the distinction of topping both the Junior and Senior Rankings, while Givan tops that again by being the No.1 Cadet, Junior and Senior player in the country as the season ends. Congratulations to all. Check out the Rankings Page for final rankings of the season 09/10.