Following yesterday's draw, Ireland's Men will face a battle to progress to the knock-out stages of Division Three in the Liebherr World Team Championships to be held in the Russian capital city of Moscow from Sunday 23rd to Sunday 30th May 2010. Ireland have been drawn in Group I of Division Three, where they will face:
Group I
Indonesia
Algeria
Ireland
Dominican Republic
Ecuador
Moldova
Ireland will be represented at the Worlds by Butterfly National Senior Champion John Murphy, Paul McCreery(buoyed by a massive jump of 110 places in the April ITTF World Rankings to 818), Daryl Strong and Keith Knox, with Peter Nilsson coaching the team. With three teams to progress to the knock-out stages to play for places 1-12 and possible promotion, ITTA Technical Director John O'Donoghue stated:
"This is a tough draw with top seeds Indonesia in the group but we will be competitive and with some good performances we can progress to the knock out stages"
Opposition Preview
INDONESIA – seeded 49 (top seed in Division 3)
Top Players
Santoso – 538
Maulana – 540
ALGERIA – Seeded 56
Top Players
Ouramouhne – 437
Boudjadja – 433
DOMINICAN REPUBLIC – Seeded 57
Top Players
*Lin – 69
Batista – 509
Santos – 587
ECUADOR – Seeded 65
Top Players
Mino -345
Coello – 523
*Player Spotlight – Ju Lin(Dominican Republic) – pic courtesy of ITTF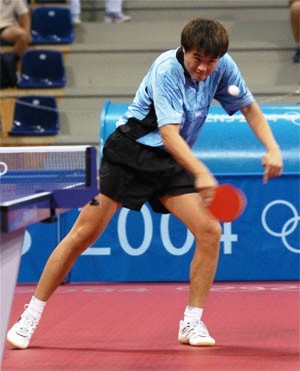 Lin is the danger player in this group, with a World Ranking of 69 and experience of playing at the highest level – the Olympic Games(Athens 2004). He is another example of the modern day defender; originally from China but now representing the Dominican Republic, he returns the ball with varying degrees of backspin but when the opportunity arises he will attack with the forehand and is clearly at home in topspin exchanges. In many ways he is similar to the former Chinese internationals, CHEN Xinhua and DING Song, both were masters of defence and forehand topspin attacking strokes and both, like LIN Ju, had a range of services that would either bring instant success, or enable them to conclude the point on their next stroke with a strong attacking forehand topspin. The Irish players will have to be at their very best to record a win against this highly regarded player.