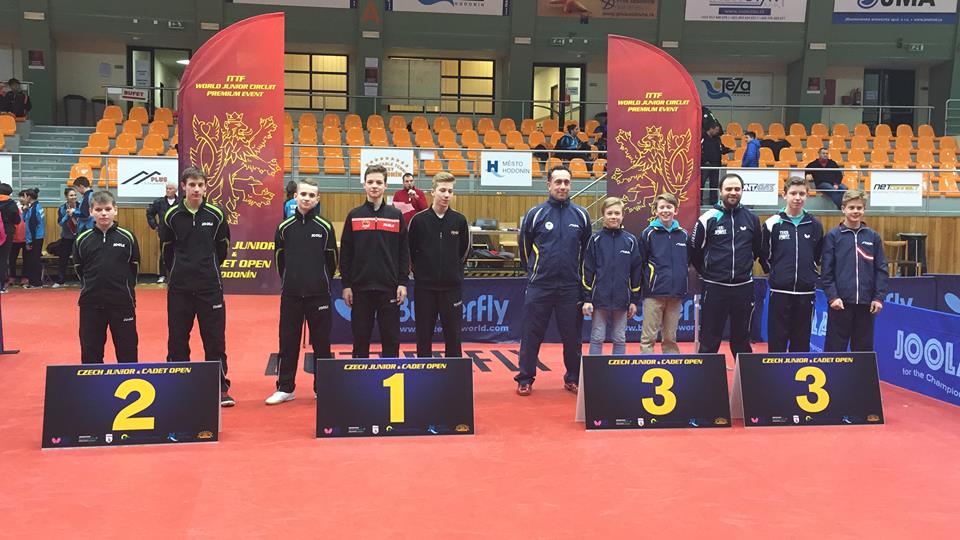 Hodinin, Czech Republic, was the venue for the 2016 Czech Open World Junior Circuit event. Irish interest at the event lay with Owen Cathcart, as Ulster's young star travelled directly from Budapest to the event, where he had produced an incredible medal winning performance at the 2016 Molnar Tournament. Notoriously difficult, Owen was always going to have it tough in Czech as he competed in 5 events; Junior Singles, Junior Doubles, Cadet Team, Cadet Singles and Cadet Doubles. 
To get the blow by blow of each event in what was a historic week for Irish Table Tennis, see below as National Coach John Murphy reports from Hodinin.
Junior Boys Singles
The tournament started for Owen with Junior Boys Singles. He was drawn in a tough group with Gullbo (SWE), Skirmantas (LTH) and Tatarczuch (POL). Owen started with a fantastic 3-1 win over Gullbo doing all the right things when the game was close. He followed this up with a professional 3-0 win over Tatarczuch. This left him knowing a win in the last match would see him advance to the main draw as group winner. Owen went on to play a very high level in his final group match to overcome Skirmantas 3-1. This was real evidence of how quickly Owen is improving as he had lost out to Skirmantas at the EYC in the summer.
As Owen advanced as a group winner he was not required to play the 128 round. He was drawn against Luka Martinek, Croatian Number 1 Junior in the last 64. With the matches now the longer distance of best of 7 Owen would have to play a sustained high level to advance. He didn't disappoint with a flawless performance winning 4-0, taking the 4th set to 8 having been 8-3 down this was evidence of mental toughness something we have been working very hard on.
The last 32 now for Owen and here he faced the talented boy form Japan Yukiya Uda, World Number 2 Cadet. Although Owen lost out 4-0 the Japanese didn't have it all his own way as Owen asked all the right questions, having 9-9 in the first and a couple of set balls in the second. Again this shows that Owen has the quality to compete and a very high level already even though he is only 13.
Junior Boys Doubles
Owen, playing with Alex Ramsden of England, played a very good match against the highly rated juniors Brukner and Timafalvi (HUN). The win was definitely there for the boys as they led 6-2 in the fifth but couldn't close it out.
Cadet Boys Team
Owen was joined by Bougar Haug of Norway for the team event. This is something I had arranged with the Norway National Coach some months ago. In the group stage the boys were made to work very hard in their opening encounter against Czech Republic, eventually winning 3-2. This left us knowing a win against Turkey would secure our main draw place. What a match it actually was, Owen lost out 3-2 in the first match having had a winning position leading 2-1 8-5. Bougar made it 1-1 with a good display to beat there number 1 3-2. On to the doubles in what can only be described as a high quality epic eventually going against us 12-10 in the last having lead 10-8. With us down 2-1 it was time to show character and this is what happened Owen managed to get over the line 13-11 in the 5th and Bougar secured the win with a fine display to win the last match 3-0. Great win! Interestingly Christian Pleata European Cadet Champion from last year commented to me after the match that he had watched the whole match and felt the level was very high from our boys.
In the last 8 we were drawn against Sweden, a tough match but we all felt it was an opportunity to advance to the medal stage. Owen started the match and set us on the right path beating Karl Hast 3-0. Bougar, in the court next was facing Jonathan Thimon who he had never beaten previously, played a fantastic match to win 3-1. With the lads now on a bit of a high they started quite lacklustre in the doubles but a credit to both of them as they took advice on board and managed to battle the win 3-2 thus gave us a 3-0 win and at least a bronze medal.
In the last 4 we faced Hungary who we now know very well having played a lot against them in recent years. Bougar started this match against Terek and looked certain to win having lead 2-0 9-7 but wasn't able to close it out with Terek recovering to win 3-2. Next up was Owen against Both – not an easy style for Owen with Both putting him under pressure from the off. Owen never really got firing and lost out 3-0. Credit to the boys as they rallied in the doubles and probably should have won but were unlucky to lose 3-2. End of the road but what a fantastic achievement winning a Bronze medal in the their first year as cadets.
Cadet Boys Singles
Owen, now having been away for 10 days competing and training in 3 different countries, had preformed above his level so far. One would think that he may be tired or his level might take a dip. The answer is no chance. Owen won his group by beating Selim Bilal Tok 3-2, Simon Belik 3-1 and Ethan Walsh 3-0 which shows how far Owen has come in the last months.
On to the main draw. As group winner Owen was drawn against Cicchitti of Italy in the last 32. Again a good way to show just why Owen is a good player is his absolute ability to grind out close matches, something we Irsh players have struggled with in the past. Having not played his best level he eventually won 12-10 in the last having been 10-9 down.
In the last 16 Owen faced Onderka (CZE) who had beaten him in the team event. With the scare against the Italian well behind him Owen put in a truly flawless performance here. It can only be described as professional from start to finish.
The last 8 pitted Owen against the in form Swede Jonathan Thimon, short pips on both sides. On this occasion Thimon was just that little better on key points and Owen lost out 3-0. A great performance overall to be reaching this stage of major international tournaments.
Cadet Boys Doubles
Again Owen partnered by Bourgar Haug they won their last 32 match against a Slovakian pair before beating a Turkish pairing to reach the last 8. At this stage they faced Andras/Both of Hungary. With both teams knowing a medal was at stake the intensity was very high. The boys fought hard but went down 3-1.
It was truly a great tournament for Owen. The results that he produced were very much above expectation at this moment in time. Although, he has trained hard over a long period of time and when you do this exceptional results are very possible. As a coach it is a pleasure to work with such a player as he is taking everything on board and trying his best to implement these things. A huge key to his success in my mind is his absolute professionalism in how he prepares for matches. Czech Junior Open will be remembered as the tournament that Owen showed with substance that he is among the very best players in Europe.
John Murphy
National Coach