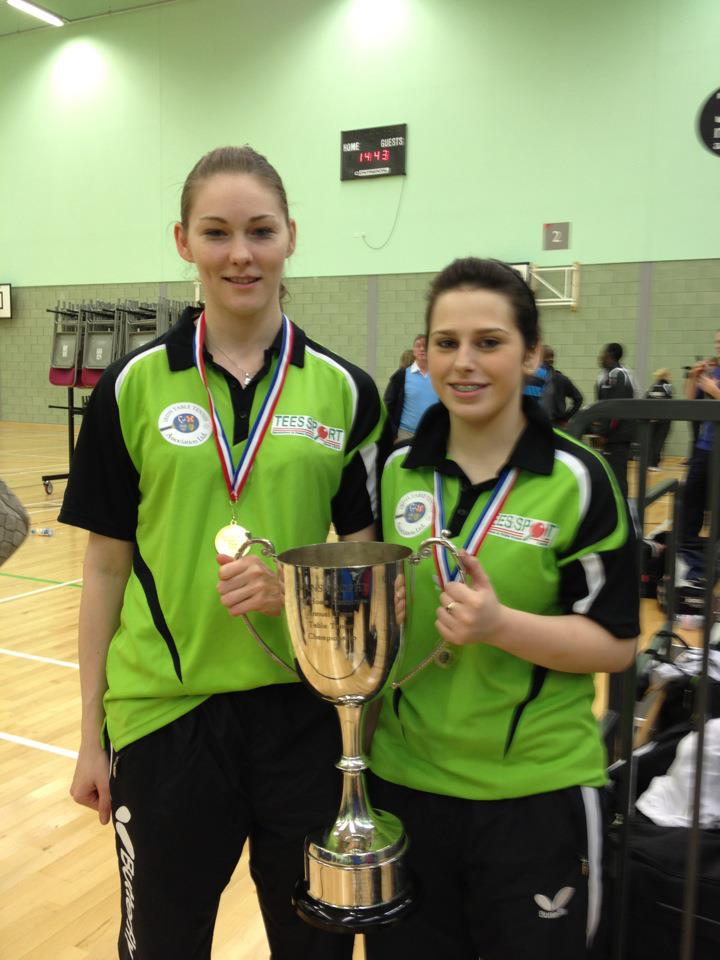 This year's Senior 6 Nations championships was a rollercoaster ride for the Irish players, coaches and officials. With the late withdrawal of Peter Nilsson as coach(due to a family emergency) of both the Men's and Women's teams respectively this left a gap to fill with one day to go until the major event. Gavin Maguire who was in England at the time, was requested to act as NPC for both teams, and he kindly obliged.
Play began on Friday night with the Men's team of Paul McCreery and Ashley Robinson, and Women's team of Amanda Mogey and Ashley Givan facing difficult Guernsey sides. The men got off to a rocky start with Garry Dodd taking a tense affair with Ashley Robinson 3-1. However the side steadied ship as Paul McCreery took two points for the team and they cruised through the doubles winning 3-1 in their first encounter. The women's match was not as textbook as the Men's match; there was a lot to do for the young girls from Belfast and Enniskillen. They fought valiantly but Alice Loveridge (the eventual women's champion) was too strong for our girls taking a maximum two points for Guernsey leaving our girls needing to win the remaining matches… And so they did, effortlessly coming through their two remaining singles and showing true grit and teamwork brushing off the Guernsey side in the doubles.
Saturday morning saw the teams' breeze past the Isle of Man with a 3-0 win for both teams, which could have been foreseen given the large gulf in class between the two sides. The next match saw them face 2 youthful Welsh sides. In what both turned out to be fantastic matches that went right to the wire, both matches exceeding the predicted finishing times and then further passing the mark by going through the lunch break! Both Irish teams came out on top with two fantastic wins against strong Welsh sides. To mention the highlights of the match, there was a superb win for Amanda Mogey; against the young Welsh starlet Charlotte Carey, in a five set thriller. Ashley then showed her nerves of steel in yet another five set match to beat her opponent Chloe Thomas in the deciding match. The men's team played without their superman that is Ryan Jenkins (who we all know as last year's Munster Open Champion), however they were no easy match even without him. The men had to fight to the death against Ryan Owen and Dan O' Connell, eventually winning the match 3-2, with another two points for the ever solid McCreery.
Next up it was what were to be the two finals, Ireland versus England. Starting with the men, McCreery and Robinson faced a massive task to beat the awesome duo of Darius Knight and Chris Doran who are both hundreds of places ahead of our men in the Senior World Rankings. The task proved too much for our men as they crashed out of the match 3-0, without taking a set. It has to be said that the England pair did look to be in top shape and were in absolutely unstoppable form. In the women's however it was another story. The again on paper far superior England team of Hannah Hicks and Emily Bates seemed a huge ask of our players. Both unable to beat the defender and England no.3 Hannah Hicks they had to take two against Emily Bates and the doubles was crucial. Amanda got the ball rolling with an inspirational win against Emily Bates, taking apart the England no.4 in 3 straight games. The team then looked oozing with confidence; the doubles was always to be a huge match for the Irish girls. They were up they were down, it looked from the start the match was going to go all the way and it did not disappoint. In a fantastic match, which captured the undivided attention of the ETTA's Twitter account our girls clinched the match 3-2. It had everything, match changing timeouts, long rallies, short pimples and long pimples. Ashley Givan was in outstanding form. The final match which was in most people's eyes the match to claim the gold medal, Ashley Givan faced Emily Bates who she had in fact beaten at Stockton Junior 4Star the previous week. Ashley gained an early lead with some breath taking forehands proving too much for Bates. The second set was a nervy affair, both players playing some great table tennis, both coaches taking their timeouts in what was a long deuce set, Ashley finally taking it at 18-16. The third set was when Ashley really didn't falter, she knew the pressure was on Bates and she played the relaxed style which had been so successful up to this point and she romped home with another 3-0 win over Bates of England. Our girls just had the weaker Scottish side to beat and Gold was coming to Ireland for the first time in the history of the Senior 6 Nations championships.
Neither team let us down, the boys playing for silver and the girls playing for gold. They continued their run of good form and both took apart what were in fact top Scottish sides. 3-0 wins for both teams meant that Ireland were the new 6 nations women's CHAMPIONS! The men claimed silver and it was clear how much these medals meant to both sets of players, Congratulations to both sets of players and their stand-in coach Gavin Maguire.
Sunday saw the individual's competition get underway. With the men's competition having 15 players entered, allowed the player turned coach Gavin Maguire to enter the singles event and get back into his favoured territory of playing (of course combined with coaching duties!).
Ashley Robinson: was an early casualty in the men's singles losing in his group to the eventual winner Darius Knight and another surprising loss to the man who was in good form at the weekend Dan O' Connell from Wales. Robinson's decision to withdraw from the consolation event meant his weekend ended here.
Paul McCreery: was our most successful player of the individuals. After brushing aside Maguire, Howisen and Owen in the 'group of death', McCreery then faced Robinson's slayer Dan O' Connell. McCreery's wall like consistency was too much for the player from Wales. Paul then advanced to the semi-finals to set up another showdown with the lightning quick Darius Knight of England. Paul over the years has had some epic battles with Knight, the most recent being in Bristol Grand prix when Paul actually got the better of Knight in a 5 set battle and reached the final. So it was set to be a good match regardless of the outcome. Paul started in imperious form taking the first set in superb attacking fashion, picking up every serve or ball that came more than half long on the table. The second set was point for point leading to a nervy deuce set, with Maguire tight up playing Robinson was on hand giving McCreery his tactics. Unfortunately Knight took this set and his confidence grew from this point on leaving McCreery unable to stop the train that was Darius Knight. The final set going to Darius 11-0! Making it 3-1 for the Englishman, ending McCreery's run in the tournament with a bronze medal around his neck.
Ashley Givan: faced a difficult draw with the consistent defender Hannah Hicks in her group. Ashley however did not see this as a negative and focused on the positive, she gave it her everything and in fact lead the match 2-1 displaying some of the top class attacking shots that she has at her disposal. Being in this position against a player of Hannah's quality is not a regular occurrence for young Givan and she did in fact run out of steam in the end, allowing Hannah back into the match to take it 3-2 but a lot can be said for the effort and tactical play of the Irish player. The fact that she finished second in her group made the route especially tough for Ashley as she then faced Charlotte Carey of Wales in the quarter final, a player she does not have a good record against. She fought gallantly but Carey had that little bit too much variety in her game for Givan ending her tournament winning by 3 games to nil.
Amanda Mogey: again proved what a tough competitor she really is. Amanda had a tough draw when she would have been seeded no.5 in the tournament only there were just 4 groups, pitting her against Welsh starlet Charlotte Carey. Amanda who had beaten Carey the day before in a thriller, again got the better of Carey in what turned out to be another epic battle and I'm sure it won't be the last! Amanda used her efficient form of play, tactically outclassing Carey in a 3-2 victory. It was not all so sweet in the group for Amanda though as she unexpectedly lost to Scottish player Linda Flaws 3-1 in the same group. A match that looked like a lapse in concentration for the young woman from Belfast, however Amanda managed to qualify for the main draw advancing in second place on count back with Carey going through first. Amanda discarded this one of lapse in concentration and picked up her form where she had previously left off taking on Guernsey's Alice Loveridge in the quarter final. Amanda played a fantastic game, trading blows with the powerful Loveridge forehand. In a match that looked to be going her way Amanda somehow managed to find herself down in the fifth set, in fact she was 10-5 down! Amanda showing her true resilience kept fighting, keeping herself in the match point after point only to be left disappointed on the final ball after a fantastic rally; Loveridge just had one too many tricks up her sleeve for Mogey, exiting the tournament at the quarter final stage.
Gavin Maguire: Saw his first matches of the weekend against the Scottish and Irish number 1's Craig Howiesen and Paul McCreery with the addition of Welsh man Ryan Owen.A cagey affair with Howiesen went the Scotsman's way at 3-1 which could have went either way. McCreery proved he was too sharp and too consistent for Maguire in a close 3-0 battle. So this left Maguire in the consolation event. He faced Lewis Williams in the semi-finals, overcoming the young player who was in fantastic form 3-2. A final showdown with another Scot, Craig Hardie was the path for Maguire and he rose to the occasion taking the match 3-1. Gold for Ireland, Gavin Maguire was consolation Champion.
All in all, the Senior 6 nations was a massive success, leaving Ireland with 2 Gold's, 1 Silver and a Bronze medal. A youthful yet experienced side proved what potential Irish Table Tennis has. A fantastic weekend for the sport and many thanks to the English Table Tennis Association who provided us with incredible hospitality and ran a tournament as smooth and as professionally as could have been asked for. Finally, congratulations to all those involved players and coaches and let's hope next year we can emulate the success that we had this year!
ITTAWeb would like to thank Gavin Maguire for the comprehensive report…congratulations to all of our S6N medallists.