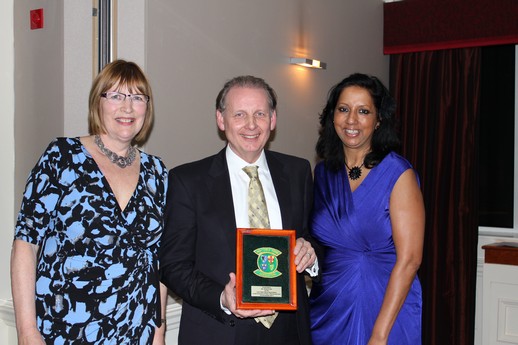 Pat Hunter (Chair ITTA) welcomed Richard Yule to Dublin on the occasion of the 75th Anniversary Dinner.
"It is my great privilege now to introduce our Guest speaker – Richard Yule, who all of us of a certain vintage will remember very well from his days as a top player. Richard has been a great supporter of Irish table tennis, having been NPC at the European Championships in Stuttgart in 1992 but also having been a frequent visitor as a player. He won numerous titles in Ulster, and on 27th November 1979 – hard to believe it is almost 33 years ago – he won the Norwich Union Irish Trophy in the ESB Sports Complex in Dublin. On that occasion he defeated Nicky Jarvis in the final. I should mention that Ireland's top five players took part in this televised event, and included the legendary Tommy Caffrey, a very young Colum Slevin, our President Joe Hickey, Derek Weir, and Kevin Keane.
Richard's playing CV is quite remarkable – he was part of the Scottish team that won the team event at the 1974 Spanish Open, as well as winning the Men's Singles and Mixed Doubles in that event.
Richard achieved a rare treble of National League team titles by winning the French National League in 1975 (with team A S Messine), the English National League with Sealink Milton Keynes in 1980 and the Scottish National League with Aberdeen in 1982. At the Commonwealth Table Tennis Championships in Cardiff Richard won the Bronze medal in the Men's Singles.
Richard has won 8 Scottish National Singles Titles, as well as a host of National Doubles Titles. He retired from playing at National level in 1985 in which time he had amassed 285 Scotland caps, a record at the time for a Scottish Sportsman.
He had played in 6 World Championships, 7 European Championships and 6 Commonwealths. Chester Barnes, Nicky Jarvis and Dennis Neale were all England's No1 when they were defeated by Richard.
Richard worked in Edinburgh for the Scottish Sports Council before becoming the Director of Coaching and Development for the Scottish Table Tennis Association. Since 1995 Richard has been the Chief Executive of the English Table Tennis Association, and has been heavily involved in many major events, the most recent of which have been, of course, the London 2012 Olympic Games and the World Cup in Liverpool in September.
We are delighted that Richard and his wife Violet have been able to travel to Dublin and join us in our 75th celebrations, and I ask you all to give them both a good Irish welcome".