The World Championship of Ping Pong, also known as WCPP, is an annual ping pong event promoted by English sports impresario Barry Hearn, using old-fashioned wooden racquets covered with sandpaper, instead of the high tech rubber of modern table tennis. This results in longer and more entertaining rallies.
The hugely popular event featured 4 Irish players: Paul McCreery, Gavin Maguire, Zak Wilson and young Jonny Mooney (currently ranked Irish joint No 2 Cadet).
From the start, Paul McCreery was in simply outstanding form and delighted his Irish and PWC fans with two 2-0 victories over Mlynarski (Poland) and Milchin (Germany) to reach the last 32 draw and the knockout stages. There he met the highly rated Russian Dmitrij Bobrov, and defeated him 2-1, with the TV cameras switching from the TV table to cover the final points of the match. Paul won 15-12, 4-15, 15-13, which led to the "pitch invasion" by his fans! Last 16 accomplished!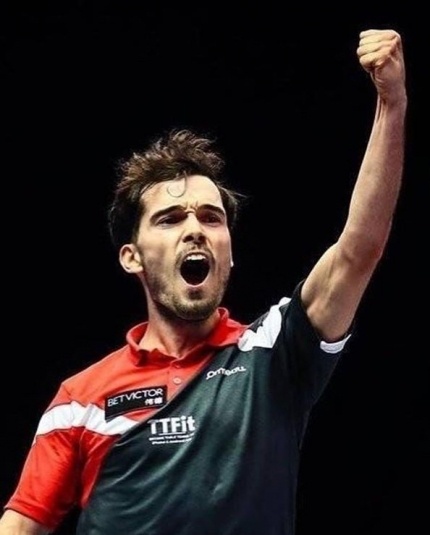 Paul then faced seasoned Ping Pong campaigner Martin Groenewold (Netherlands), who came with strong Dutch support. Paul produced a great display which featured what the TV commentators called the "rally of the tournament", winning 15-6, 15-11. Quarter final place accomplished!
It was then all eyes on the match between Gavin Rumgay (Scotland) and Benjamin Sorensen (Denmark) to see who Paul would face for a place in the semi-finals! Gavin Rumgay pulled everything out to take this match 15-14 in the decider.
Paul may have wished for the Danish opponent, having been training with Gavin Rumgay leading up to these Championships. The match went in Rumgay's favour, in a nerve-wracking match 2-1. Well done to Paul in achieving his first quarter-final, and the feeling is that there is more to come…
Gavin Maguire was very unfortunate not to make the last 32, losing to Peejay Atienza (PHI) 15-14 in the decider, and taking a win over Italian player, Gallina. He then faced Martin Groenewold (Netherlands) losing again by the narrowest of margins 15-14 in 3rd.
Zak Wilson lost 2-0 to Bobrov (Russia) and 2-1 to Maybanks (Hungary) in his group and was eliminated. 14 year old Jonny Mooney drew the attention of the TV cameras, but was also eliminated, losing to Chris Doran (England) and England's top Junior, Ethan Walsh.
In the Semis, Alex Flemming (Germany) defeated Gavin Rumgay 15-4, 15-9, while Champion Andrew Baggaley (3 times winner) advanced to the Final with a win over Liang Xue (China).
The stage was set for what was to become the greatest WCPP Final ever, with Baggaley winning the event (for the 4th time!) 14-15, 15-8, 14-15, 15-8, 15-14. With some rallies exceeding 40 strokes, the players fought to the end, with nothing between them, as the scoreline shows!
Roll on next year!