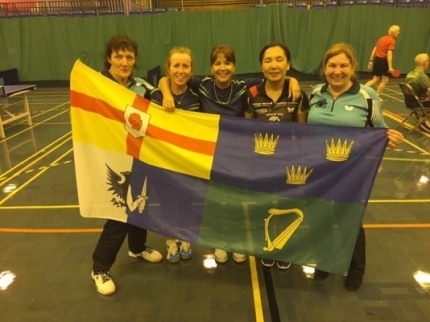 Singles Gold for Teresa Devaney and Tommy Caffrey, abetted with Silver for Daryl, ensured that our Irish medals haul did not lack for glamour at the recent Home Nations Championships in Perth. Team Silver for Men's 40s and 70s, with numerous Bronze, meant that most of our contingent were pleased with their performance levels, despite some disappointment.
A busy schedule of matches curtailed opportunities to watch matters outside one's own bubble. Irish Ladies 50's team scored a notable triumph over Guernsey; however, this was bittersweet as it deprived jaded opponents from the fruits of earlier victory over England. Annemarie and Ger went on to take Silver in the Ladies Doubles event, losing to Sue Collier and Michelle Reeves in the final.
Teresa really put in a determined, restrained performance to beat Kay Le Febvre in the final of Ladies Over 60's. Probing constructively, using her topspin effectively against Kay's defence, Teresa exploited her forehand drive opportunities to the max. She really did learn the lessons from her loss to Kay in the team event. When the match was in the balance, 7-8 down in the fourth, snatching for easy winners was never an option. This made victory all the more rewarding on a scoreline 9,7,-9,10.
The seedings for Men's Over 75 Singles left the England players considerably aggrieved since all of them were in the same half. An absorbing semi-final saw Brian Hill triumph over Peter Radford 11-8 in the fifth. The final saw Tommy open up with his forehand attack to great effect in the first. However, Brian hit three marvellous backhand winners starting the second, to win it comfortably. The key third game saw Brian stretch out to lead 7-3, but Tommy rallied to 8-8. Tense exchanges ensued, and Tommy prevailed 12-10. Perhaps Brian's earlier exertions were taking their toll. In the fourth, Tommy made a subtle change, attacking more to the centre of the table with his forehand, and he caught Brian unawares on occasion. He ran out a worthy winner, scoreline 5,-10,10,7.
Noteworthy is the fact that Tommy did not lose a match throughout the Over 70s Team event, accounting for Geoff Salter of Scotland, Peter Radford and Steve Kosmowsky of England among others. The injured Martin Pickles, Frank O'Reilly and Oliver Adamson assisted capably in winning the Silver here.
Daryl won a difficult topspin encounter with Dave Reeves in the 40s semi-final 11-8 in the fifth. The further the match went, the better he was able to control his returns into difficult areas for Dave. This boost in confidence continued into the final against Andy Wilkinson's powerful attack. Taking the third game was just reward for Daryl's efforts, but Andy was not to be denied. Daryl can be pleased with his performance overall, as can Phil Wallace and Tibor.
Shaw/Finn in 60s and Caffrey/Adamson in 70s won Silver in doubles also. Singles performances of note were recorded by Paula, Ikuko, Ger, and Tibor. Alas, not having seen the matches, informed comment is not possible.
Confidentially, an intensive internship with Laahs No Problem Transportation has enhanced our delegate's multi-tasking skills. Musical planes, lost keys at midnight, and homeless perpetual trophies are all in a day's travails. It is also very reassuring to know that @brackentt.com can be relied upon to increase sponsorship income as if by magic, being so familiar with the task.
Our thanks to Ian, Stewart, Ralph, Sharon, Dave, all of the national delegates and all the competitors for making the Championships such a success. When the hurly burly's done and all of the baubles have been handed out, the real winner, as always, has been this tournament itself, a marvellous event to cherish and nurture in coming years!
Full list of results available HERE