KARIEM REIGNS SUPREME AT THE ULSTER VETERANS TABLE TENNIS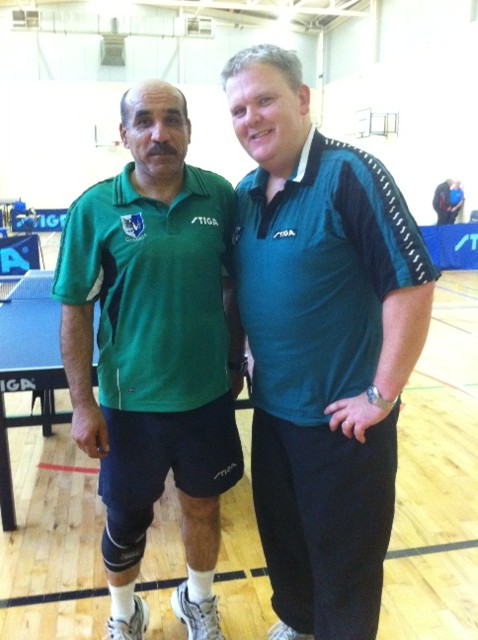 Almost fifty hardened table tennis veterans from all over Ireland travelled to the Glenburn Table Tennis club in Belfast for the Irish Veterans Table Tennis Society Ulster Open Veterans tournament. With players aging from forty to almost eighty, there was a wide selection of events to compete in.
The prestigious Open singles had two Ulstermen in the semi-finals – Brian Orr from Ballymoney's Osmond club and Willie Cherry from the host club Glenburn. Both players had missed each other in the semi final draw, but the prospect of an all Ulster final was dashed as first Castlebar's Kevin Devaney defeated Cherry 11-8 in the fifth set, and Athlone's Kariem Sabir came from a set down to defeat Orr in four close sets. The final was a repeat of the Leinster Open veterans final, and Kariem once again triumphed with an excellent 11-6, 11-8, 3-11, 11-5 win over a battling Devaney.
The Open ladies round robin event final was won by an undefeated Jenny Harrison, with Gillian Richardson runner up and Sharon Brien defeating Pauline Harper 11-6, 11-8 and 11-4 to claim third place.
The Open Doubles was an all County Antrim affair with the Ballymoney duo of Brian Orr and Francis Shirley playing Ballymena's Academy Strongtower duo of McAllister and Pawel Sulkowski, with the latter winning in four sets.
The restricted veterans for players aged over forty but under fifty, a new event in the calendar, was also an all Ulster affair with Glenburn's Willie Cherry recovering from two sets down to defeat Academy Strongtower's Pawel Sulkowski 6-11,10-12, 11-7, 11-9, 11-6. Kevin Devaney, still smarting from his surprise four set defeat by Cherry in the semi-final, won the third place play-off beating Gillian Richardson 11-1, 11-3 and 11-6.
In the over 50s event, Kariem Sabir defeated Ulster hotshot Jimmy Robinson 11-8, 15-13, 11-9 in the semi final to set up a rematch against Martin Pickles in the final. Pickles had defeated Sabir in the Irish Veteran's Qualification Tournament in August. However, Sabir had his revenge battling past the pimpled rubber specialist 12-10, 11-6, 19-21 and 11-9. Robinson won the third place play defeating Ballyclare's Ian Davies in straight sets 11-6, 11-8 and 11-5.
Martin Pickles was also in action in the over 60s, where he fell at the semi-final stage to Glenburn legend Norman Nabney 11-7, 11-8 and 11-8. Brian Finn had a real struggle against Portadown's Barry Dickson, eventually winning the semi-final 10-12, 11-7, 14-12, 11-9. An excellent final was anticipated and it didn't fail to produce as Nabney recovered from a two set deficit to take the title 11-9 in the fifth set. Dickson had no answer to Pickles in the third spot play-off losing in straight sets 4-11, 6-11, 6-11
Ted Mahaffy retained his over 70s title with an excellent five set win in the final over his old adversary Ronnie Drain winning 11-7, 6-11, 11-1, 7-11, 11-6. Third spot was secured by Ken Ridsdale who defeated Windsor Clarke 11-2, 11-4, 12-10.
The Irish Veterans Table Tennis Society would like to thank Jack Cash and Ted Mahaffy for organising the event, Peter Clarke for overseeing the draw and Norman McBride and Tony Philips for operating the top table and ensuring the events ran smoothly.
Click here for full results
Veterans Open Singles
1st Kariem Sabir; 2nd Kevin Devaney; =3rd Brian Orr/Willie Cherry
Ladies Veterans Open Singles
1st Jenny Harrison; 2nd Gillian Richardson; 3rd Sharon Brien
Veterans Open Doubles
1st Mark McAllister/Pawel Sulkowski; 2nd Brian Orr/ Francis Shirley; =3rd Ted Mahaffy'/Gillian Richardson and Kevin Devaney/Alan Taylor
Over 40s restricted
1st Willie Cherry; 2nd Pawel Sulkowski; 3rd Kevin Devaney
Over 50s
1st Kariem Sabir;2nd Martin Pickles; 3rd Jimmy Robinson
Over 60s
1st Norman Nabney;2nd Brian Finn; 3rd Martin Pickles
Over 70s
1st Ted Mahaffy;2nd Ronnie Drain; 3rd Ken Ridsdale