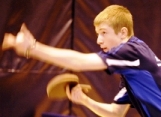 Last weekend saw an action packed Ulster Junior Open with 150 competitors from all over Ireland converging on the Shankill Leisure Centre.
Double winner Ashley Given (Dungannon) will surely dominate junior girls table tennis over the next three years as she has just too much power and tactical awareness for her opponents having already represented Northern Ireland at senior level in the Commonwealth championships and Ireland at the recent Six Nations. In the under 14's final she was pitted against combination bat specialist Edel O'Reilly (Cork) and displayed great patience before unleashing thunderous drives to overcome her tricky opponent in straight sets while the under 17's final was much more open with free flowing attack the order of the day and Givan was forced to dig deep to beat the talented Rebecca Kenny in four fast and furious sets.
Meanwhile Irish Senior No1 Sam Hanley (Dublin) was hot favourite to the sweep the boards in the under 17 boys and looked to be on course after seeing off a game challenge from fellow Dubliner Sam Logue in the semi's but the spectacular Ashley Robinson (Clogher) had different ideas. Having just come through a venomous topspin encounter with Fermanagh's Stephen Slater in the semi which certainly drew loud applause from the appreciative audience, Robinson was simply brilliant in the final using a well rehearsed game plan to outfox the lightning fast Hanley who showed great sportsmanship in defeat. Hanley will look to quickly bounce back as he travels to represent Ireland in the Finland Open at the end of the month.
Ryan Farrell was dominant in the Under 14 Boys, taking the title without dropping a set – Neil Irwin put up a fight in the final but Farrell was cooly efficient as he swept to the title.
Topspin wizard Jonathan Porter claimed gold when he just got the better of his Clogher teammate Mark Gordon in an entertaining four setter while Glenburn club who have produced an abundance of talent over the last 30 years saw their Irish No1 under 12 Laura Finn keep this trend continuing on Saturday with a superb win over Sarah Cooney (Cork).
Connacht will certainly be a province to watch in the future as they dominated the under 10 boys with the Mayo pairing of Martin Williams and Eddie Ditchburn ruling the roost while many made the long journey from Cork and Killarney to participate demonstrating how the sport is also flourishing in Munster.
This was effectively a 2 day competition rolled into 1 day and huge credit and thanks should go to the Tournament Referee Tony Phillips and the team of Umpires and Officials. Also a thank you must go to the catering team of volunteers who provided refreshments over the weekend – a very succesful fundraiser for the Ulster branch.
Click here for full results.