A total of 14 awards were announced including 4 Certificates of Merit/Special Awards. These recognised outstanding achievement and contributions to Irish Table Tennis over the 2015/6 season.
As 2016 is the 30th anniversary of the introduction of Joe Veselsky Award, the highest accolade in Irish table tennis, the President, Ken Strong had invited Mr. Veselsky to present this Award for Service to the Sport. Mr. Strong spoke about the 2016 recipient, Mr. Joe Hickey in advance of the announcement (Citation attached). Mr. Veselsky then spoke in glowing terms about the work of Joe Hickey for the sport. Mr. Hickey then replied emphasising how honoured he felt in receiving the JV Award and his great respect for the donor of the Award, Mr. Veselsky.
For copy of citation, please click here
The Best Senior Player of the Year was awarded to Irish No. 1, Gavin Maguire for his performances over the season as was the Best Senior Female Player of the Year to 13 year old Mia O'Rahilly-Egan. The Best International Performance Award went to Ashley Robinson for his performances in the World, European and Commonwealth Championships. Owen Cathcart's hugely successful season in winning several medals in international events including winning ITTF Pro Tour Cadet Singles event in the Belgian Junior Pro Tour won the Billy Marshall Best Junior Player award for him.
Tara Fusco received the Anna Kelly Female Coach of the Year and Gervis & Keith Knox jointly the Ken Strong Male Coach of the Year Award.
The Stiga Volunteer of the Year award was presented to Tony Higgins in recognition of the large amount of time and service he gives to the Association. His role as a volunteer is so important to both the Munster Branch and Table Tennis Ireland.
The new award of School/Club of the Year went to Ormeau Club, Belfast with a Certificate of Merit to Ballincollig Club, Cork.
Special awards were made to National Coach, John Murphy, for his input to the work of the Ulster Branch and the Irish Association generally and to the N.I. bronze medal winning team at the 2015/6 Commonwealth Championships.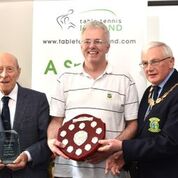 Stiga Volunteer of the Year: Tony Higgins
A full list of all the winners and Special Awards is below:
Anna Kelly Female Coach of the Year: Tara Fusco
Ken Strong Male Coach of the Year: Gervis & Keith Knox (Joint)
Billy Marshall Best Junior Player: Owen Cathcart
School/Club of the Year: Ormeau Club
Certificate of Merit: Ballincollig Club
Para Award of the Year: Rena McCarron-Rooney
Stiga Volunteer of the Year: Tony Higgins
Certificate of Merit: Michael Joyce
Eleanor McKee Trophy: Best Senior Female Player: Mia O'Rahilly Egan
Rhanbuoy Trophy: Best Senior Male Player: Gavin Maguire
Best International Performance: Ashley Robinson
SPECIAL AWARD: John Murphy
SPECIAL AWARD: BRONZE MEDAL WINNING NI TEAM:
Certificates to A. Robinson, P. McCreery, Z. Wilson & O. Cathcart, Coach J. Murphy