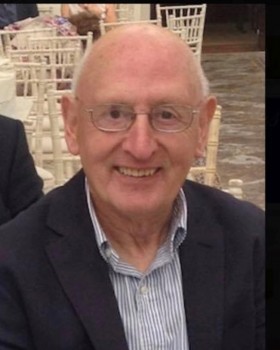 Joe, known to everyone as one of the sport's gentlemen, died yesterday after suffering a stroke recently. He had a long involvement in table tennis in various roles serving the Bray & District League on the Leinster Branch for many years. His commitment to the running of the large Bray Open event every season was a significant contribution to the sport. In later years he was appointed as a Vice President of the Irish Association.
Joe umpired at the World Veterans Championships in Dublin in the 1991/2 season and later at Special Olympics events in Ireland. He qualified as an International Umpire and travelled to officiate at a number of international open events outside Ireland with his friend, the late Kiron Choudhury. He was Chairman of the former Leinster Umpires Association and played a major role with his friend, Kiron in the establishment of the its successor, the Irish Umpires Association.
In 2009 Joe's long service and administration in the sport was formally recognised by the Irish Association when he was awarded the highest accolade in Irish table tennis, the Joe Veselsky Award.
The Association expresses its deepest sympathy to his wife Dorothy and family. His funeral will take place privately on next Monday at 10.30am in "The Vevay", Queen of the Peace Church, Bray, Co. Wicklow.