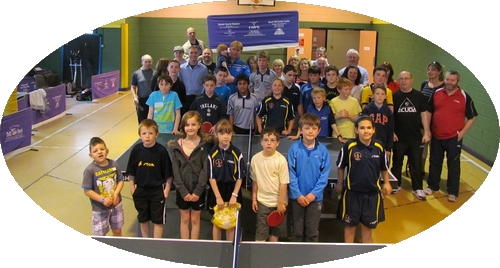 StigaChallenger Event – Beech Hill Table Tennis Club, Cork Sunday 25th June 2012
There was a good turnout for the Stiga challenger event run at Beech Hill Table Tennis Club last Sunday. Players from Cobh, Cork City, West Cork, and Tralee attended. All the players got lots of matches and with coaches taking a back seat for the event it was a very relaxed and enjoyable event for all. The players were classified into groups on ability first then they were divided into three divisions.
Thanks to event organiser Philip Shaw. On the day Philip was assisted by Rory O'Connor, Mike Nash, Ben Haughton. A number of parents also helped with umpiring.
Event sponsor Stiga was represented by Tommy Fitzgerald who provided all the prizes. The Beech Hill Club is grateful to Tommy for his support.
Results:
Div 1: 1st Usaamah Hussain, 2nd James Barry, 3rd Bogamile Lazaryev
Div 2: 1st Darren Chester, 2nd Zofia Wawrzyniak, 3rd David Halley
Div 3: 1st Andrew Gainey-O'Brien, Roy Martin, Silke Heiney