There was a super display of table tennis in Banbridge Leisure Centre last Friday evening.
Top class table tennis came to Banbridge in the form of Span­ish Super League playing duo Oriol Monzo and Daniel Torres who faced an Irish Select team which included the current Irish No 1 John Murphy, Ulster No. 1 Peter Graham and International Keith Knox.
The players were welcomed to the area by the Chairperson of Banbridge Council Mrs Joan Baird MBE, who presented gifts to the players and match official Tom Mitchell to mark this first inter­national table tennis match to be held in the area and the first in Northern Ireland for some years.
The event was organised by Ul­ster Table Tennis and Banbridge Table Tennis Club would like to thank Fitzgerald's Table Tennis, Andrew Dennison Sport, Tayto, Iveagh Movie Studios, Shoefair Sports, Total Hockey and Sterling's Chemist for their generous spon­sorship of the event.
The format for the evening re­quired the Irish select team mem­bers to play the Spanish pair in a series of singles matches. The audience including Chairperson Baird MBE, and fans from all parts of the country as well as players and non players from the local area, were not disappointed.
The quality of table tennis was truly amazing and entertaining. Rally after rally saw opponents us­ing the entire length and width of the playing area which, although laid out to Olympic standard, was not large enough, and play­ers frequently were seen jumping over the barriers to return shots – some by necessity, some for sheer entertainment value!
High point of the evening was the Monzo v Torres exhibition match which was simply the most amazing display of table tennis seen in Banbridge.
Frequently the audience would see what they assumed was going to be a winning shot, only for it to be somehow retrieved. Cross ta­ble angles defied imagination and returns around the net post were almost common place.
Comments from experienced players in the audience usually included words such as brilliant, amazing, and unbelievable as the visiting players put on a display of power, skill, imagination and humour, all kept in order by top International umpire Tom Mitch­ell from Dublin, assisted by Luke, Scott, Frazer and Lewis some of the junior section club members.
The result of the contest was an overall victory for Spain's Monzo and Torres. However Murphy, Graham and Knox put on a fan­tastic show in the hotly contested matches, taking a number of sets off the visitors, which was no mean feat.
Considering Danny and Oriel have played against and prac­tice with the world's best includ­ing Timo Boll, the world number one and Vladimir Samsonov, the number six, this was not really a surprise result.
What has been achieved as far as the home players is concerned, is that they will have had a world class training session against two quality players, which helps them prepare for their coming season.
All in all this was a great night for table tennis. Everyone in the audience was asking for more and the organizers hope this can be arranged, given the success of this event.
Anyone wishing to play table tennis is invited to come along to Banbridge Table Tennis Club at the Leisure Centre any Friday night – junior 7.30pm and adults 9.00pm.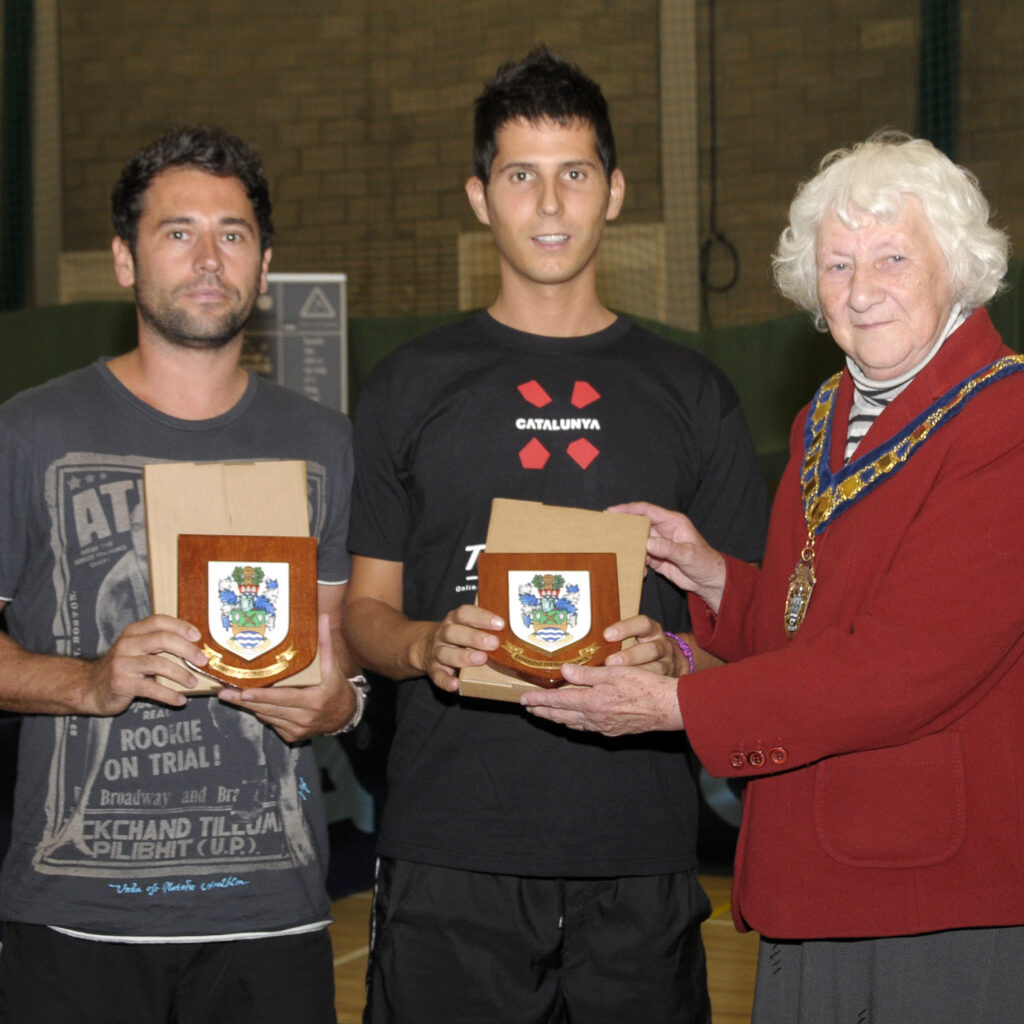 Photos are courtesy of Banbridge Leader Newspaper.