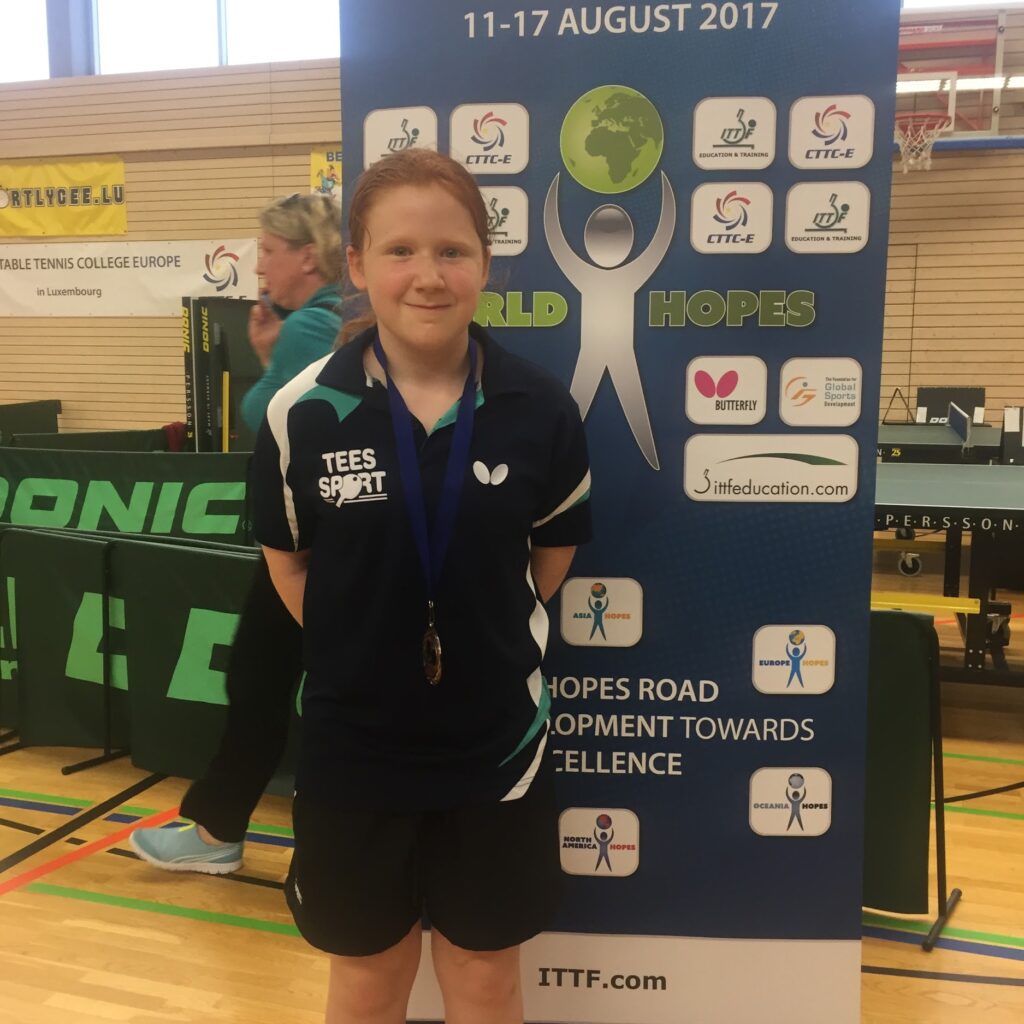 Sophie claims bronze at ITTF World Hopes Challenge
More about the medal later.
23 countries gathered from the 6 continents to participate in a week long intensive Cant at the National Institute of Luxembourg .
From Australia to Libya, from USA to Wales,from Ireland to Iran. from Guatemala to Germany and many more 16 boys and 16 girls trained with Chinese coaches and young Chinese sparring partners for 5 hours daily in addition to a morning physical at 7.30 daily.
Under the expert tutelage of head coach Li Xiadong, Zhang Yining,former World and Olympic champion Sophie Practiced with players from Brazil to Kazakhstan and many more nations
One and ahf hours multiball daily helped to improve and sharpen Sophie's skills.
Physical training under the expertise of Zheng Chaoying improved her footwork.
On the final day a World Hopes Challenge Event was held.
In her first round groupSophie lost her opening match to Giri(USA) 0/3, won against Ha nah Green(Australia) 3/0 and then in the first shock of the day ,defeated Laura Kaim(Germany) in a stunning performance 3/0.
This led to a quarter final clash with Sommerova(Czech Rep.) .Another scilltinating performance from our young Ormeau star with another 3/0 victory
In the semi final Sophie met the top seed from Singapore Zhou JingYi who proved to be too powerful for Sophie
Nevertheless a bronze medal secured in a World event by the warrior from Ormeau.
Coach Conn Higgins said words could not express the enormity of this achievement.Sophies' result was immense.
Conn paid tribute to the tremendous work ring done by Keith and Gervis Knox in Ormeau and the expertise of national coach John Murphy.
As HP director Conn stated that this latest success is due to a vision,implemented with superb teamwork on a very limited budget.
Conn also paid a huge tribute to the supportive role played by Sophies' mum Helen during the event