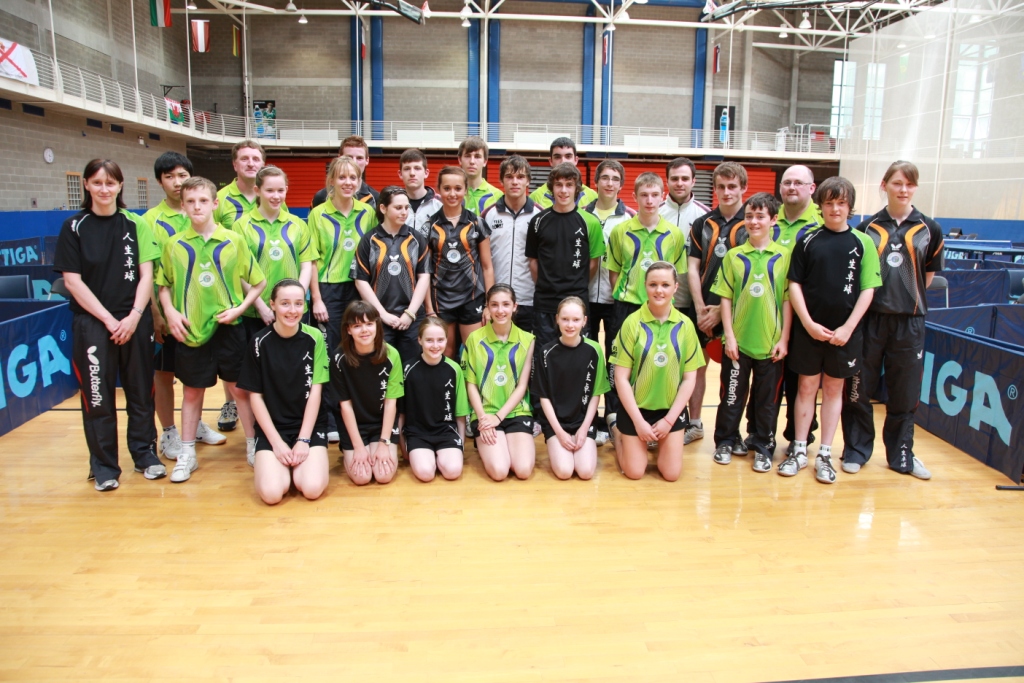 12 months ago an Irish team produced an outstanding performance at the Senior Schools International hosted by the ITTA in Limerick. Roll the clock forward and a squad of 12 Irish players travel to Lilleshall, England for the 2011 iteration of this event this weekend.
Last year, the squad (pictured), claimed 4 individual Gold medals and 1 team Gold – a remarkable achievement. Of the 2010 squad, the vast majority remain in 2011 and will take a very positive experience into the Lilleshall event. Speaking ahead of the event, ITTA Performance Director John O'Donoghue stated:
"Following last season's amazing feat of winning four Golds out of six in the individuals in the event staged in Limerick,we are looking forward to a fantastic Schools International. We have strong teams in all age groups and we are optimistic for a good tournament and while it will be difficult to rrepeat last year's triumph, we are hopeful of some medal winning performances."
Boys Preview
In the Senior event, the Irish Boys are Sam Logue and Ashley Robinson. Robinson claimed Gold in the Intermediate Individuals last year, while Logue missed much of last year's event with an injury and will look to make up for that in 2011. They have been drawn against England B, Scotland B and Guernsey and will certainly look to progress from this group. Robinson is 2nd seed in the Individual event.
In the Intermediates, Eastpoint's Ryan Farrrell and Ballincollig's Declan O'Brien team-up. They have a yough group draw and will face England A. Both players are in the top 10 here and will look to have a big impact on the tournament to finish their season off on a high.
Jonathan Porter and Kevin Hutchinson are in the Cadet event and again will face a strong England A selection.
Girls Preview
Munster's Deirdre Murphy and Connacht's Sarah Timlin(playing her last event at Junior level) make up the Irish team here and will face both England and Scotland A in the Group. They will have a difficult task against the hosts, but may well cause an upset against the Scots.
At Intermediate Level, that familiar partnership of Ashley Givan and Edel O'Reilly move up an age group from last year and will look to medal over the course of the weekend – they certainly will be pumped up for this event.
Hannah Lynch-Dawson and Emma Ludlow feature for the Cadet Girls. Both will fancy their chances and Lynch-Dawson is the highest seed of the non-English based players.
Further event details are available here:
http://www.estta.org.uk/News%2012%20-%20Lilleshall%202011.html
Best wishes to the Irish squad.